Early morning, coffee in hand, I stare at a to-do list that runs into a second page. The last week has been a roller coaster ride. Without a harness. Life changing decisions have been made. One of them involves moving house. Two weeks and am out of my current residence. Boxes are being packed. My home is half empty. And half full. I've already mentally moved on. It's all for the better I remind myself. The joy of setting up a new house is immense but the process is unwelcome especially when I have a full time day job to contend with. And now I have to step into the kitchen and bake. The best bit about moving is that you get a chance to clear out things you don't need. A chance to start afresh.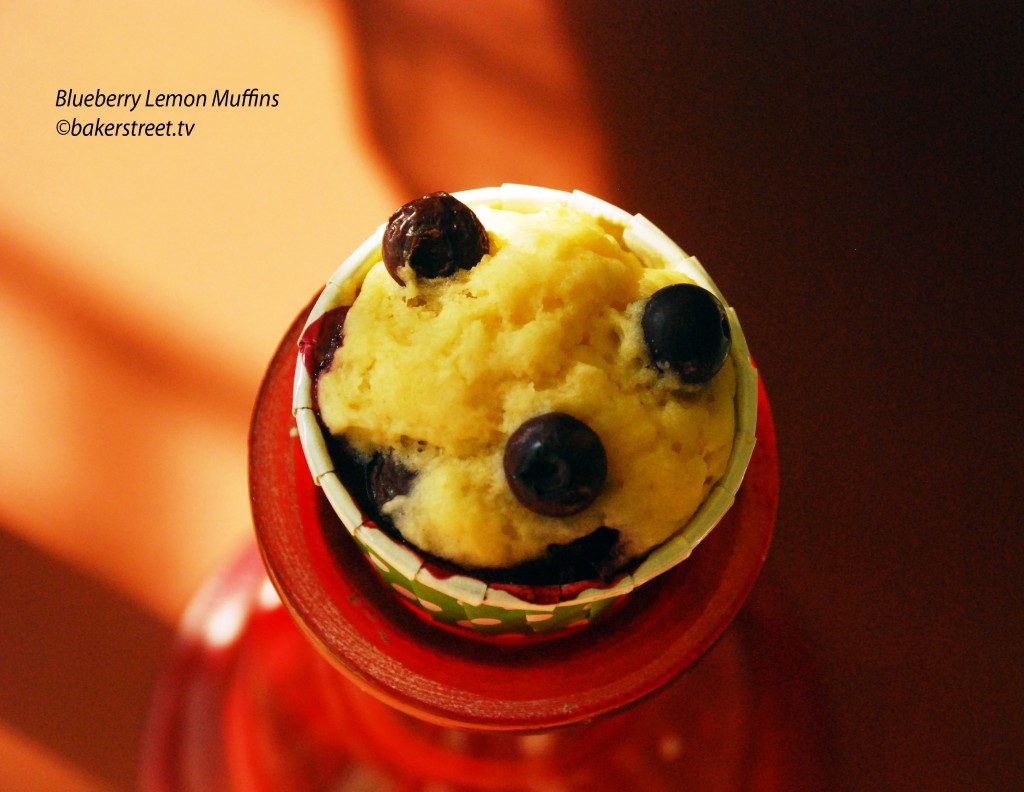 The kitchen, a space I claim to be my own is what I first checked when I saw the house. While I'm happy that my new kitchen is better than this one, I can't help and reminisce about the lovely time I've spent here. The question is what's the last thing I bake here, in this kitchen, one that is redolent with with memories of personal escapades, comforting aromas, and hearty meals?
Would you be able to decide what to bake/cook before you got comfortable in an alien kitchen before you get comfortable and truly call it your own?
Over to the recipe: A quick knock up of tart berries, hint of lemon cased in a vanilla muffin.
Muffin Monday: Blueberry Lemon Muffins
Author:
Gail Sher. From a Baker's Kitchen
Recipe type:
Muffins, Dessert
Ingredients
1 cup plain yogurt (regular or low fat)
1 large egg, lightly beaten
¼ cup canola or corn oil
½ teaspoon pure vanilla extract
2 cups all-purpose flour
½ cup granulated white sugar
1 teaspoon baking powder
½ teaspoon baking soda
¼ teaspoon salt
¼ cups fresh or frozen blueberries
Zest and juice of 1 lemon
Instructions
Preheat oven to 375 degrees F (190 degrees C). Position rack in center of oven. Butter or line 12 muffin cups with paper liners.
In a large measuring cup or bowl whisk together the yogurt, lightly beaten egg, oil, juice and vanilla extract.
In another large bowl whisk together the flour, sugar, baking powder, zest, baking soda, and salt.
Remove 1 tablespoon of the dry ingredients and toss it with the blueberries.
With a rubber spatula fold the wet ingredients into the dry ingredients and stir only until the ingredients are combined. Gently stir in the blueberries. Do not over mix the batter or tough muffins will result.
Evenly fill the muffin cups with the batter, using two spoons or an ice cream scoop.
Place in the oven and bake for about 15 – 20 minutes or until a toothpick inserted in the center of a muffin comes out clean.
Transfer to a wire rack and let cool for about 5 minutes before removing from pan. Makes 12 muffins.
Muffin Monday: Round Up
Happy Baking!