One book. Two posts. I've baked you not one but two absolutely divine bars from Beth Lipton's You Made That Dessert. Her book has a scrumptious collection of recipes and great baking tips and tricks. Beth has very generously given permission to reprint both her recipes.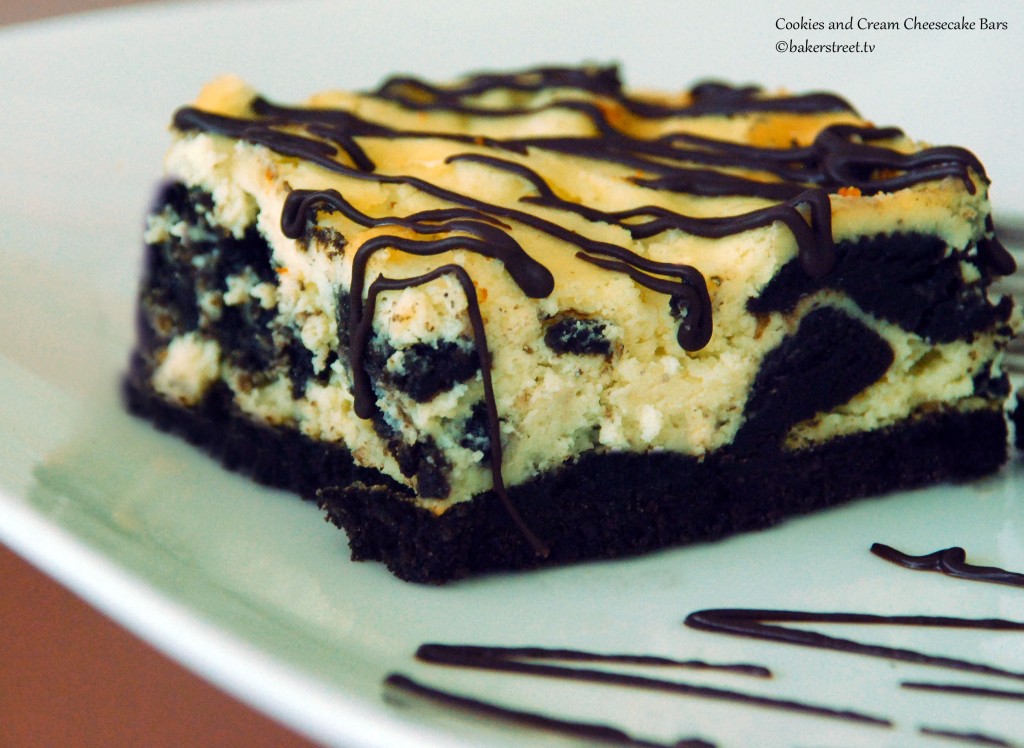 Not one to leave the best for last, I'm obviously going to start with cookies and cream cheesecake bars. You know I absolutely love cheesecake. There are few joys greater than a well baked cheesecake. A wonderful Oreo crust and a nice, thick layer of creamy smooth cheesecake with generous chunks of oreo cookies spread over.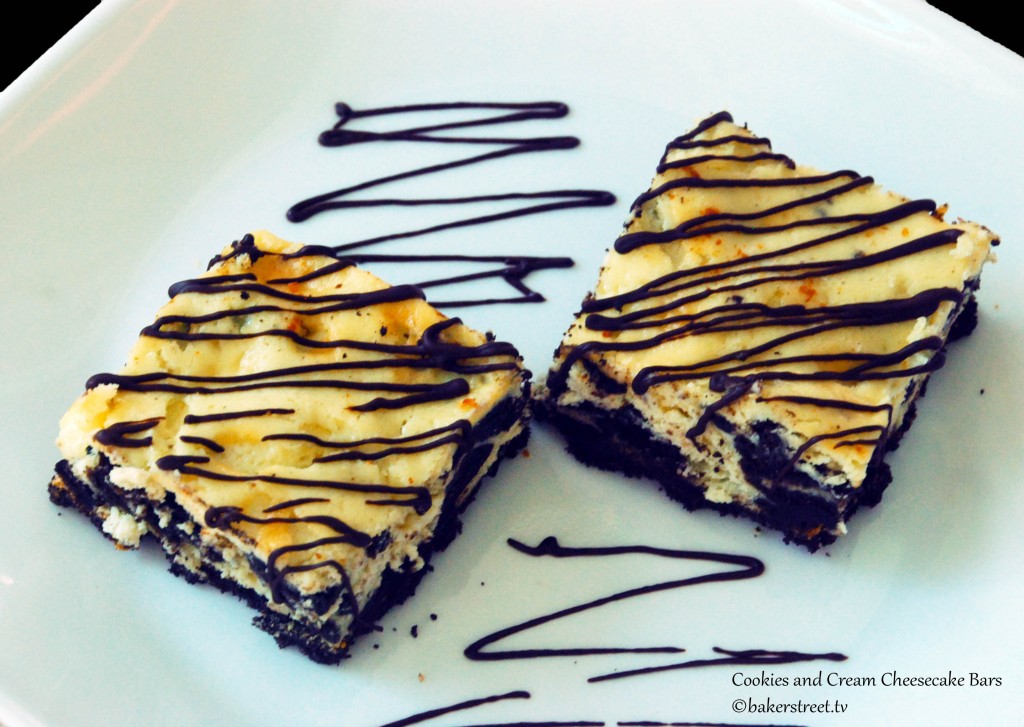 Oreo and butter. Mmmm… I knew the recipe was a keeper but the X factor of the double dose of Oreo cookies makes this dessert perfect and irresistible. The recipe comes together quickly and easily. Well, there is one tough part to get through: waiting for it to chill in the fridge. The cheesecake filling is not too sweet and that's another aspect of the recipe I like. The bars can be cut in any size you like. I added a light drizzle of dark chocolate for dramatic effect.
Cookies and Cream Cheesecake Bars
Author:
Beth Lipton's You Made That Dessert | Reprinted with permission
Ingredients
For The Crust:
1 (1 pound) package Oreo cookies
4 Tablespoons unsalted butter, melted
For The Filling:
3 (8 ounce) packages cream cheese, at room temperature
¾ cup (5.25oz) granulated white sugar
¾ cup sour cream, at room temperature
1 teaspoon vanilla extract
½ teaspoon salt
3 large eggs, at room temperature
Instructions
Preheat oven to 325°F. Line a 9 x 13-inch pan with foil, leaving a 2-inch overhang on two sides (I spray mine with cooking spray).
To Make the Crust:
Place 28 Oreos in a food processor and process until finely ground. Pour into a large bowl, add the melted butter, and stir with a flexible spatula until all crumbs are moistened. Place the cookie-crumb mixture in the lined pan and, using your fingers, press the mixture firmly and evenly into the bottom. Bake 10 minutes, then remove to a wire cooling rack (leave the oven on) while you make the filling. Snap the remaining Oreos in half, put them in the food processor, and turn on and off quickly a few times, just until the cookies are roughly chopped.
To Make The Filling:
In a large bowl, using an electric mixer on medium speed, beat the cream cheese and sugar until well blended, about 2 minutes. Scrape down the sides and bottom of the bowl with a flexible spatula and beat again until uniform. Beat in sour cream, vanilla and salt. Scrape down the bowl and mix again. Add the eggs, one at a time, beating well after each. After beating in the last egg, scrape down the sides and bottom of the bowl and beat one more time, to make sure the mixture is fully combined. Stir in chopped Oreos with the same spatula.
Pour the cream cheese mixture over the baked cookie crust, smooth the top with the spatula, and bake for 40 minutes, until the filling is set around the edges but still slightly wobbly in the center when you gently shake the pan. Remove the pan to a wire rack to cool to room temperature, about 1 hour. When cool, cover it with foil and refrigerate until well chilled, at least 3 hours. (I chill mine overnight)
To cut, use the foil overhang to lift the cheesecake out of the pan and place on a large cutting board. Use a sharp chef's knife to cut the cheesecake into bars, rinsing off the knife with hot water and wiping it dry between each cut. Keep refrigerated until ready to serve.
The batter for the second bar has just been whipped and with a promise of a lovely dessert, it has just been dashed into the oven. Come back tomorrow and I will keep it ready just in time for your morning coffee.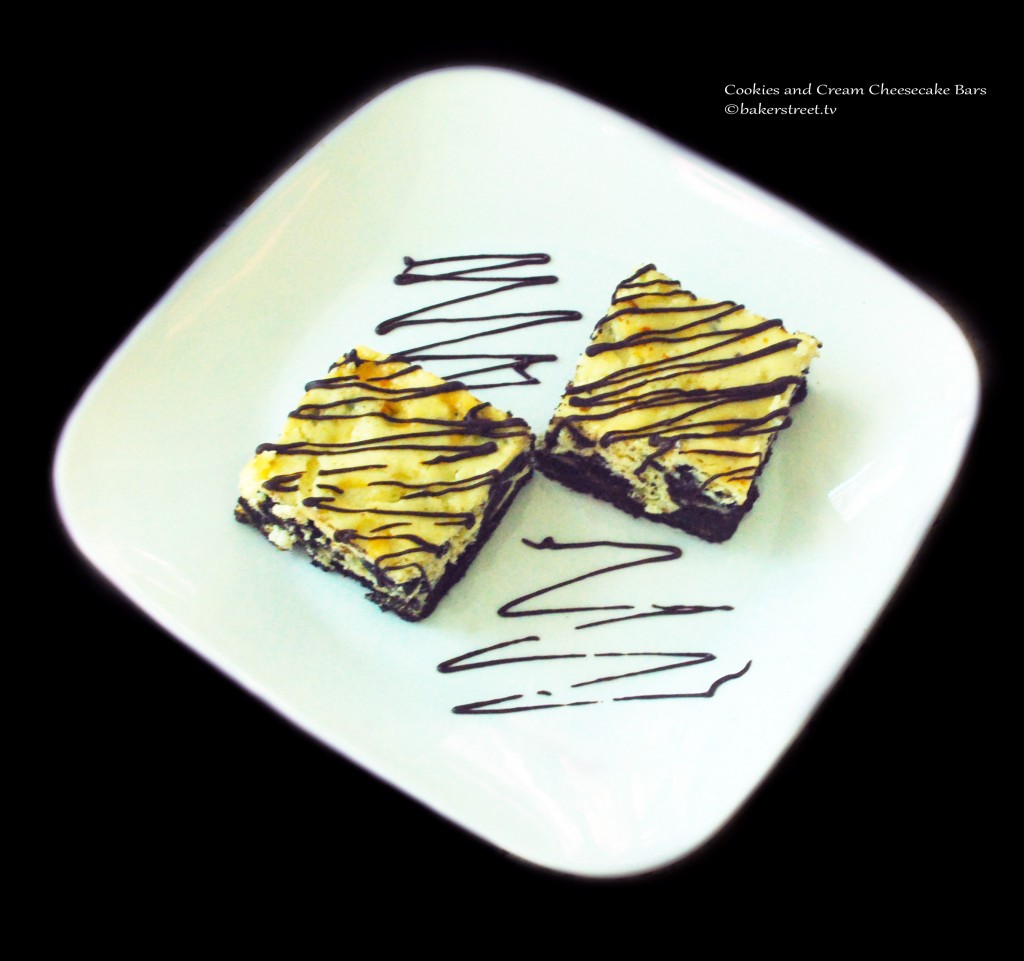 Happy Baking!