Did you read the Cookies and Cream Cheesecake Bar post? This is the second bar I've baked from Beth Lipton's You Made That Dessert. I picked another classic: Coffee and Chocolate Chip Blondies. The bars are rich, dense and with an exceptional coffee flavor.
The toasty coffee and sweet chocolate compliment each other perfectly making these bars a lovely morning nibble. Who doesn't like kickstarting their day on a sweet note, right?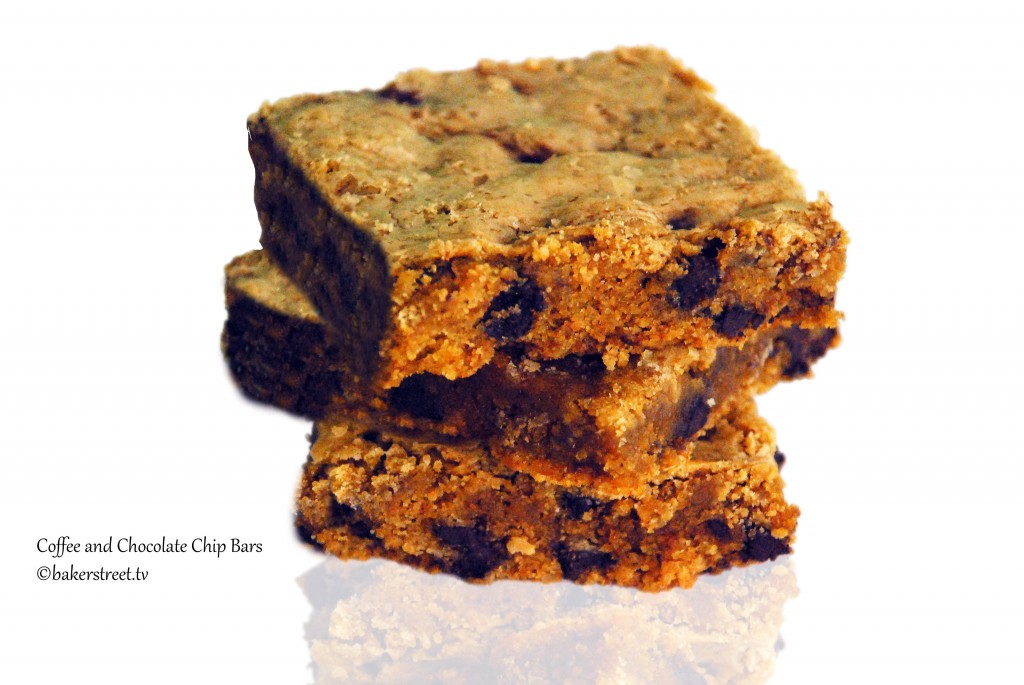 I've also baked a variation: omitting the coffee and adding coconut and cranberries to it. They were softer and slightly more chewy. The base of this recipe is easily adaptable and infallible.
Coffee Chocolate Chip Blondies
Author:
Beth Lipton's You Made That Dessert | Reprinted with the author's permission
Recipe type:
Blondies, Dessert
Prep time:
Cook time:
Total time:
Ingredients
Cooking Spray
11/2 cups (6.4 ounces) all purpose flour
1 teaspoon baking powder
½ teaspoon salt
12 tablespoons (3/4 cup) unsalted butter
11/4 cups packed dark brown sugar
2 eggs, at room temperature
2 tablespoons instant espresso powder
1 tablespoon vanilla extract
1 cup chopped walnuts (I omitted this)
11/4 cup sweet chocolate chips
Instructions
Preheat the oven to 350F. Line a 9 by 13 inch baking pan with foil. Leave a two inch overhang on both sides; lightly mist the foil with cooking spray.
In a small bowl, combine the flour, baking powder and salt; stir with a fork to mix. In a saucepan, warm the butter and brown sugar on low heat, stirring with flexible spatula until the butter has melted and butter and sugar are well combined.
Pour the butter sugar mixture into a large bowl and let it cool for about 5 minutes. (test the temperature with your finger- it should feel warm but not hot)
Meanwhile, beat the eggs lightly in a small bowl with a whisk, just to mix the yolk and whites. In a small bowl, dissolve the instant espresso with vanilla.
When the butter sugar mixture has cooled beat in the eggs with the whisk, then beat in the espresso vanilla mixture. Add the flour mixture and stir with a flexible spatula or a wooden spoon. Scrape down the bottom of the bowl ensuring all the dry ingredients are mixed in. Stir in chopped nuts and chocolate chips.
Scrape down the batter into the baking pan and spread it evenly with a flexible spatula. Bake for 20 – 25 minutes until just golden brown and set in the centre. Transfer the pan to a wire rack and let to cool. Let it cool completely.
For the nearest cut, place the pan in the refrigerator for 20 minutes before slicing. To slice use the overhang foil to remove the blondies and place on a large cutting board. Use a chef's knife and cut into 24 pieces, wiping off knife between cuts, then carefully remove foil.
Happy Baking!
[Note: Both recipes have been reprinted with Beth Lipton's permission]