This is my version of a twin post with Shulie (aka foodwanderings).
A week ago, Shulie (@foodwanderings) posted an inspiring post. She went apple picking and came back with 20 lbs (9 kgs) of apples! Crazy, right?!  I couldn't help but think of the endless possibilities of baking with apple. The Apple Crumble was the obvious choice, but much done.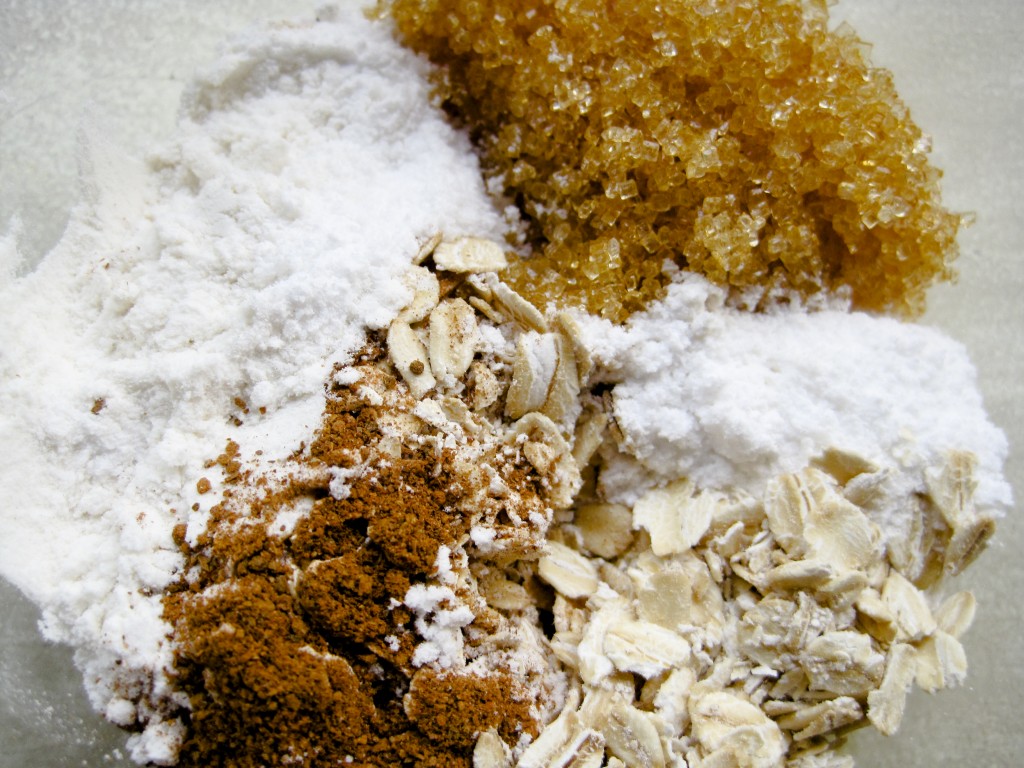 It was in the midst of one of our 2 AM conversations when we decided to do an 'Apple Project' together and all it took was a mention of 'Apple Streusel Muffins' before we were scrambling all over the net, looking for perfect recipe.We found a few and decided to do recipe mash up. We must thank Gourmet Delights (@exceptionalfood), Laura (@laurarecipes) and Sarina (@Trinigourmet) to help us find the base of our effort.
We absolutely loved the concept of rolled oats in the streusel in Laura's recipe and the idea of apple cider in the muffins from Sarina's recipe. So we combined both these super ideas for our own creation.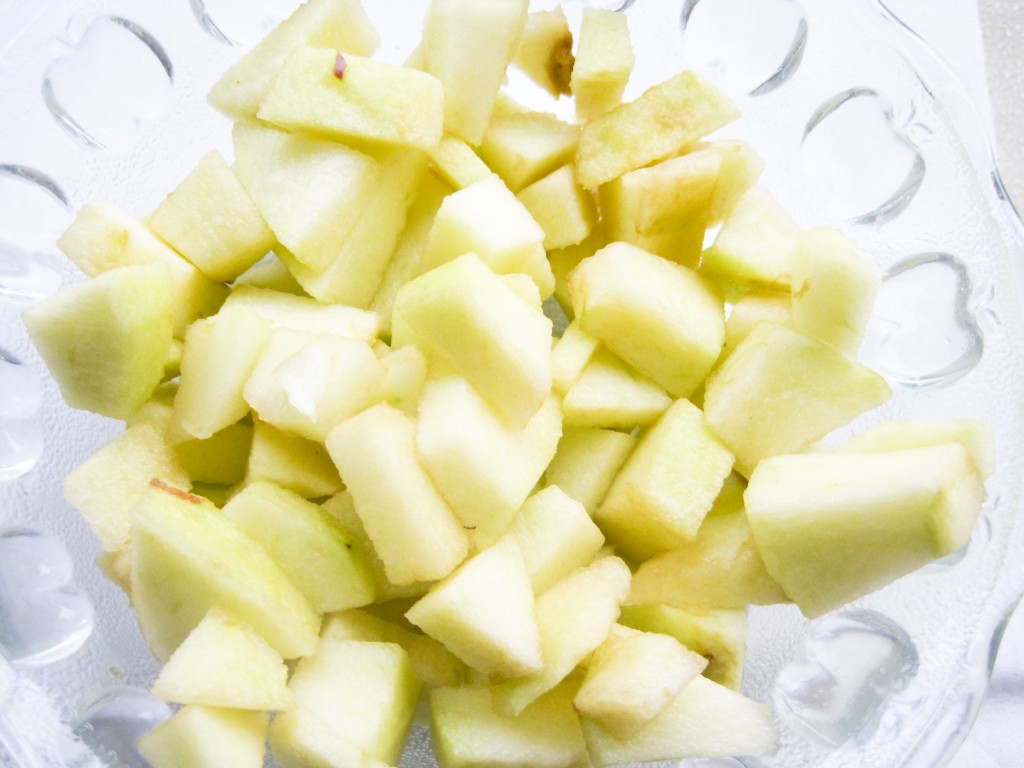 The best part about putting this post together was the process. Our endless conversations and exchanges on variations, flavors and quantities while getting to know each other better makes this a very special post. A shout out to Shulie for making this process such an awesome experience is long overdue. Here is a link to this post's twin: Foodwanderings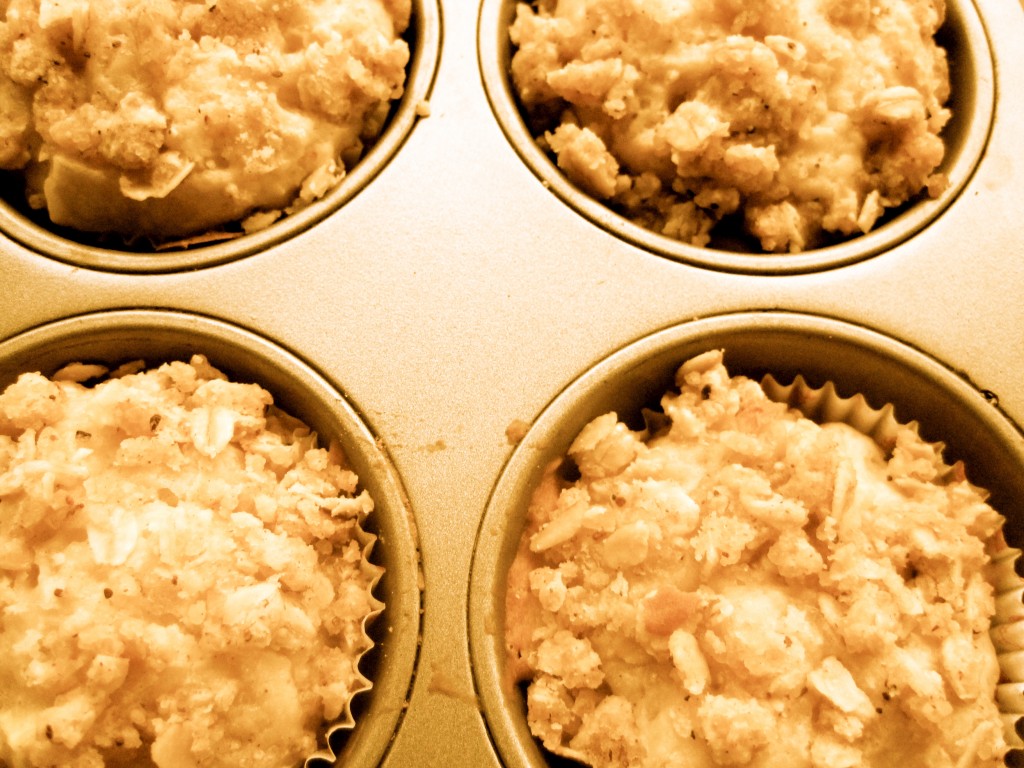 The recipe is easy to execute and the muffins will stay moist for a few days (however, I doubt they will actually be around that long). The delicious crumb topping makes these muffins taste like miniature tea-cakes.
Here are a few tips that you should keep in mind while making muffins:
– Always preheat the oven and let it reach the desired temperature before you put your muffins in.
– Resist opening the oven door during baking.
– Ensure all your ingredients are measured accurately.
– Don't add more baking powder, thinking the muffins will rise more. Too much can cause them to over-rise and then collapse and the muffins will be heavy.
– Don't over-mix the mixture as this will cause the muffins to be tough and the texture compact.
– Once the dry and wet indgredients have been mixed make sure to bake it immediately as the baking powder starts to work by relaxing the dough and allowing it to rise.
– Don't over-bake the muffins as they will become dry.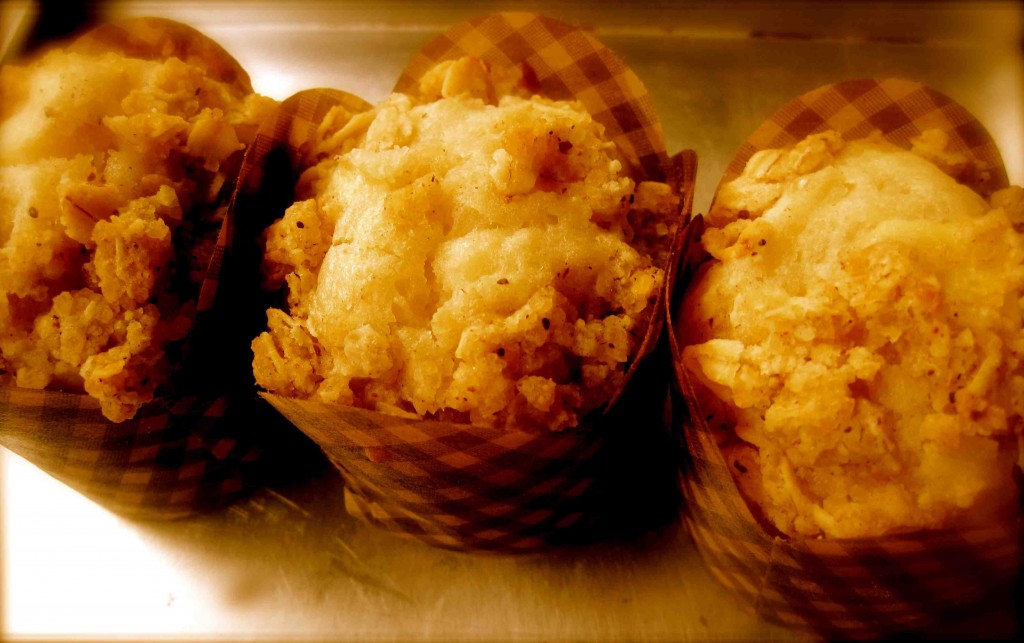 Apple Rolled Oats Streusel Cider Muffins: Twin Post
Ingredients
¼ cup all-purpose flour
4 TBSP butter, softened
2 TBSP sugar
2 TBSP brown sugar
½ tsp cinnamon
¼ cup rolled oats
1¾ cups all-purpose flour
¼cup powdered sugar
2 Tsp baking powder
¼ Tsp baking soda
¼ teaspoon salt
1 large egg, beaten (at room temperature)
½ cup apple cider or apple juice (at room temperature)
1 large tart apple, peeled, cored and diced
Few drops of fresh lemon juice
1 teaspoon vanilla extract
¼ cup oil
¼ cup yogurt (at room temperature)
Instructions
Preheat oven to 350F.
Place muffin liners in the tin.
For the Streusel: Toss together the brown sugar, sugar, flour, rolled oats and cinnamon in a small bowl. Mix the butter with a fork until crumbly and set aside. Tip: If you happen to overwork the streusel and it sticks together to make large clumps then stick it in the refrigerator for 10 minutes or until the butter solidifies and cut it again in small chunks.In a large bowl sift together flour, baking soda, sugar, baking powder and salt. Set aside.
In another large bowl, whisk together the oil, cider, egg and yogurt. – Add the dry ingredients to the cider mixture reserving 1 TBSP of the dry ingredients.
Peel, core and toss the apples with a few drops of lemon and balance 1 TBSP of the dry ingredients.
Add apples to the mixture. Mix until just blended. Do not over mix.
Using an ice cream scoop, fill the tins half full then sprinkle some streusel on top.
Place into the oven immediately and bake for 25 to 30 minutes.
Remove from the oven and let cool.
These muffins make for perfect breakfast with a cup of hot tea. In case you plan to freeze these muffins then thaw at room temperature for 2-3 hours or reheat frozen muffins on a baking tray at 350F for 15-20 minutes.
Happy Baking!