A classic tender cake gussied up with a luscious dulce de leche swirl. Rich, bursting with a buttery flavor showcasing the inner swirl of caramel making it unique and memorable.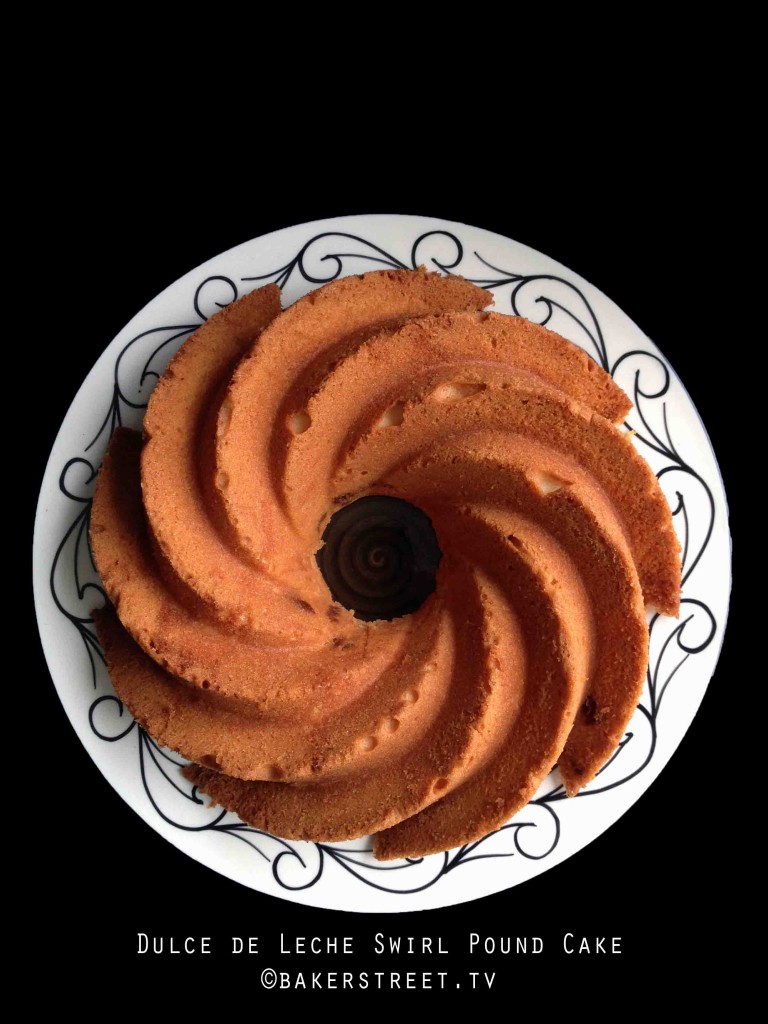 Ingredients
1½ cups butter, softened
3 cups sugar
1 (8-oz.) package cream cheese, softened
6 large eggs
3 cups all-purpose flour
½ teaspoon vanilla extract
4-6 spoonfuls of dulce de leche
Instructions
In a large bowl beat butter at medium speed with a heavy-duty electric stand mixer until creamy. Gradually add sugar, beating at medium speed until light and fluffy. Add cream cheese, beating until creamy.
Add eggs, 1 at a time, beating just until blended after each addition.
Gradually add flour to butter mixture. Beat at low speed just until blended after each addition, stopping to scrape bowl as needed.
Stir in the vanilla extract.
Pour half of batter into a greased and floured 10-inch (14-cup) tube pan. Dollop 4-6 rounded teaspoonfuls of dulce de leche over batter, and swirl with wooden skewer and top with remaining of the batter.
Bake at 350° for 1 hour to 1 hour and 10 minutes or until a long wooden pick inserted in center comes out clean.
Cool in pan on a wire rack 10 to 15 minutes; remove from pan to wire rack, and cool completely (about 1 hour).
Here ís how you can be a part of Bundt-a-Month:
Simple rule: Bake us a bundt using caramel
Post it before July 31, 2013
Use the #BundtaMonth hashtag in your title. (For ex: title could read  #BundtaMonth: Caramel Swirl Bundt)
Add your entry to the Linky tool below
Link back to our announcement posts
Looking for inspiration? Hop over and check out these gorgeous cakes –
Brown Butter Bundt Cake with Salted Caramel Icing
by Holly from
A Baker's House
Buttermilk Bundt Cake with Salted Caramel Icing
by Carrie from
Poet In The Pantry
Caramel Apple Bundt Cake
by Rachel from
I Love My Disorganized Life
Caramelized Apple Bundt Cake
by Lora from
Cake Duchess
Caramel Pound Cake
by Veronica from
My Catholic Kitchen
Chocolate Bundt Cake with Salted Caramel
by Alice from
Hip Foodie Mom
Double Glazed Caramel Mocha Bundt
by Stacy from
Food Lust People Love
Dulce de Leche Bundt Cake
by Renee from
Magnolia Days
Dulce de Leche Swirl Pound Cake
by Anuradha from
Baker Street
Orange Caramel Bourbon Bundt Cake
by Paula from
Vintage Kitchen Notes
Salted Butterscotch Caramel Bundt Cake
by Laura from
The Spiced Life
Salted Caramel Mini Apple Cake Bundts
by Anita from
Hungry Couple
Snickers Bundt Cake
by Karen from
In The Kitchen with KP
Toffee Pecan Bundt Cake with Caramel Drizzle
by Anna from
From My Sweetheart
Vanilla Bean Salted Caramel Bundt Cake
by Kate from
Food Babbles
Even more bundt fun! Follow Bundt-a-Month on Facebook where we feature all our gorgeous bundt cakes. Or head over to our Pinterest board for inspiration and choose from hundreds of Bundt cake recipes.
Happy Baking!