The pumpkin gingerbread muffins we baked for the Holiday Series last year remains one of my favorites but that didn't quite stop me from trying another gingerbread muffin.
I baked a Chocolate Gingerbread Bundt Cake last week and that turned out to be an irresistible combination! As for this Monday's muffin, the original recipe from Donal Shekan was altered significantly, but it came together – I daresay – better than the original would've ever tasted. No hard feelings, Donal!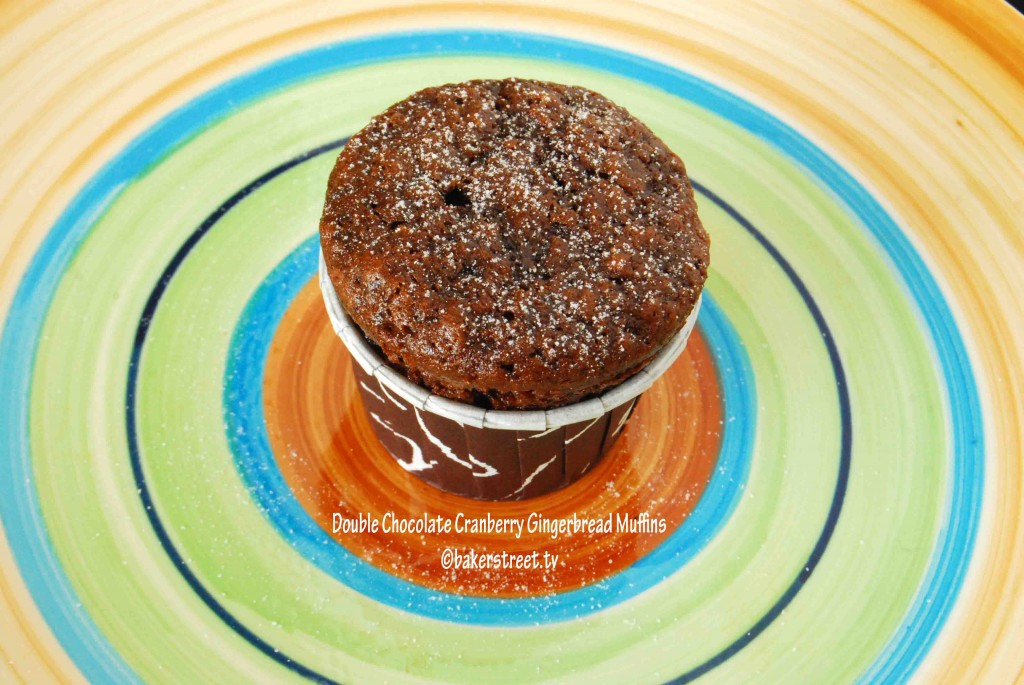 I restricted myself to dark brown sugar, a combination of all purpose flour and baking soda instead of self raising flour, a dash of nutmeg along with ginger and cinnamon, and a part of cocoa along with the flour. I added a couple ounces of chocolate that I melted along with the butter and I also reduced the egg and added molasses, cut out the zest of lemon and added a cup and a half of dried cranberries. I totally let go of the cream cheese glaze (even though I can't resist the idea of cream cheese in general, sometimes you just know it's not going to work) and simply sifted some sugar on top.
There you have it: Chocolate, gingerbread and cranberries – All the holiday flavors in one tiny muffin.
#MuffinMonday: Double Chocolate Cranberry Gingerbread Muffins
Author:
adapted from Donal Shekan
Recipe type:
Muffins, Dessert
Ingredients
½ cup butter
2 ounces semisweet chocolate
1 cup dark brown sugar
21/4 cups all purpose flour
¼ cup cocoa
11/2 tsp. baking soda
½ tsp. salt
1 tsp. cinnamon
1 tsp. ground ginger
¼ tsp. nutmeg
1 egg
½ cup molasses
1 cup buttermilk
11/2 cups dried cranberries
Instructions
Preheat oven to 350F and line a 12 hole muffin pan with paper liners.
Melt the butter and chocolate together in a small bowl in the microwave and cool slightly.
In a large bowl, combine brown sugar, flour, cocoa, soda, salt, cinnamon, ginger and nutmeg.
In a measuring jug combine the egg, molasses, and milk.
Stir in the melted chocolate.
Add the chocolate mixture to the flour mixture and gently mix until just combined.
Fold in the cranberries and spoon the batter into the muffin cups. Fill only ⅔ cups full.
Bake in a preheated oven for 15-20 minutes or until a toothpick comes out clean. Cool in pan for 5-8 minutes and transfer on a wire rack. Dust with sugar and serve warm.
#MuffinMonday: Round Up
Happy Baking!