Chocolate + Spice + Molasses = Classic!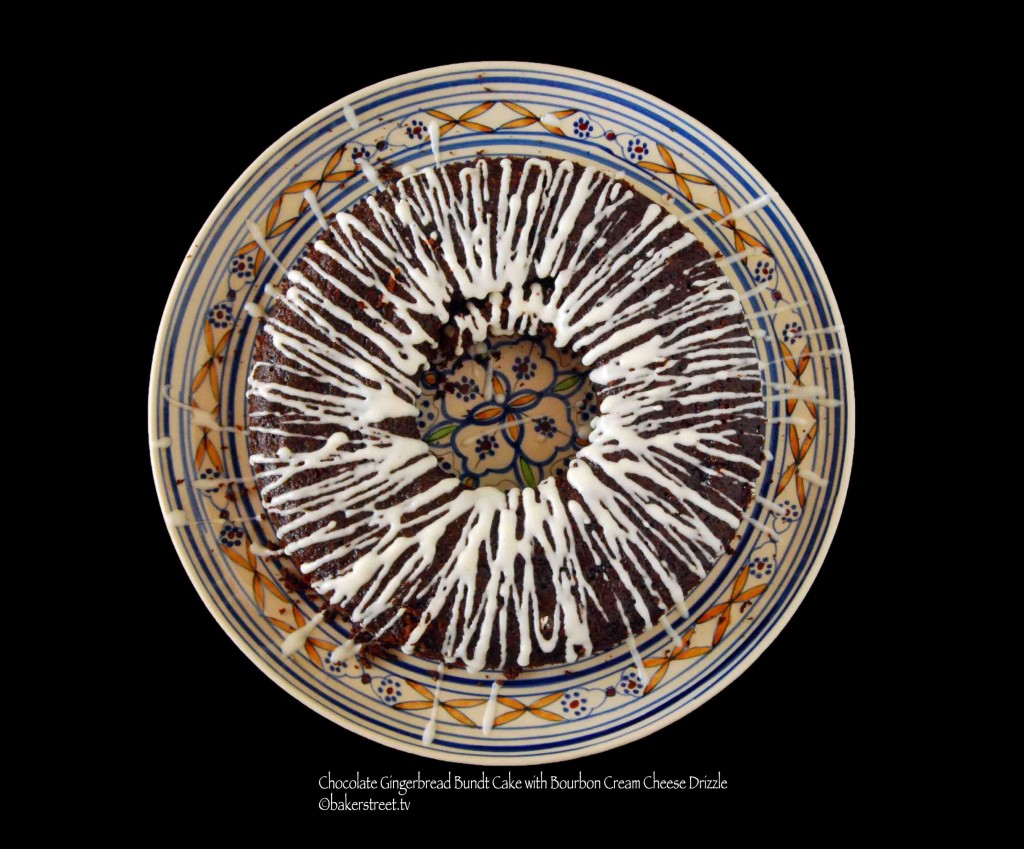 I'm onto one of Martha's no-fail recipes today. A cake so easy to put together, it should be in everyone's holiday handbook.
The base of the cake does not require any change. The butter and molasses mixture comes together easily. Just make sure you don't leave it unattended. I did skip the freshly grated ginger and changed the bourbon glaze to a cream cheese bourbon drizzle and this really upped the oomph in this cake. You could also enjoy a warm slice right out oven with a spoon of clotted cream and that morning cuppa. You could do this right now! Go on, preheat that oven and get the batter of this delicious cake ready in under 10 minutes.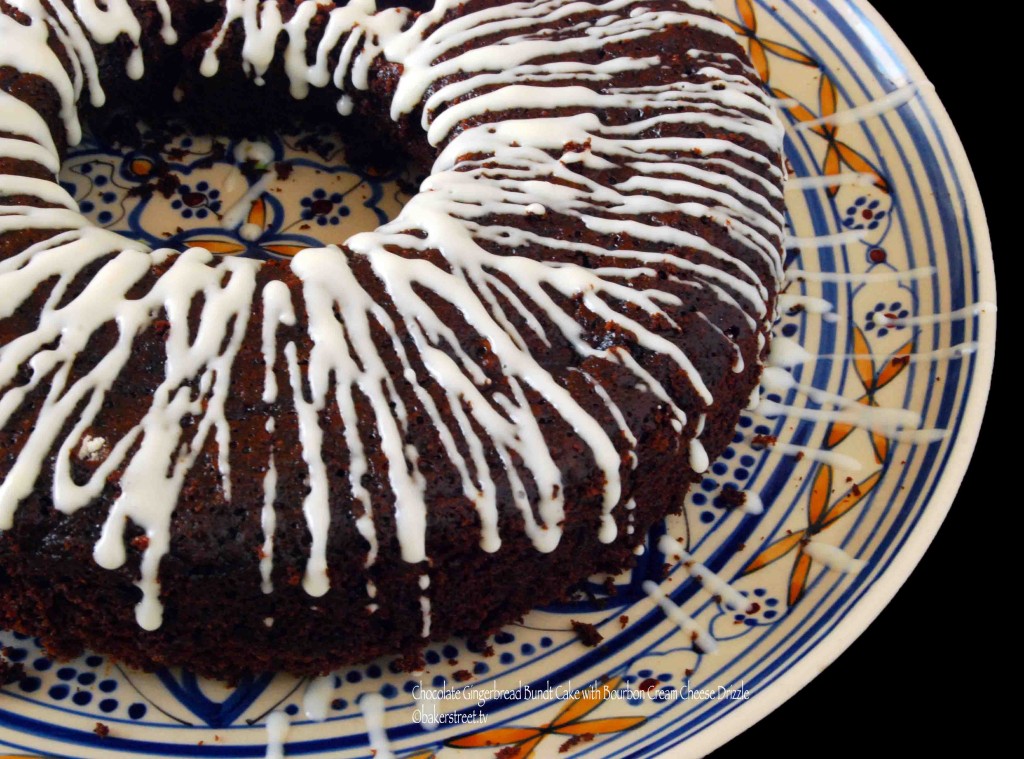 Here is it – A rich, moist and dense chocolate cake with a kick of spice and the ultimate cream cheese bourbon drizzle.
Chocolate Gingerbread Cake with Bourbon Cream Cheese Drizzle
Author:
minimally adapted from Martha Stewart
Recipe type:
Cake, Dessert
Ingredients
For the Cake:
½ cup (1 stick) unsalted butter, softened, plus more for pan
½ cup unsweetened Dutch process cocoa powder, plus more for dusting
½ cup dark molasses
¾ cup packed light-brown sugar
2 large eggs
¼ cup whole milk
1 cup all-purpose flour
¾ teaspoon baking soda
½ teaspoon coarse salt
11/4 teaspoon ground ginger
1 teaspoon ground cinnamon
For the Drizzle:
3 ounces cream cheese
3 tablespoons confectioners sugar
¼ cup bourbon
Instructions
Preheat oven to 325 degrees and generously grease a 9-inch Bundt pan.
Dust with cocoa powder, and tap out excess; set aside.
Sift together flour, cocoa powder, baking soda, salt, ground ginger, and cinnamon into a medium bowl; set aside.
In a saucepan, over medium heat melt butter, molasses, brown sugar, and ¼ cup water. Cook, stirring constantly, until butter has melted. Transfer mixture to a large bowl. Let cool 5 minutes.
Add eggs and milk to the molasses mixture; whisk to combine.
Gently fold the flour mixture into the molasses mixture until just combined. (There should be lumps remaining.) Pour batter into prepared pan.
Bake cake until a cake tester inserted into center comes out clean, about 30 minutes. Let cake cool completely in pan on a wire rack.
Invert cake, and unmold onto a cake stand or a large serving platter.
For The Drizzle:
Beat the cream cheese and sugar until well combined. Add the bourbon by a tablespoon at a time until you reach the desired consistency.
Spoon the mixture in a piping bag and drizzle the cream cheese bourbon glaze over the cake in a back-and-forth motion. Serve immediately.
Welcome to day #4 of Christmas Week, a multi-blogger event co-hosted by Kim of Cravings of a Lunatic and Jen of Juanita's Cocina.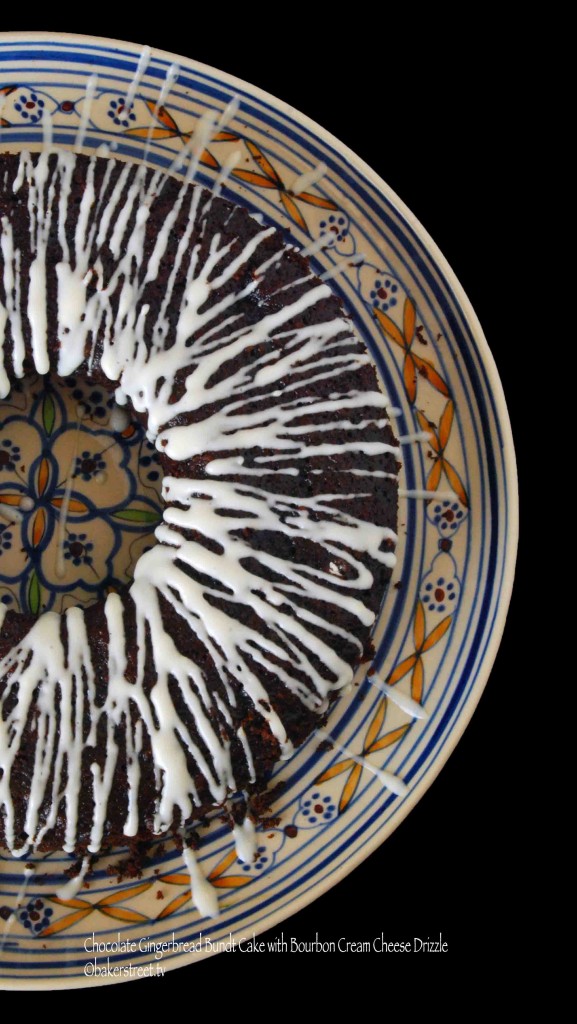 Today's theme for Christmas Week is "Gingerbread Surprise". Make sure you visit all the participating bloggers today to see what special dish they whipped up for you.
Ginger Horse Cookies
from Kim of
Cravings of a Lunatic
Mini Gingerbread Donuts
from Jen of
Juanita's Cocina
Gingerbread Biscotti
from Liz of
That Skinny Chick Can Bake
Chocolate Gingerbread Bundt Cake with Bourbon Cream Cheese Drizzle
from Anuradha of
Baker Street
Gingerbread Donuts with Lemon Glaze
from Kristen of
Frugal Antics of a Harried Homemaker
Mini Holiday Gingerbread Loaves
from Isabelle of
Crumb
Gingerbread Biscoff Truffles
from Erin of
Dinners, Dishes and Desserts
Gingerbread Dip
from Erin of
The Spiffy Cookie
Gingerbread Milkshake
from Ramona of
Curry and Comfort
Gingerbread Pumpkin Bars
from Heather of
Girlichef
Gingerbread Cinnamon Rolls
from Cathy of
The Dutch Baker's Daughter
Gingerbread Whoopie Pies with Lemon Cream Cheese Filling from Chung-Ah of
Damn Delicious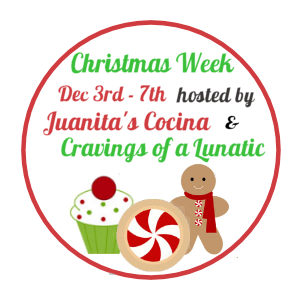 I'm also sharing this post for Brenda's 12 Weeks Of Christmas Treats. Hop over to see other delicious christmas treats.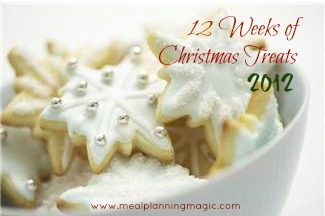 Happy Baking!