If muffins were movies, today's is the year's blockbuster. It is the formulaic, feel-good, heavy on special effects and visual razzmatazz, starring Brad Pitt and Tom Cruise kinda muffin. It is some serious bang for your buck for you will only leave your seat after having got your money's worth. Today's epic muffin is the Pancake Muffin and it's got allthe elements you can imagine to make it the blockbuster muffin of the year: Reese's Peanut Butter Cup candy, chocolate chips, and dunked in maple syrup.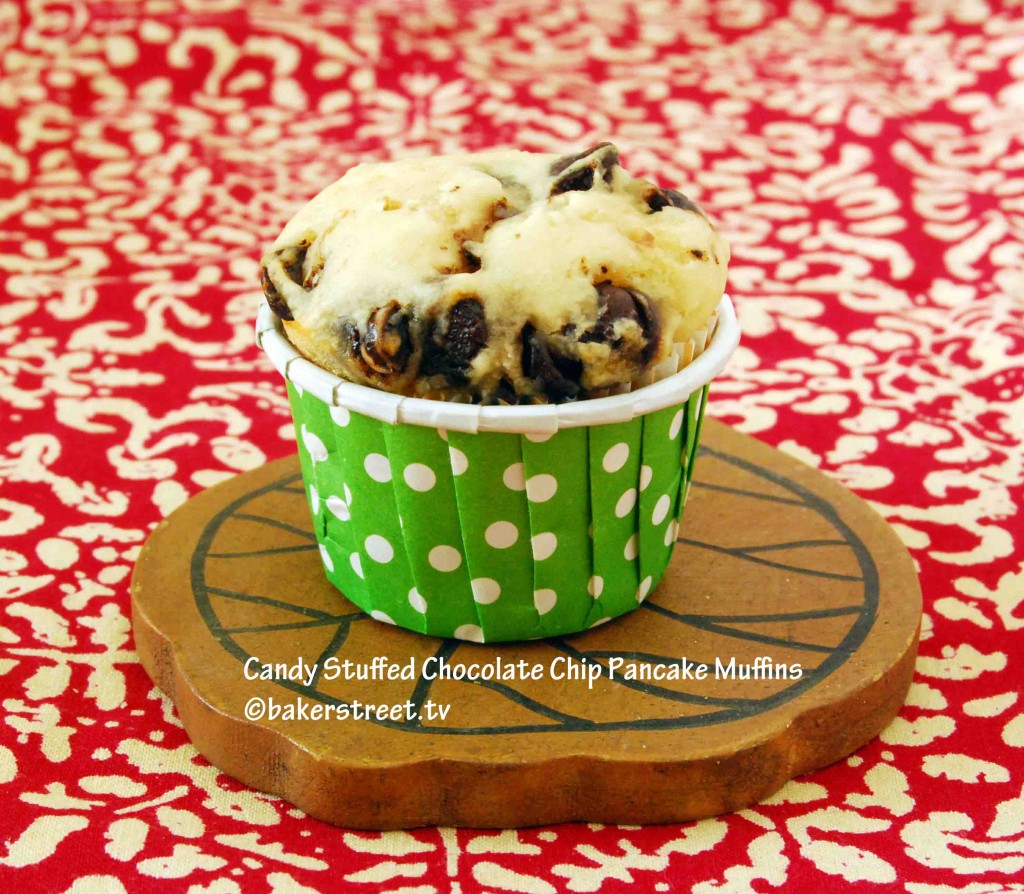 We've already done doughnut muffins so why should pancake muffins be left out, right?! The recipe is extremely versatile and opens itself to swing either way – sweet or savory. I really couldn't make up my mind what to do with the recipe but went with what I thought was the best idea of the many many more that were running in my head. There isn't much sugar in the batter that makes you want to reduce it to savory and either ways you can dunk these into maple sauce which would make for an incredible breakfast.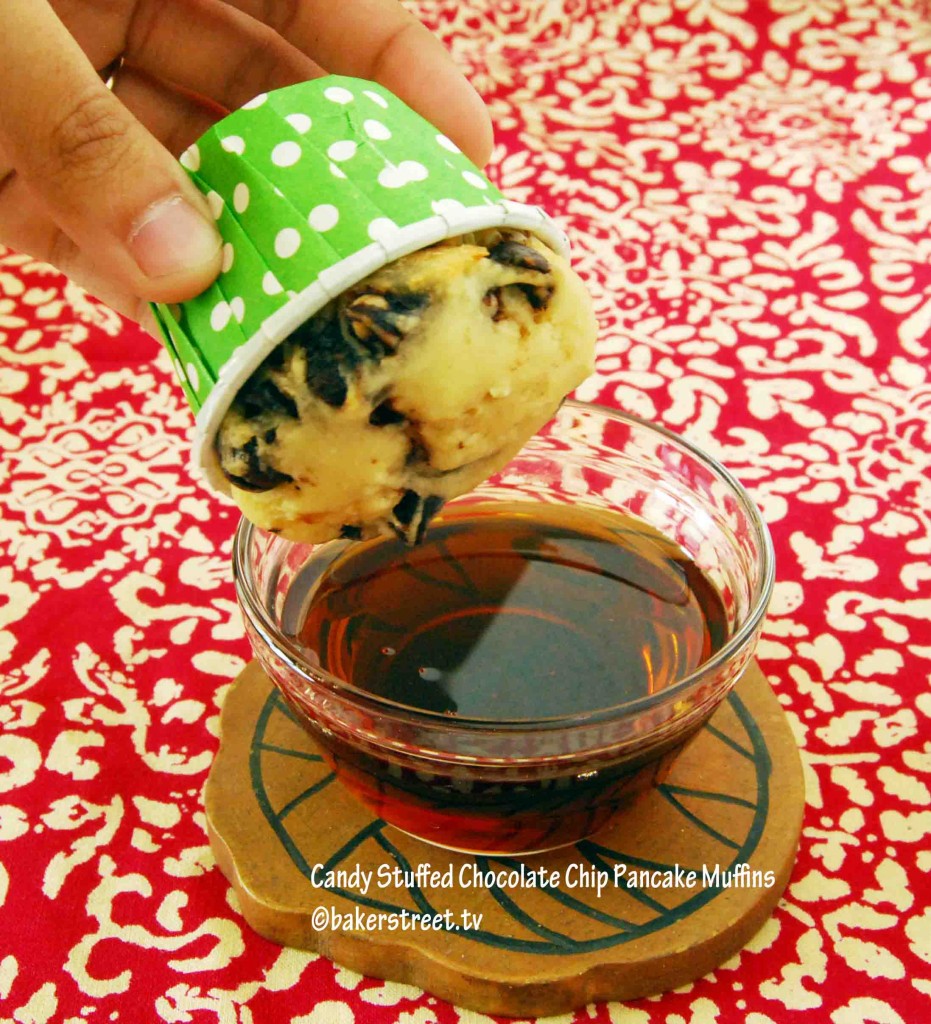 Ah… another upside, you don't have to stand over the hot griddle and keep churning out pancakes, these just need to be popped back into the microwave for 20 seconds and voila, your breakfast is ready.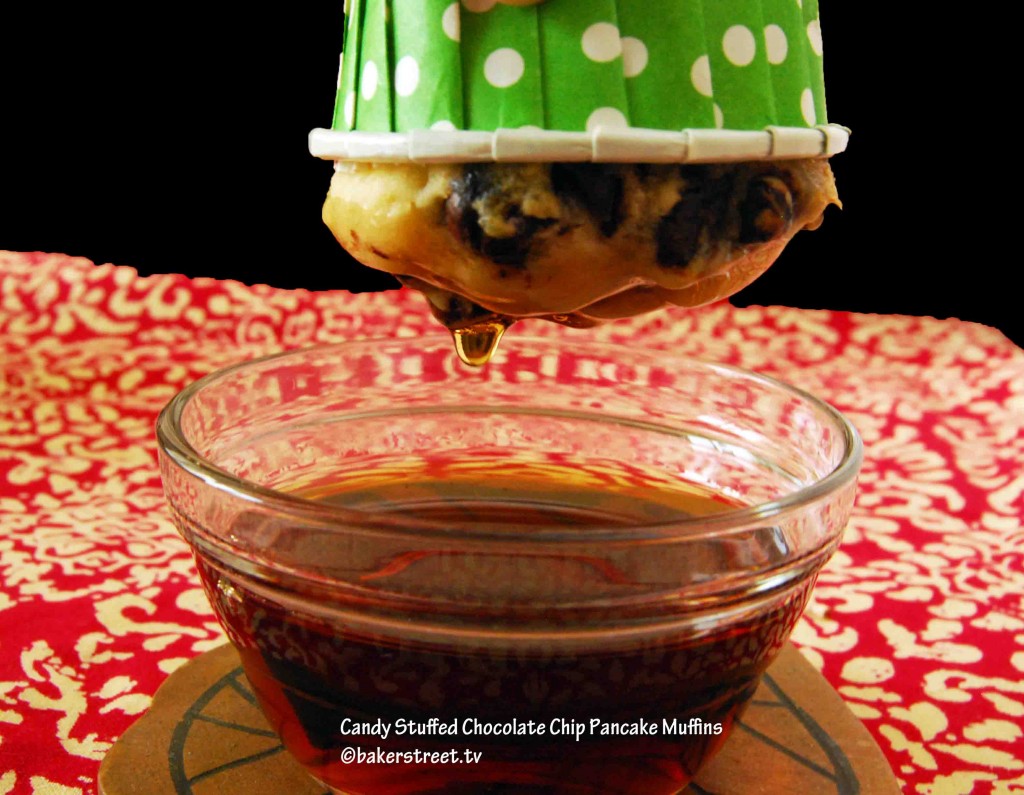 My twist on these delicious muffins was to add half a cup of chocolate chips and stuff them with candy. And you already know my choice of candy: Reese's Peanut Butter Cups. Perfect breakfast muffin on a christmas morning, no?
#MuffinMonday: Candy Stuffed Chocolate Chip Pancake Muffins
Author:
adapted from bakingdom
Serves:
12 medium sized muffins
Ingredients
1 cup flour
1 teaspoon baking powder
½ teaspoon baking soda
¼ teaspoon salt
2 tablespoons sugar
⅔ cup buttermilk
1 egg
2 tablespoons pure maple syrup
2 tablespoons melted butter
½ cup milk chocolate chips
12 reese's peanut butter cups, unwrapped.
Instructions
Preheat oven to 350 degrees and line a 12 hole muffin pan with liners.
In a large bowl, combine flour, baking powder, baking soda, salt and sugar.
In another bowl, stir buttermilk, egg, maple syrup and melted butter until just combined.
Add wet ingredients to dry ingredients and stir with a spoon until combined.
Stir in chocolate chips. Put a spoonful of batter in the pan muffin pan. Dunk a peanut butter cup in each muffin and then cover it with another spoonful of batter.
Bake for 10-12 minutes or until a toothpick comes out clean
And woah! Are we in the second last week of Holiday muffins already?! The year's zoomed past.Only one more recipe to go this year and make sure you're tuned in, because it really is going to be the ultimate holiday #MuffinMonday!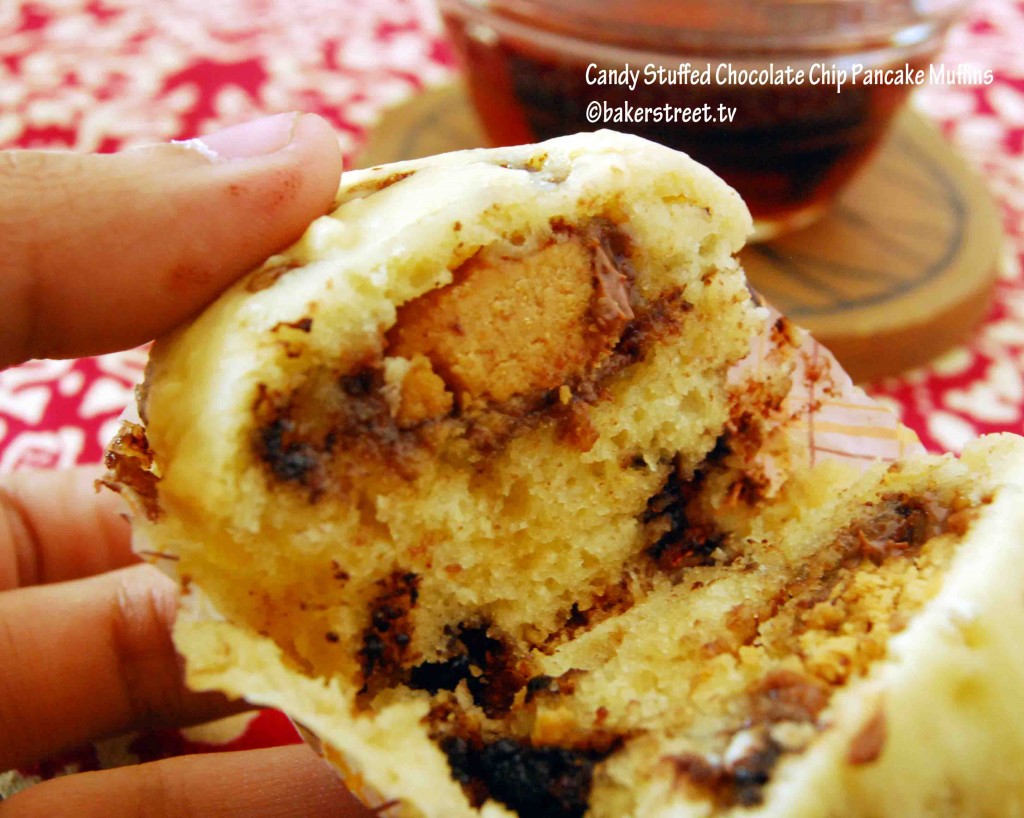 #MuffinMonday: Round Up
Happy Baking!