This recipe is easy: one that needs no occasion and works wonderfully if made only for a moment of happiness such as a lunch box surprise. It is in essence a hybrid of dense brownies and chewy cookies.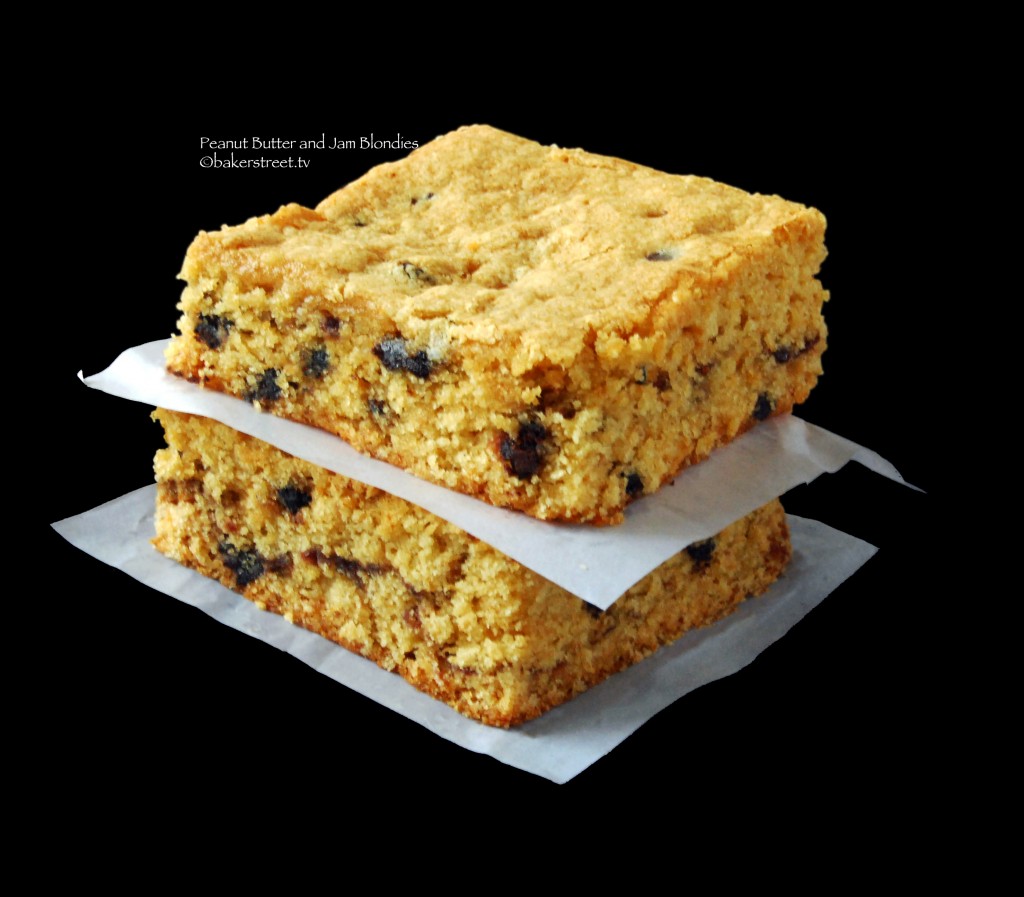 The original recipe captures the classic flavor of peanut butter and chocolate. I made two small changes. I added a double dose of peanut butter chocolate chips and used 1/2 cup of jam to swirl through the batter.
Changes and Variations: Try using the different type of peanut butter: chunky, roasted nut honey creamy or peanut butter and chocolate spread. Avoid the jam completely and try a combination of dark chocolate and peanut butter chips. Maybe even white chocolate chips. Serve it with a tall glass of milk or generous scoop of ice cream.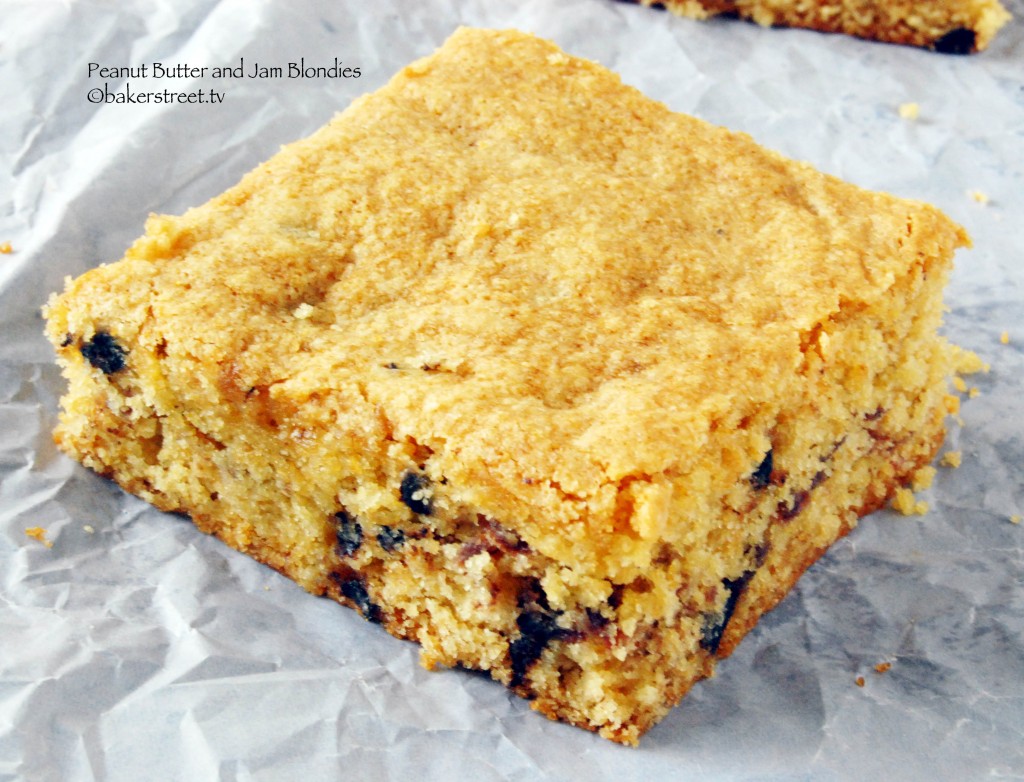 Over to the recipe: Soft and chewy Peanut Butter and Chip Blondies with a luscious swirl of raspberry jam.
Peanut Butter and Jam Blondies
Author:
Minimally adapted from The Ultimate Brownie Book
Recipe type:
Blondies, Dessert
Ingredients
12/3 cups all-purpose flour, plus additional for dusting the pan
¾ teaspoon baking powder
¼ teaspoon salt
¾ stick unsalted butter, plus additional for the pan, at room temperature
¾ cup granulated sugar
½ cup packed light brown sugar
¼ cup creamy peanut butter
2 large eggs, at room temperature
1 large egg white, at room temperature
2 teaspoons vanilla extract
2 cups peanut butter chips (You could also divide this and use 11/2 cups peanut butter chips and ½ cup semisweet or bittersweet chocolate chips)
½ cup of your favorite jam (I used raspberry)
Instructions
Preheat the oven to 350°F. Butter and flour a 9-inch square baking pan; set it aside.
In a medium bowl, whisk the flour, baking powder, and salt until well combined. Set aside.
In a large bowl, cream the butter, granulated sugar, brown sugar, and peanut butter with an electric mixer at medium speed; continue beating until smooth and very thick, about 7 minutes.
Add the eggs one at a time, allowing the first to be thoroughly incorporated before adding the second. Scrape down the sides of the bowl as necessary.
Beat in the egg white and vanilla until smooth, about 2 minutes.
With a wooden spoon or a rubber spatula, stir in the peanut butter chips and the chocolate chips until well combined.
Then stir in the flour mixture just until incorporated. Do not beat.
Spoon half the batter into the prepared pan, then top with dollops of jam. Using a spatula or a knife, give it a little swirl, then top with the remaining batter spreading it gently to the corners. (See Note)
Bake for 25 minutes, or until the top is light brown and a toothpick or cake tester comes out with a few moist crumbs attached.
Set the pan on a wire rack to cool for at least 1 hour.
Cut the blondies into 16 squares while they're still in the pan. Carefully remove them with an offset spatula. Serve immediately, or let cool completely before covering with plastic wrap for storage at room temperature.
They will stay fresh for up to 3 days. The blondies can be tightly wrapped in wax paper, sealed in a freezer-safe bag, and frozen for up to 3 months; allow them to thaw at room temperature before serving.
Notes
– In case the jam is not of spreadable consistency then heat it in the microwave for 15 to 20 seconds. – Ensure the jam layer doesn't touch the sides or the bottom of the pan to avoid burning.
Happy Baking!