A rich, dark chocolate brownie is an ideal dessert. The great thing about brownies is how quickly you can whip them up. You can start on a batch just before dinner or the minute your friends walk in home and have a warm fudge bar ready by the time you've settled with that cup of coffee. If this sounds easy, it is made possible only because I keep my brownies in jar mix ready at all times in my pantry.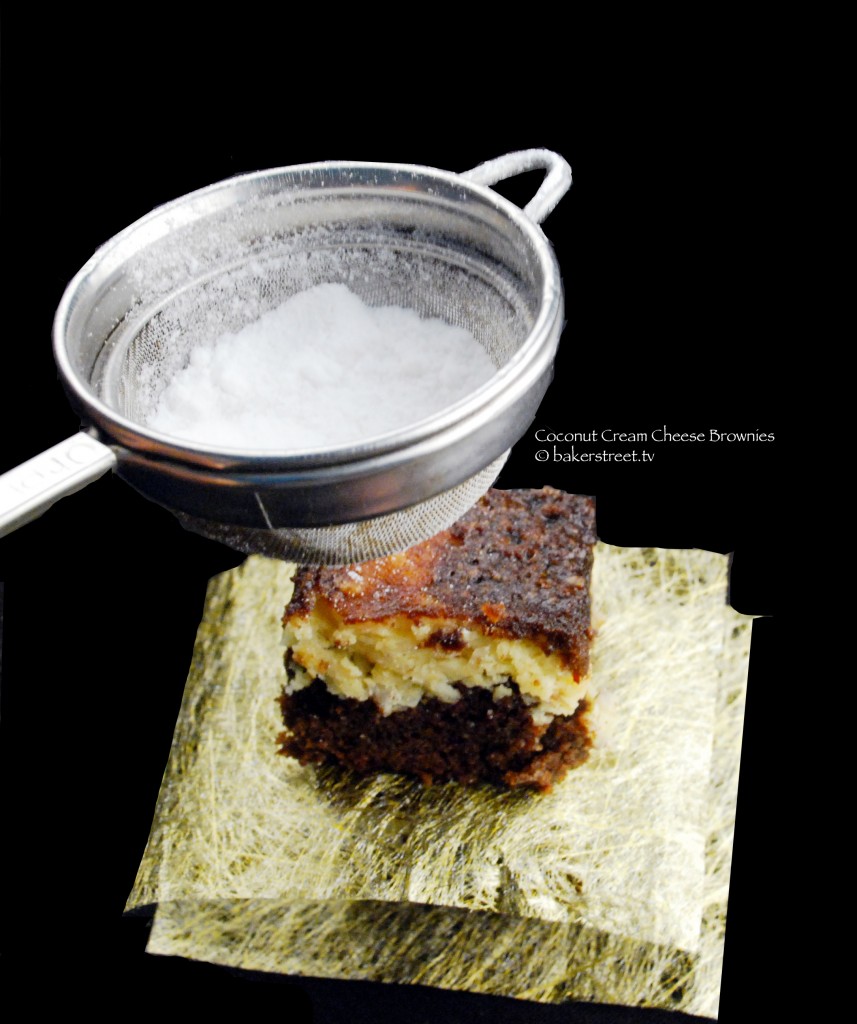 Every time I bake brownies, I try a new recipe. With my love for cream cheese, this was an experiment I had to do immediately on stumbling upon the recipe. A classic flavor combination; very hard to resist. One layer is super fudgy with an intense chocolate flavor and a thick and creamy coconut swirl running through it.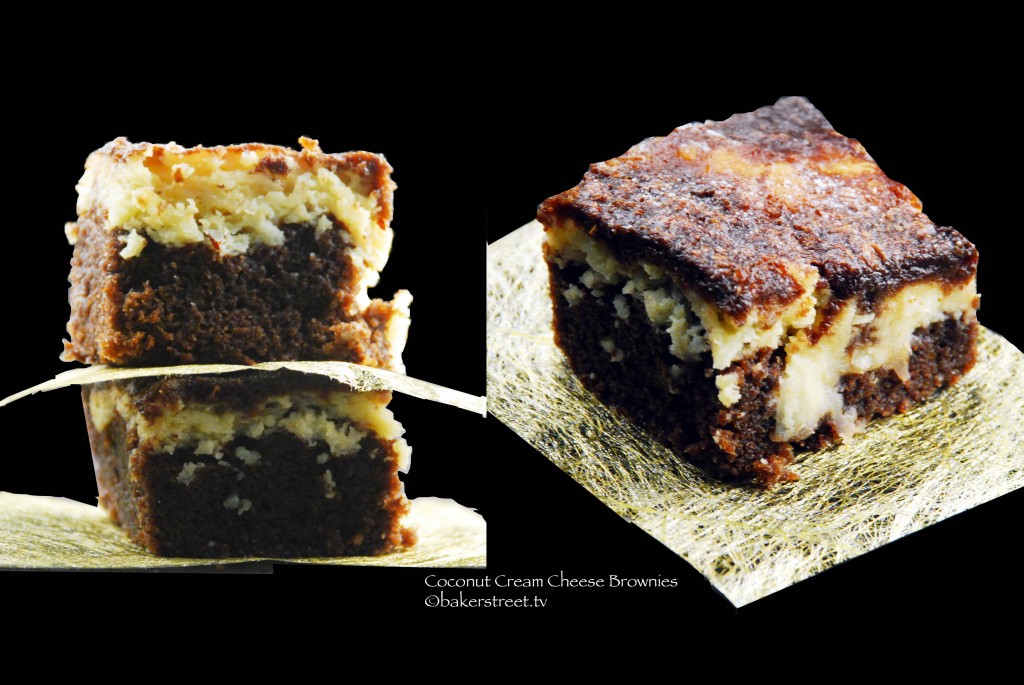 So here you are: A thick layer of fudgy chocolate brownies with a layer of coconut and cream cheese goodness. Impossible to say no to, right?
Coconut Cream Cheese Brownies
Author:
from Natalie's Killer Cuisine
Serves:
makes 12 large brownies
Ingredients
For The Coconut Cream Cheese Layer:
1 (8oz) package cream cheese, softened
¼ cup Sugar
1 Egg Yolk
¾ tsp Vanilla Extract
½ cup Shredded Coconut
For The Brownies:
⅔ cup All Purpose Flour
½ tsp Baking Powder
½ tsp Salt
½ cup Butter (can use coconut or canola oil instead)
4 oz Dark Chocolate chopped
1¼ cup Sugar
3 Eggs
1½ tsp Vanilla Extract
Instructions
Preheat oven to 350F and generously grease an 8×8 baking pan
For The Coconut Cream Cheese Layer:
In a medium sized bowl combine the softened cream cheese, ¼ cup of sugar, egg yolk, vanilla and coconut. Mix together using an electric mixer until well combined. Set aside and make the brownie batter.
For The Brownie Batter:
In a small bowl, whisk together flour, baking powder and salt; set aside.
In a metal or glass bowl placed over a saucepan of simmering water combine chocolate and oil. Stir until chocolate is melted. Let mixture cool slightly.
Add 1¼ cup of sugar, eggs, vanilla and whisk until smooth and lump free.
Combine the flour mixture with the chocolate mixture and stir until combined.
Pour half of the brownie batter into a prepared baking pan. Add the coconut filling in even spoonfulls and gently spread across the batter, and top with the rest of the brownie batter.
Bake in a preheated oven for 50-55 minutes or till a tester inserted comes out with small crumbs attached to it.
Let cool at least 30 minutes before cutting.
Happy Baking!