Ever have the craving for a quick dessert after a mid week meal? A portion for two or maybe one. A dessert devourable as soon as its out of the oven; one that is whole by itself, undemanding of fancy decorations, a glaze or anything else?
This is the recipe you need.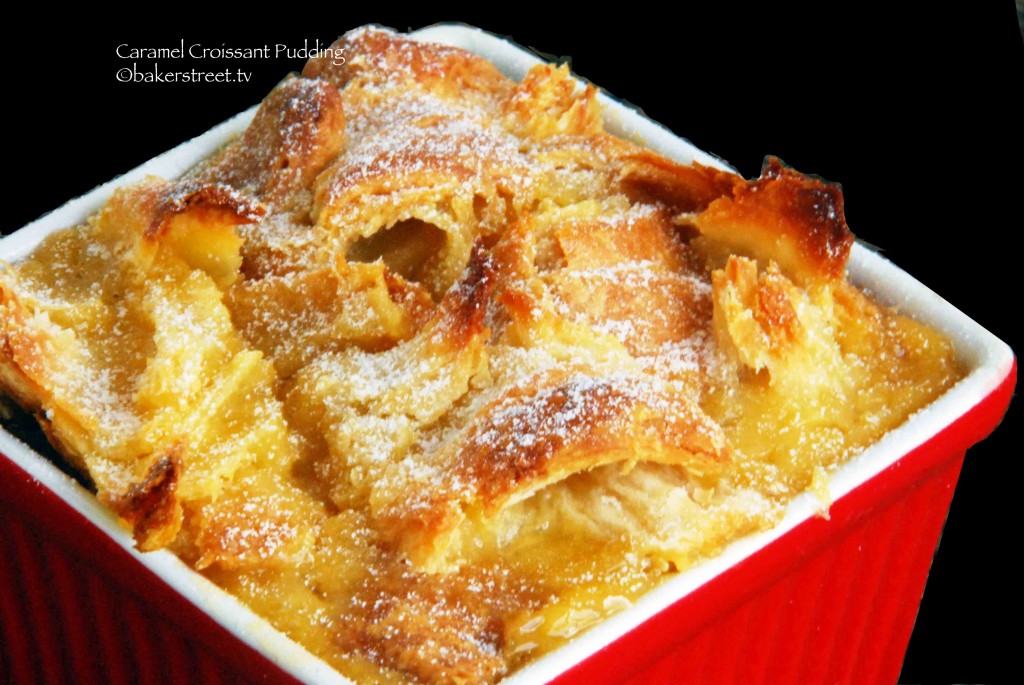 This recipe hails from the kitchen of that goddess, Nigella. Her book Nigella Express is filled with simple, quick and easy ideas. This one is no exception. A simple, no fuss recipe: putting this together takes about 10 minutes, something you can do while you grill your fish, 20 minutes to bake which happens while you eat and sooner than you know, get that pot of coffee ready, fetch a spoon and get ready to swoon.
If you like and want to make a vegetarian version, skip the egg. I forgot to add it once and honestly it tastes perfectly without it too. Keep an eye on the caramel when it's cooking. In case you have a big knot of caramel after you put in the cream, just put it back onto the gas and it should melt in no time.I made one very small change to the recipe: added whiskey instead of bourbon and it paired equally well with the caramel sauce. Next I dusted it with sugar once it was done baking and served with a scoop of ice cream. I believe caramelized peaches or mangoes would pair perfectly, but I'll save that for the next time.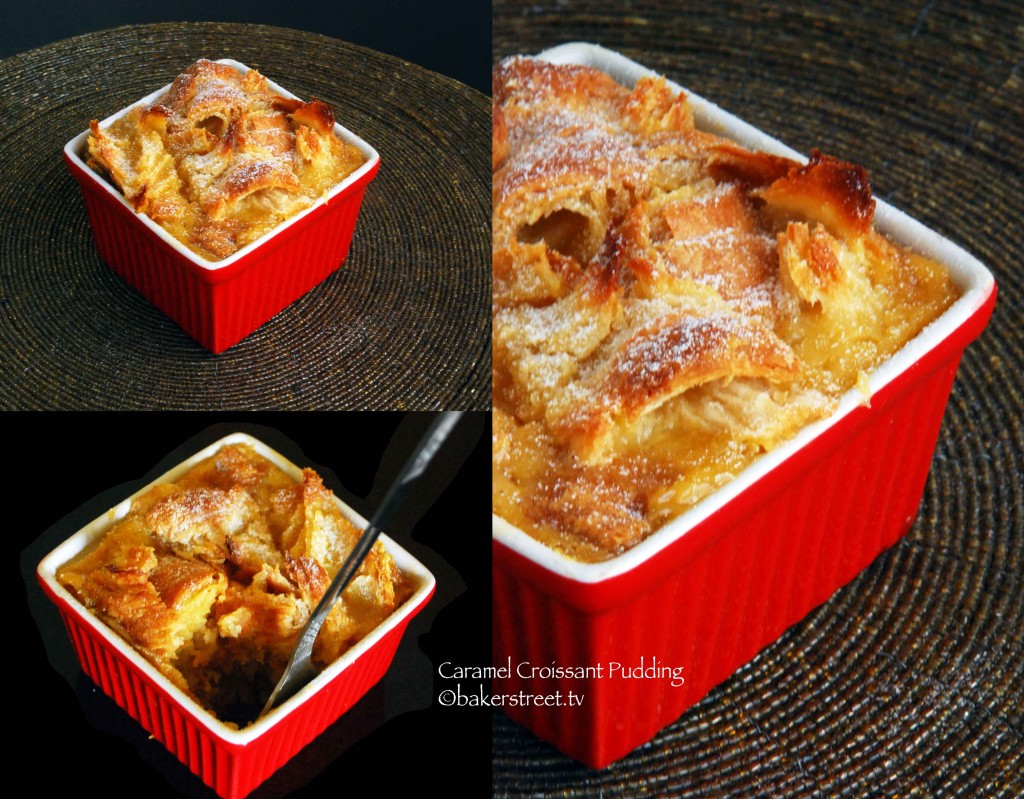 Over to the recipe: Luscious caramel, buttery croissants and a hint of whiskey, makes this the ultimate mid-week treat.
Caramel Croissants Pudding
Author:
adapted Nigella Express Good Food Fast
Recipe type:
Pudding, Dessert
Ingredients
2 stale croissants
¼ cup caster sugar
1 tablespoon water
¼ cup double cream
¼ cup full fat milk
1 tablespoon bourbon or whiskey or rum
1 egg, lightly beaten
Instructions
Preheat the oven to 180C or 350F
Tear the croissants into pieces and put in a small gratin dish or a ramekin which has the capacity for 250 ml liquid. Put the sugar and water into a saucepan, and swirl around to help dissolve the sugar before putting the saucepan on a hob from medium to high heat. Caramalize the sugar and water by letting it bubble away, without stirring, until it all turns a deep amber color; this will take 3 to 5 minutes.
Turn down the heat to low and add the cream – ignoring all the spluttering – and whisking away, the milk and bourbon. Any solid toffee that forms will dissolve easily if you keep whisking over low heat. Take off the heat, still whisking, add the egg. Pour the caramel custard over the croissant and leave to steep for 10 minutes if the croissant is very stale. Bake for 20 minutes. Remove from oven, let it cool for 5 minutes and enjoy.
Happy Baking!