The best part of this no-fuss recipe is that you can execute it while multitasking, whether it's laundry or putting finishing touches on your PPT, it doesn't require all your attention except for one (super) critical minute when the bananas are done roasting. The only slight change I made to this recipe is adding cinnamon. I tried holding back but my hands were not listening to my head. Fair enough, just a touch of the warm spice kicked up the flavors a whole notch. Feel free to skip it if you're allergic or not a big fan.
Coming to that critical minute: after the bananas are roasted, do not wait for it to cool down because the caramel will thicken, turn brittle, stick to the pan, and become difficult to blend. But all is not lost if it has reached this point… just add another tablespoon of butter to the bananas and stick it back into the oven once again till the sugar caramelizes and becomes liquid. After blending, you could use a strainer to avoid any solidified caramel pieces.
The original recipe says it yields a quart but it turned out to be 2 to 2 1/2 cups for me. It's likely that the mixture will not thicken before it goes into your ice cream maker but if it does, you could use a whip to thin it. I recommend not skipping the lemon juice as you need something to cut the sugar.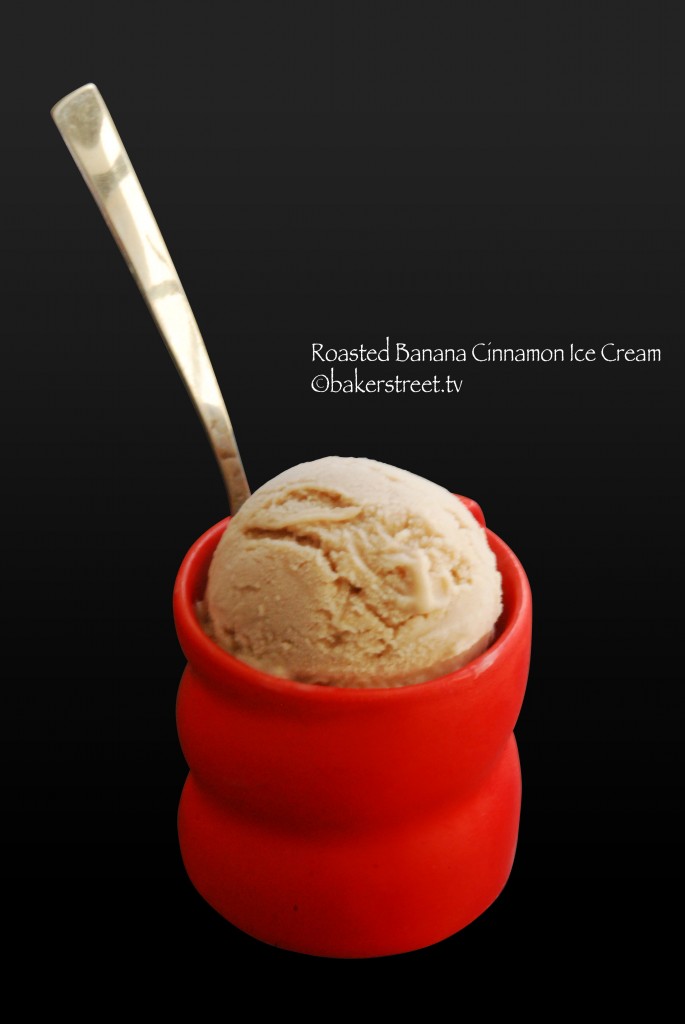 I tried the ice cream as soon as it was done, even before I transferred it to my container. Now you know how excited I am to be using my newest kitchen gadget! Unfortunately, it turned out a little too sweet. I considered making a note to cut down the sugar but the batch – when I served it with fudgy mocha brownies (with which they paired perfectly) – was frozen evenly and didn't taste all that sweet the next morning.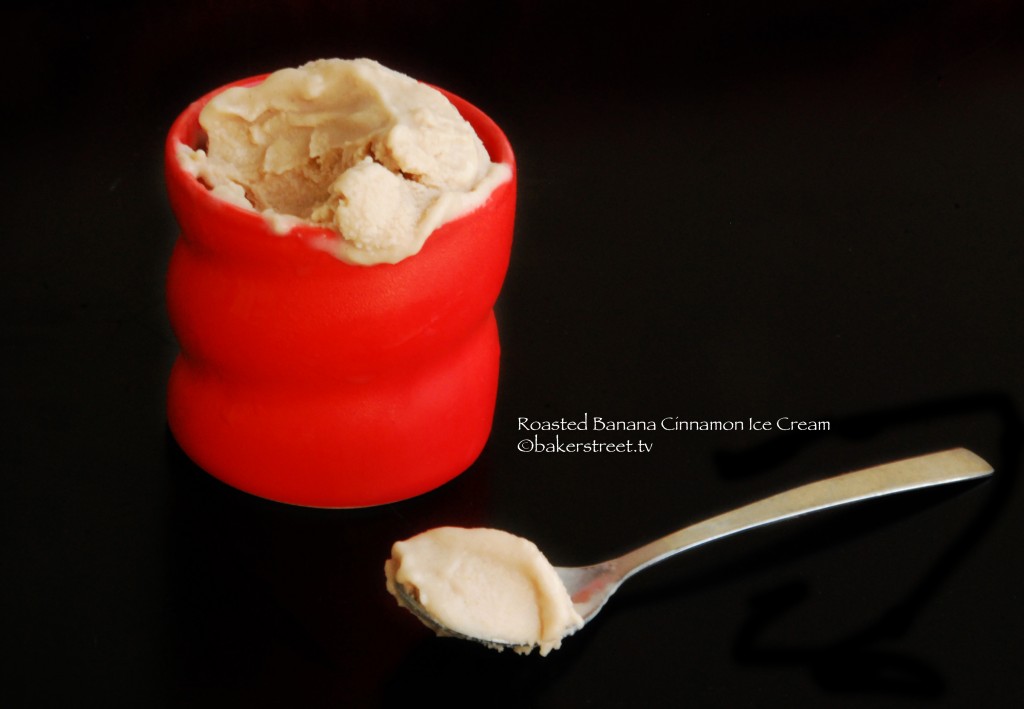 Over to the recipe: Caramel-y roasted bananas, scent of cinnamon, creamy and delicious – Roasted Banana Cinnamon Ice Cream
Roasted Banana Cinnamon Ice Cream
Author:
David Lebovitz' The Perfect Scoop
Recipe type:
Ice Cream, Dessert
Ingredients
3 medium-sized ripe bananas, peeled
⅓ cup (70 g) packed light brown sugar
½ teaspoon cinnamon
I tablespoon butter, salted or unsalted,cut into small pieces
11/2 cups (375 ml) whole milk
2 tablespoons granulated sugar
½ teaspoon vanilla extract
11/2 teaspoon freshly squeezed lemon juice
¼ teaspoon coarse salt
Instructions
Preheat the oven to 400°F (200°C).
Slice the bananas into 1/ 2-inch(2-cm) pieces and toss them with the brown sugar, cinnamon and butter in a 2-quart (2-liter) baking dish. Bake for 40 minutes, stirring just once during baking, until the bananas are browned and cooked through
Scrape the bananas and the thick syrup in the baking dish into a blender or food processor.
Add the milk, granulated sugar, vanilla, lemon juice, and salt, and puree until smooth.
Chill the mixture thoroughly in the refrigerator, then freeze it in your ice cream maker according to the manufacturer's instructions
If the chilled mixture is too thick to pour into your machine, whisking will thin it out