If you are you looking for a non-fat, vegan, organic, zero calorie dessert, then you've come to the wrong place today. This weekend was about indulgence and I've got, just for you, the most decadent cake of all time: Nutella Cream Cheese Chocolate Cake.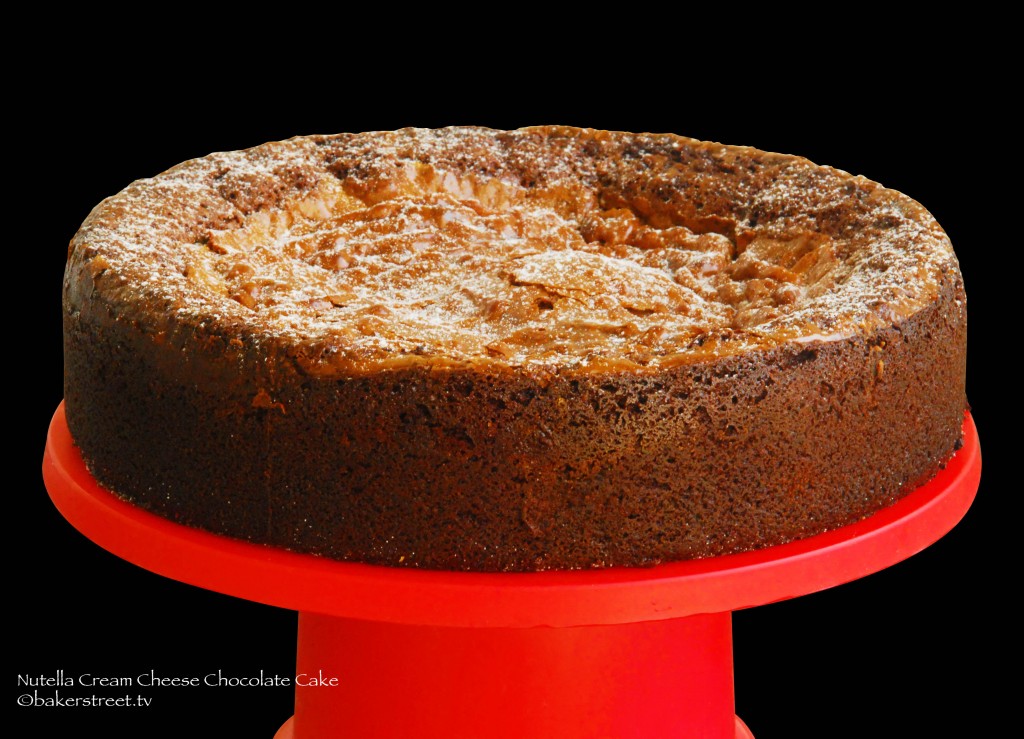 This post is a part of the #SundaySupper Movement, an initiative by Isabelle to bring back Sunday Supper around the family table in every home. Even though we're all across continents, this is a close knit group that comes together every Sunday following a theme with a spread of delicious recipes simple enough for you to try in your kitchen.
The cake that I'm bringing to the table is one where you sit down after dinner and only want to confront sliver by sliver. But if a Sunday supper will unfold in a manner it is meant to, the calories will be overshadowed by conversation and company and the cake should all but disappear.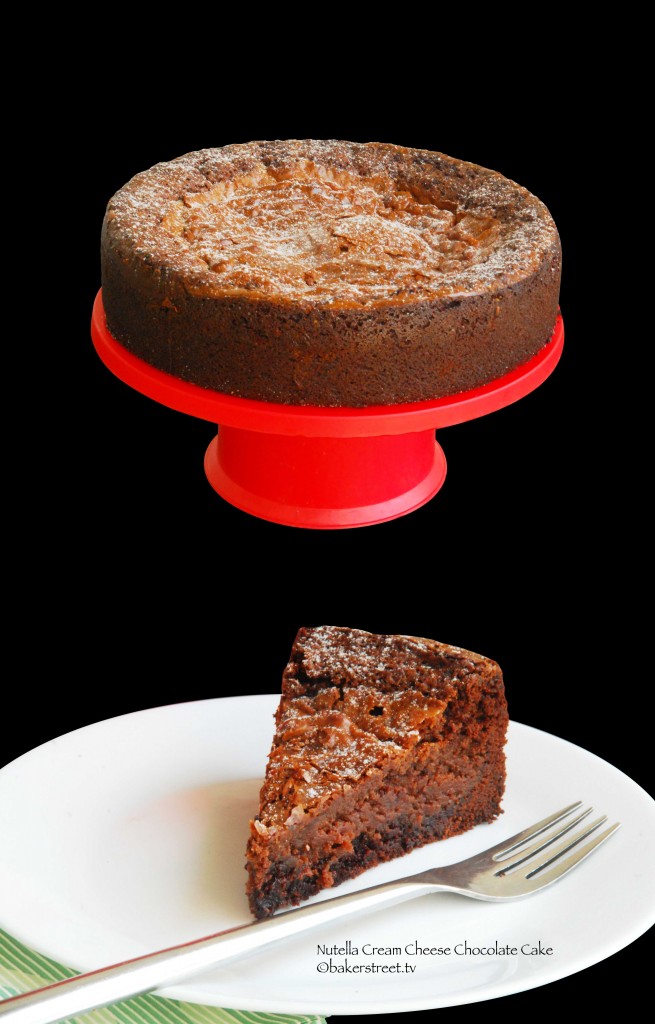 This cake is an adaptation of Paula Deen's Gooey Butter Cake. I wanted it to be something more. Let me deconstruct this two layer cake for you: The base is a simple chocolate cake mix, but it's not actually been used as a mix. I used a more reliable Betty Crocker. Do not follow the instructions on the package. All you need is an egg and some butter along with the mix. The layer on top is essentially a Nutella cheesecake. Its rich, creamy and luscious. When you take a bite, go all the way down so that you have the texture of a nutella cheesecake with a dense chocolate cake.
The original recipe calls for a 30-40 minute baking period in a square pan which was almost 70-80 minutes for me as I baked this in a 24 cm pan. If you like, you could bake these as bars following the exact same instructions. I thought of ultimately dressing it with a dark chocolate drizzle but I really didn't want to take away from the cake had to offer.  A sprinkle of confectioners' sugar did the trick perfectly and made it entirely presentable.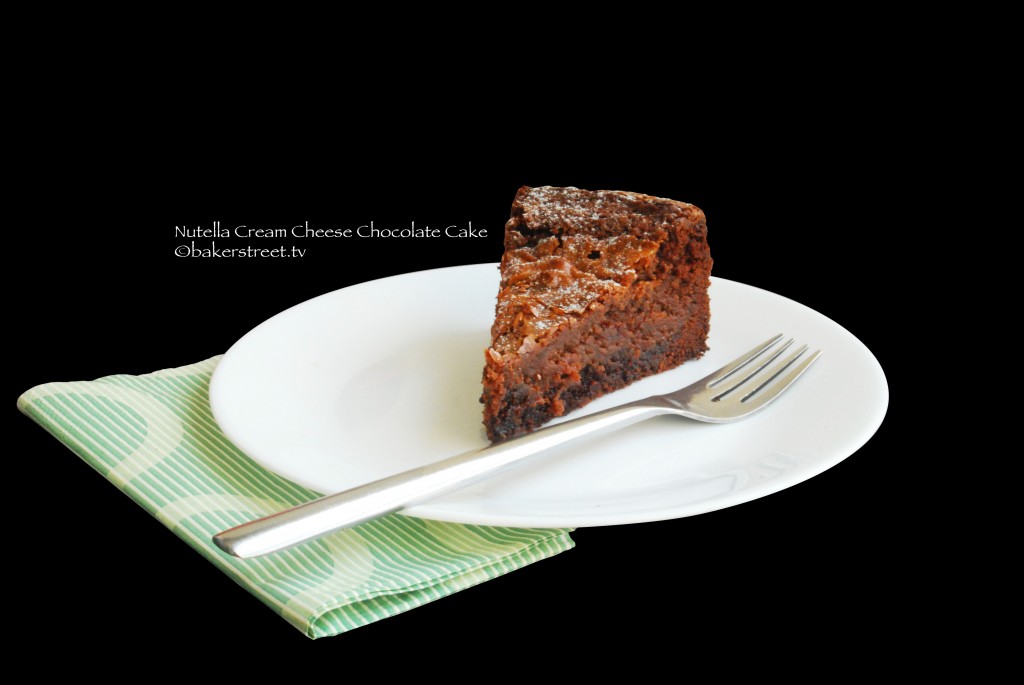 Over to the recipe: Best of two worlds: A creamy nutella cheesecake towering over a rich and dense chocolate cake base.
Nutella Cream Cheese Chocolate Cake
Author:
Adapted from Paula Dean
Ingredients
FOR THE CAKE:
1 package devil's food chocolate cake mix
1 egg
8 tablespoons or ½ cup butter, melted
FOR THE FILLING:
1 (8 oz.) package cream cheese, softened
1 cup Nutella
3 eggs (original asked for 2)
1 teaspoon vanilla
8 tablespoons or ½ cup butter, melted
16 oz powdered sugar (450 grams)
Instructions
Preheat oven to 350 degrees.
Mix together the cake mix, egg, and butter until well combined.
Pat the mixture into the bottom of a lightly greased round baking pan.
FOR THE FILLING:
Beat the cream cheese and Nutella until creamy.
Stir in the eggs, vanilla, and butter.
Slowly add the powdered sugar until incorporated. Spread the Nutella mixture over the pressed cake batter.
Bake for 40 to 50 minutes until the sides are set and the centre is still jiggles when you tap it a little.
Don't miss out on the spread this week. We have 11 talented bloggers joining in and bringing some of their finest:
    Caprese Pasta by
 Jen from Juanita's Cocina 
Caprese Grilled Cheese by 
Liz from That Skinny Chick Can Bake
Chicken Parmesan by 
Jennie from The Messy Baker Blog 
Chicken Popovers by 
Pam from The Meltaways 
Grilled Lamb Chops with Mediterranean Marinade by 
The Primlani Kitchen
. Mini Peanut Butter and Chocolate Trifles by 
Angie from Big Bears Wife
Nutella Cream Cheese Chocolate Cake
 by 
Anuradha from Baker Street
Spicy Bacon Burgers by 
Lane from Supper for a Steal
Spaghetti and Meat Sauce by
 Renee from Magnolia Days
Simple Olive Oil Pasta by 
Carla from Chocolate Moosey 
Soothing Papaya Ginger Lemon Smoothie by 
Sunithi from Sue's Nutrition Buzz
Happy Baking!