After a long streak of sweet muffins, it was time to savor some savory. Baking for breakfast on the go, these basil infused muffins will ready you for a daunting Monday like no other. So take five minutes off, sit down, warm one (or three!) of these, smear with garlic infused butter and take a bite of heaven.
I didn't make any radical changes in the recipe though thoughts of sun dried tomatoes, ham, and corn did cross my mind. But I stayed myself and added only a pinch of pepper and cayenne to spice it up a little. Of course, being a lover of basil, I couldn't get myself to use the dried one. The freshly chopped basil seem to have really bumped the flavor.
Changes and variations: There is much you can do with this muffin: add bacon, ham, sun dried tomatoes, zucchini, garlic, buttered corn, sautéed mushrooms; your options are almost unlimited. I also baked these in a mini muffin pan which made for a perfect bite sized breakfast treat.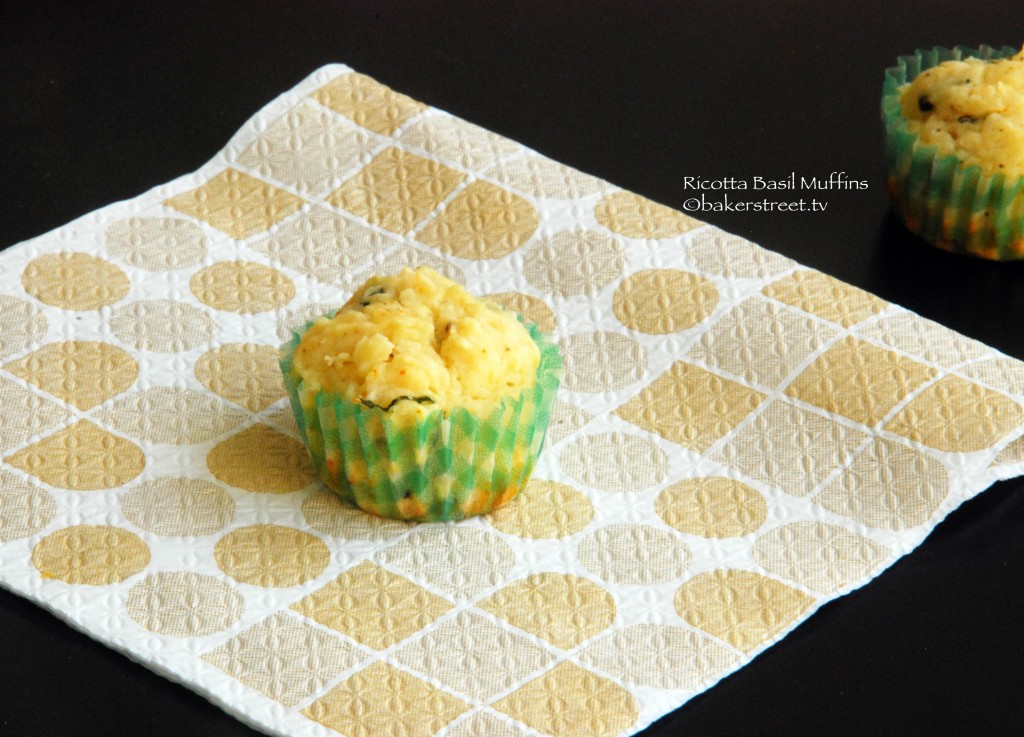 Over to the recipe: Tender, bursting with basil, hint of pepper smeared with butter makes these perfect for just about any day.
Muffin Monday: Ricotta Basil Muffin
Recipe type:
Muffin, Breakfast
Ingredients
Ricotta and Basil Muffin
Ingredients
2 cups all purpose flour
1 tbsp baking powder
2 tbsp dried basil
1 tsp salt
Pinch of Pepper
Pinch of Cayenne Pepper
1 cup Ricotta cheese
1 cup milk
1 large egg
3 tbsp olive oil
1 tbsp sunflower oil
Instructions
Preheat the oven to 375F
In a large bowl, mix flour, baking powder, dried basil, salt, pepper and cayenne set aside.
In another bowl, combine the egg, milk, olive oil, sunflower oil and Ricotta cheese and whisk to blend.
Make a well in the center of the dry ingredients and pour in the ricotta mixture.
Stir with a fork just to combine.
Spoon the muffins and bake for 20 to 25 minutes.
Muffin Monday: Round Up
Happy Baking!