Can't figure out what to stir up for your furry Lapp pals in Scandinivia? Too hot to think in Equatorial Guinea about dessert? Your troubles are over. Here's a cake for all seasons, fit for every occasion and universal in its taste. The beauty of this cake, apart from the fact it's pretty and sweetened to perfection, is that it will take exactly the same amount of time to put together as much your oven will take to heat up. This is one of those cakes that is unfussy about its ingredients and comes with a promise of being put together with everything that's already in your pantry.
My version uses a cranberry and blueberry jam but the next time I'd like to try this with a homemade peach or perhaps a peanut butter and jam layer. A perfect breakfast. Or late night dinner. Pair it with tea. Or coffee or a frosty mochacino. Or Vodka. Whatever you choose, you'll be happy to have tried it.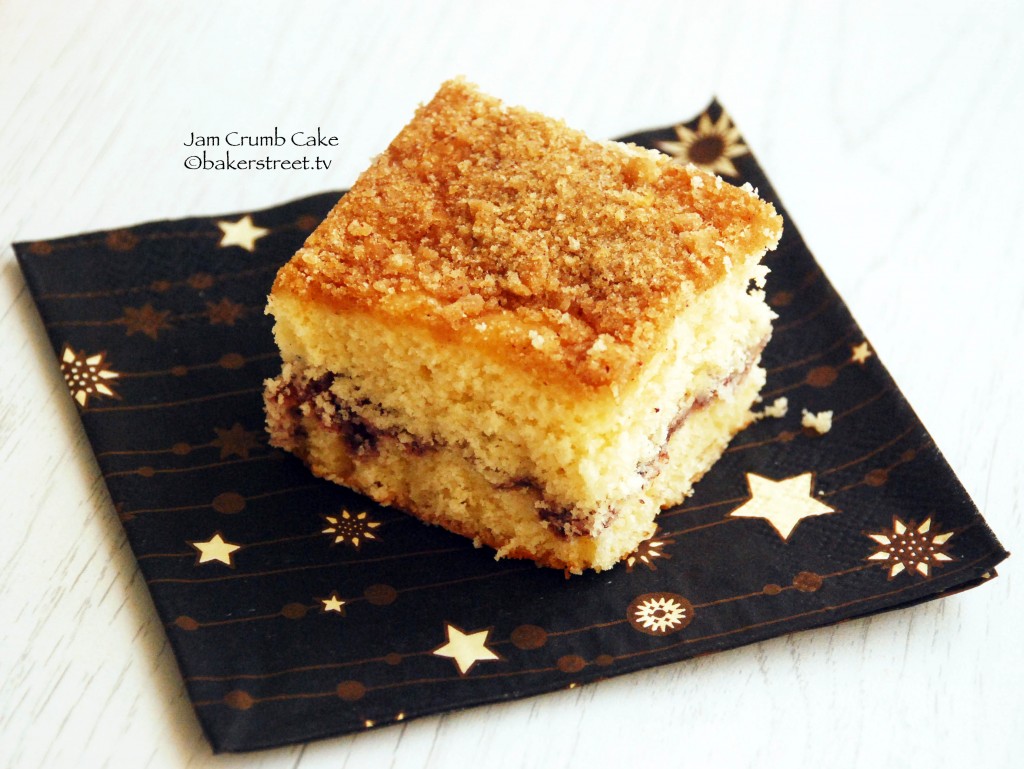 Over to the recipe: Soft vanilla cake with a pretty layer of jam and finally finished off with a cinnamon scented topping.
Author:
From Cooking Light
Recipe type:
Cake, Dessert
Ingredients
¼ cup all-purpose flour
¼ cup packed light brown sugar
1 teaspoon ground ginger (optional)
1 tablespoon ground cinnamon
2 tablespoons unsalted butter, cold and cut into small pieces
Cooking spray
1¼ cups all-purpose flour (about 5½ ounces)
½ teaspoon baking powder
¼ teaspoon baking soda
⅛ teaspoon salt
⅔ cup powdered sugar
¼ cup butter, softened
½ teaspoon vanilla extract
1 large egg
½ cup buttermilk
2 tablespoons fresh lemon juice
¼ cup jam (I used cranberry and blueberry)
Instructions
To prepare crumb topping: lightly spoon ¼ cup flour into a dry measuring cup; level with a knife. Combine flour, brown sugar, and cinnamon in a small bowl. Cut in 2 tablespoons butter with a pastry blender or 2 knives until mixture resembles coarse meal; set aside.
Preheat oven to 350°.
To prepare cake: lightly coat an 8-inch springform pan with cooking spray; set aside. Lightly spoon 1¼ cups flour into dry measuring cups; level with a knife. Combine flour, baking powder, baking soda, and salt in a small bowl; set aside.
Combine powdered sugar and ¼ cup butter in a large bowl; beat with a mixer at medium speed until well blended (about 2 minutes). Add vanilla and egg; beat 2 minutes. Add buttermilk to sugar mixture, and beat 2 minutes.
Add half of flour mixture to sugar mixture; stir until smooth. Add remaining flour mixture, and stir just until combined.
Spoon half of batter into prepared pan, spreading evenly. Top with strawberry spread. Spoon remaining batter over strawberry layer, spreading evenly. Sprinkle reserved crumb topping evenly over batter. Bake at 350° for 45 minutes or until a wooden pick inserted in center comes out clean. Cool 10 minutes in pan on a wire rack; remove from pan. Cool completely on wire rack.
Happy Baking!