We're in our 40th week of Muffin Monday! For 40 weeks we've relentlessly brought you 40 dazzlingly delicious muffins and I'd like to thank all of you who've been a part of this wonderful community endeavor. I'll promise you this: we're not stopping any time soon!
And this March Monday, we've a perfect breakfast muffin. The scent of honey, the zing of lemon, and the softness from the buttermilk and olive oil combination makes these muffins delicious and decadent.
The principal change I made was in the glaze: spicing up the regular lemon glaze with a hint of ginger and topping the muffins with candied ginger. I'm glad I did this, because it perfectly balanced the sweetly-flavored muffins.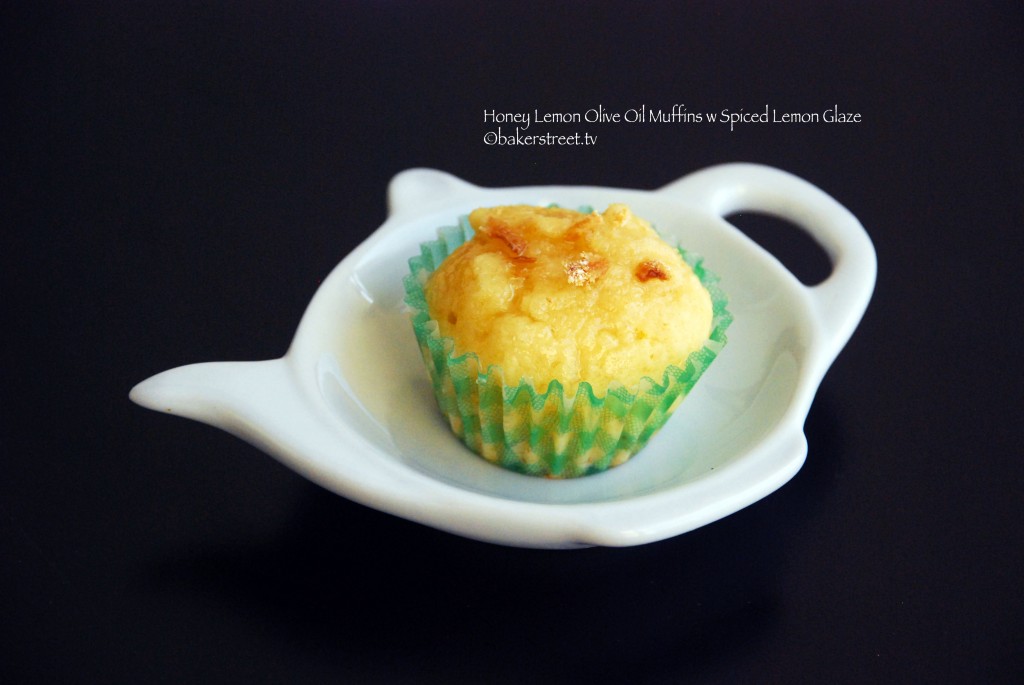 Over to the recipe: With a touch of spice, the tart lemons and sweet honey make these tender muffins just the right start to a long week.
Muffin Monday: Honey Lemon Olive Oil Muffins
Ingredients
2½ cups all-purpose flour
2 teaspoons baking powder
½ teaspoon baking soda
½ teaspoon salt
⅓ cup honey (preferably local)
½ cup sugar
½ cup extra virgin olive oil
½ cup buttermilk, at room temperature
2 large eggs, at room temperature
2 tablespoons grated lemon zest (from about 2 lemons)
2 tablespoons fresh-squeezed lemon juice
½ cup powdered sugar
2 tablespoons fresh-squeezed lemon juice
⅓ teaspoon ginger powder
candied ginger to decorate
Instructions
Preheat oven to 350 degrees. Spray a 12-cup muffin tin with non-stick baking spray or line with paper cups (spray the inside of the cups with baking spray to prevent muffins from sticking to the paper).
In a large bowl, whisk together flour, baking powder, baking soda, and salt until well combined. Set aside. In a separate medium bowl, combine honey, sugar, olive oil, buttermilk, eggs, lemon zest, and lemon juice. Whisk together until well combined.
Pour liquid ingredients into the flour mixture and stir with a wooden spoon just until all of the flour is incorporated. Don't overmix. Divide batter between muffin cups using a large spoon or mechanical ice cream scoop – the cups should be mostly full.
Bake for 17 – 21 minutes or until the center of a muffin springs back lightly to the touch or a toothpick inserted into the middle of a muffin comes out clean. Check early and watch carefully, they will brown fast.
While muffins are baking, make glaze.
Let muffins cool in pan for 5 minutes then remove to a wire rack. Brush the tops of the muffins with glaze while they are still warm and top with candied ginger. Let cool completely.
Muffin Monday: Round Up
Happy Baking!