Aaaand back. Well, just about. Exciting as it is to enter my new house, it promises to be a hectic week ahead with all the opening and sorting that needs doing. Not to mention that I'm armed with the mother of all to-do lists.
Hectic, yes but a fun start to the week as I baked these muffins early morning and nibbled on a couple while they were still warm and just out the oven.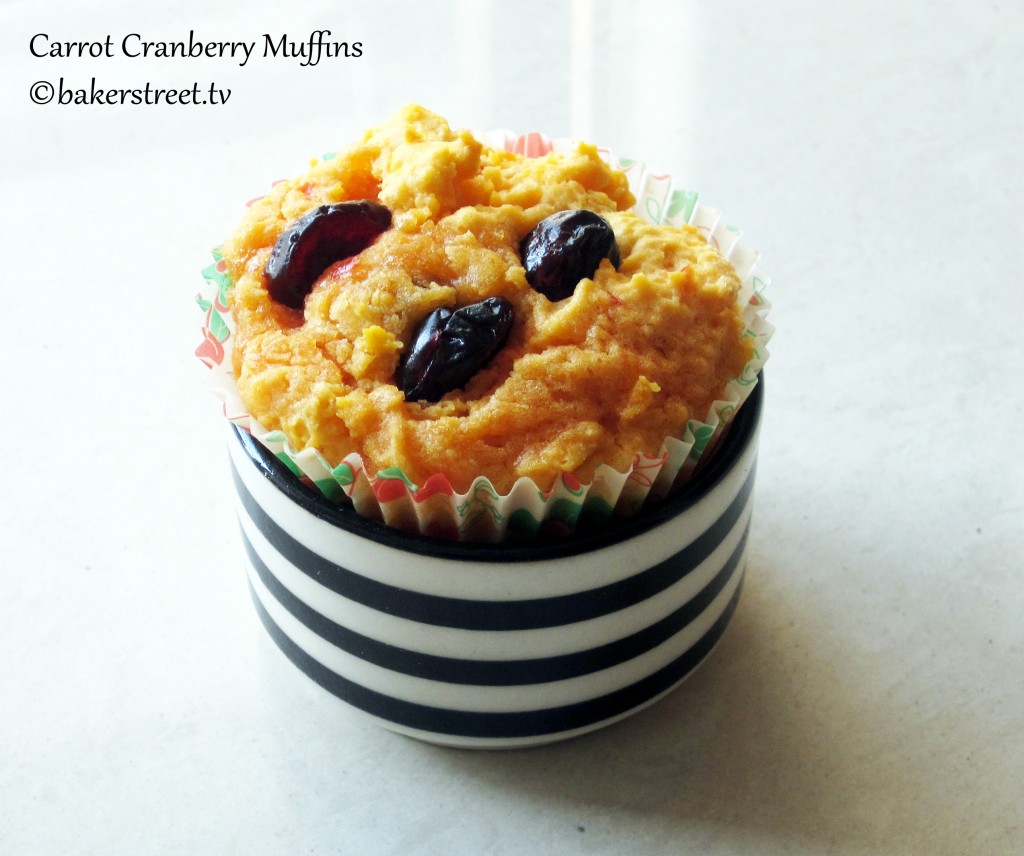 The reason I picked these muffins was because it uses carrot puree. You'd obviously expect a carrot muffin to have shredded carrots and that's what made the puree intriguing. And I loved the color it added to the muffin.
These muffins would be perfect on the day after Thanksgiving. With left over carrots and cranberry relish but of course, it would be equally delicious on any other day as well.
Muffin Monday: Cranberry Carrot Muffins
Recipe type:
Muffin, Dessert
Ingredients
2 cups all-purpose flour
2 teaspoons baking powder
½ teaspoon salt
½ teaspoon ground cinnamon
¼ teaspoon ground nutmeg
¼ teaspoon ground ginger
½ cup (1 stick) unsalted butter, at room temperature
¾ cup sugar
2 large eggs, at room temperature
1 cup pureed cooked carrots
Zest of 1 orange
½ cup leftover cranberry relish (or dried cranberries)
2 tablespoons Demererra or granulated sugar, for sprinkling
Instructions
Preheat the oven to 375degrees F. Line a 12-portion ½-cup muffin tin with paper liners.
In a large bowl, sift the flour, baking powder, salt, cinnamon, nutmeg and ginger together.
In a standing mixer fitted with the paddle attachment, or with a hand-held electric mixer in a large bowl, cream the butter on medium speed until lightened. With the speed on low, slowly add the sugar. Increase speed to medium high and beat until light and fluffy, about 4 minutes. Add the eggs, one at a time, beating between each addition and scraping down the bowl as necessary with a rubber spatula. Add the carrot puree and orange zest and beat until well combined. With the mixer set on low, slowly add the dry ingredients and mix until just combined; do not overbeat. Remove the bowl from the mixer and with a rubber spatula, gently fold the cranberry relish into the batter until evenly distributed.
Evenly divide the batter among the lined muffin cups and sprinkle a little sugar over the top of each. Bake in the center of the oven until light golden brown and a toothpick inserted in the center comes out clean, 25-30 minutes.
Cool in the pan on a rack for 10 minutes. Remove muffins form the pan and transfer to a rack to cool completely. Serve warm or at room temperature.
Muffin Monday: Round Up
Happy Baking!