It's completely understandable if you would want to go out and buy yourself vanilla extract at the store. But if you're reading this blog, chances are you're comfortable experimenting in the kitchen and when you're going to bke your own cake, why not make the ingredients that go into it as well? This I'm sure of: once you've made your own vanilla extract, there is just no going back to the store-bought one.
Branded vanilla extract is usually too sweet and uneven. If you opt for the purer, higher quality option your wallet will complain. Why bother when you could spend under 10 minutes and make your own using only 2 ingredients?
The process is as simple as they come: A sterilized bottle, some vodka which could be easily replaced by rum or bourbon and a few vanilla beans. Put them in a tight fitting lid jar and store for 8 weeks in a dry and cool place. Sounds easy right? You could also package these in a fancy bottle and gift to a food enthusiast friend.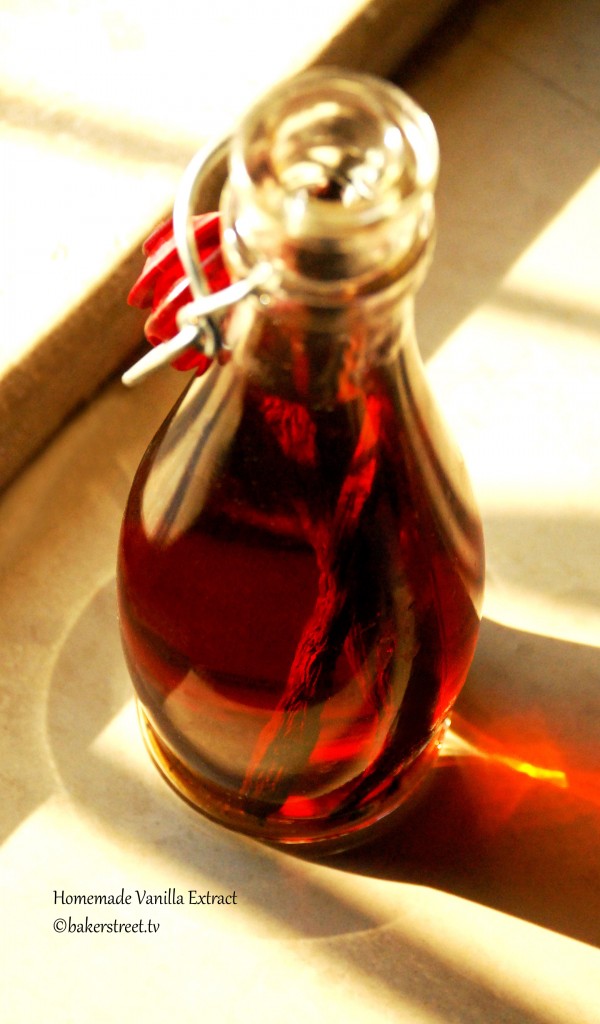 Homemade vanilla extract has a fountain-of-youth quality about it. Once you've used, say, 30% of your extract, you can replace the diminished amount with vodka (just make sure you use the same liquor you used earlier) and voila, it's like the extract never ran out!  You can add in a fresh bunch of beans every once in a while and remove the old ones if the jar becomes too crowded.
Now you don't want to go throwing those empty pods. They can be bunged into a jar of sugar or your tea tin to flavor them.
Try it. Once I started using my own vanilla extract in all my baked goods, like I said – there was no going back to the store for it.
Ingredients
4 cups vodka (could be replaced with rum or bourbon)
12 vanilla beans
1 large sterilized air tight bottle
Instructions
Split the vanilla beans using a sharp knife. The idea is to expose the seeds but leaving the ends as it is. Put them in your jar.
Pour the vodka over the vanilla beans.
Put the lid on the bottle, and store for a 6-8 weeks. Give the bottle a stir once or twice a week.
Notes
You need to use ⅓ cup of vodka per vanilla bean.