When it comes to brownies I know most people like to stick with their tried-and-tested recipes, which are usually quick and tailored to their own palette. Their idea of experimenting is trying a different nut or substituting spices. I know this for a fact because I used to be that person.
But people change. Nowadays I rarely go back to the same recipe twice! And as for brownies, I say life's too short to stay in the comfort zone. Experiment. That's my new mantra when it comes to food. So now that you are aware of my enlightened approach to cooking, it should put into perspective my excitement when CookThatBook asked me to review a cookbook dedicated entirely to brownies.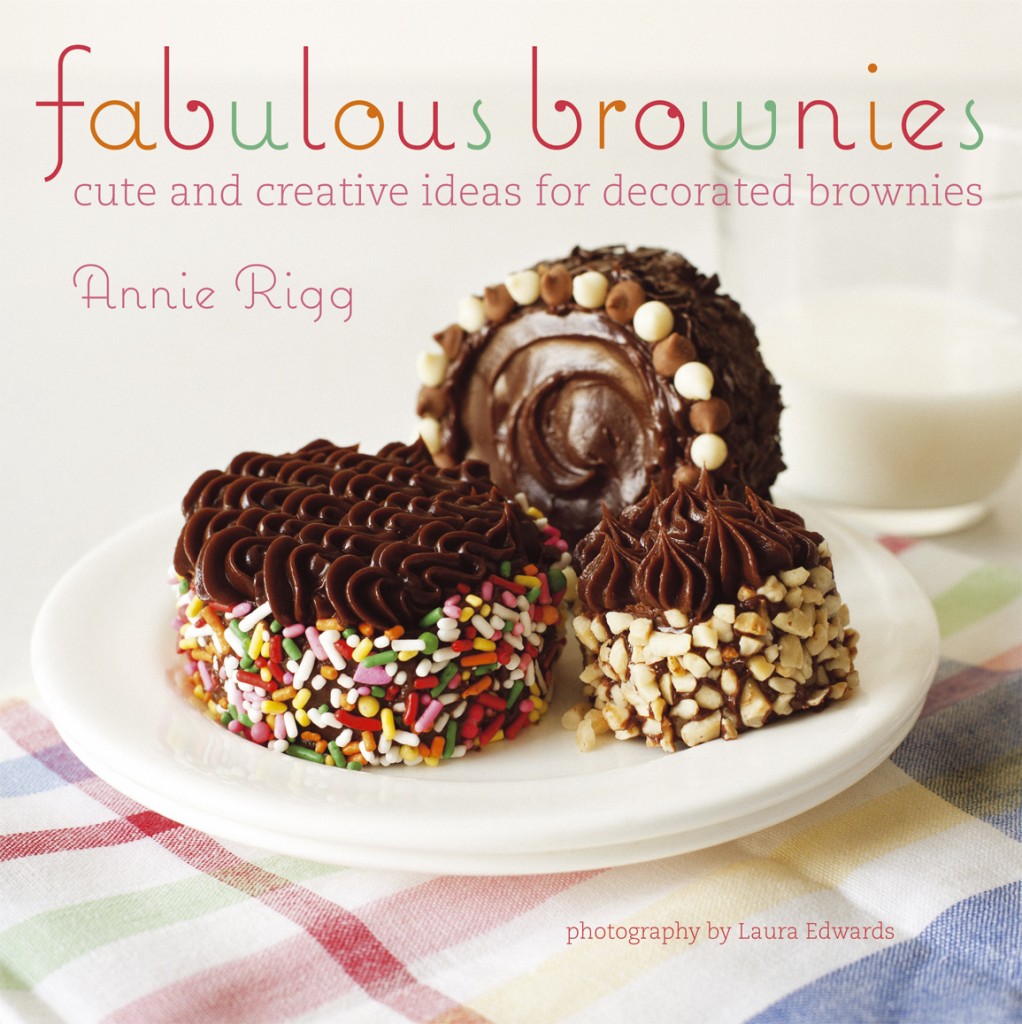 As you flip through Annie Rigg's Fabulous Brownies (Published by Ryland Peters $15.95 USD), you will come across a few cute ideas that can take your basic brownies to the next level. But my happiness was short lived because there are only 27 recipes. Honestly, I was expecting more.
I had to pick three recipes to test for the review and I wanted to make sure there was a variety of different brownies; something for everyone. A simple Salted Caramel Brownie to keep you warm on a rainy day, luscious Gingerbread Brownies for some late night indulgence, and delectable Cupcake Brownies which are perfect for not sharing.

When it comes to brownies, there are three things that I absolutely need to have present:
1. A cracked top
2. A gooey core
3. Easy to bake
Overall while I did like the book, there were some issues. The photography by Laura Edwards is good but from a design perspective I found not enough importance was given to the layout of the recipes. Personally, I think cookbooks must have a clean design with a decently sized, readable font. This book fails on both counts. And even though the recipes themselves provide great inspiration for experimenting with new and exciting brownie flavours, I was disappointed in the limited number of recipes.
The instructions are fairly simple but the author provides no tips for serving suggestions or storage. Sure, there is one short line included in the introduction that tells you the brownies should last 4-5 days at room temperature but this is not a universal rule. For instance, I think the brownies with ganache would be better stored in the fridge or at least kept in a cool place.  A variety of flavors and combinations would have taken this book to the next level.
There were definitely some nice decorative ideas, such as the Brown(ie) Owls which are absolutely adorable and the Whopper Brownies which would be a surefire hit with the kids. There's no denying this book contains lots of inspiring ideas guaranteed to expand your typical brownie repertoire. I just wish there were more.
In conclusion, everyone loves brownies. They are the ultimate rich, gooey and pure indulgent treat. With three recipes down, I'll be surely trying more and eating my way through this book one brownie at a time while adding to my brownie repertoire. But is it the ultimate brownie book I've been waiting for? Not quite.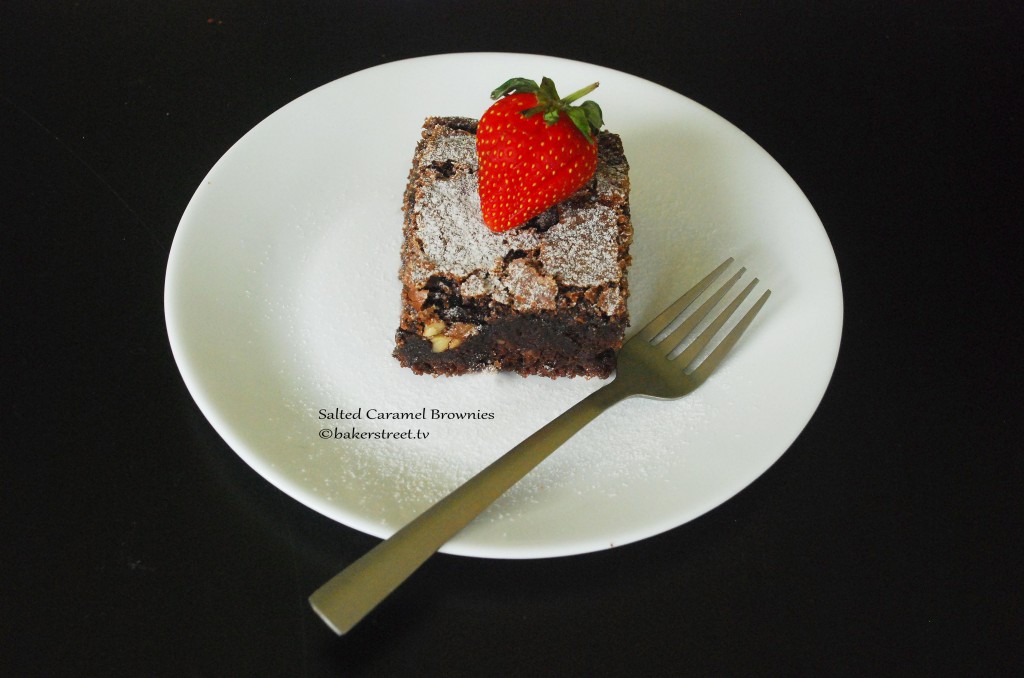 Salted Caramel Brownies
Recipe Rating: 4 out of 5 (simple recipe, great combination of salty & sweet)
The Test: The instructions for this recipe are straightforward. The salted caramel turns out perfectly if you follow the directions. However, one tip you need to keep in mind is the cream you add should be at room temperature. And if you add the cream and find the caramel starts to clot, don't worry because it will sort itself out once you put it back on the heat. I strongly suggest not to leave the caramel unattended until it reaches the cooling stage. Trust me.
The Results: The brownies turned out perfect! They achieved the ultimate balance of salty caramel and deep dark chocolate brownies. If you happen to prefer your brownies a little more on the gooey side like I do, I suggest you take them out of the oven a couple of minutes before the suggested bake time. Switch the pecans with a choice of your nuts or avoid them completely if you wish. The lack of serving instructions led me to cut the brownies into various sizes. In the end I served half of the batch in bite sized pieces, which were perfect with coffee after a dinner party, while the other half I cut into regular sized squares and dusted with sugar and garnished with fresh strawberries.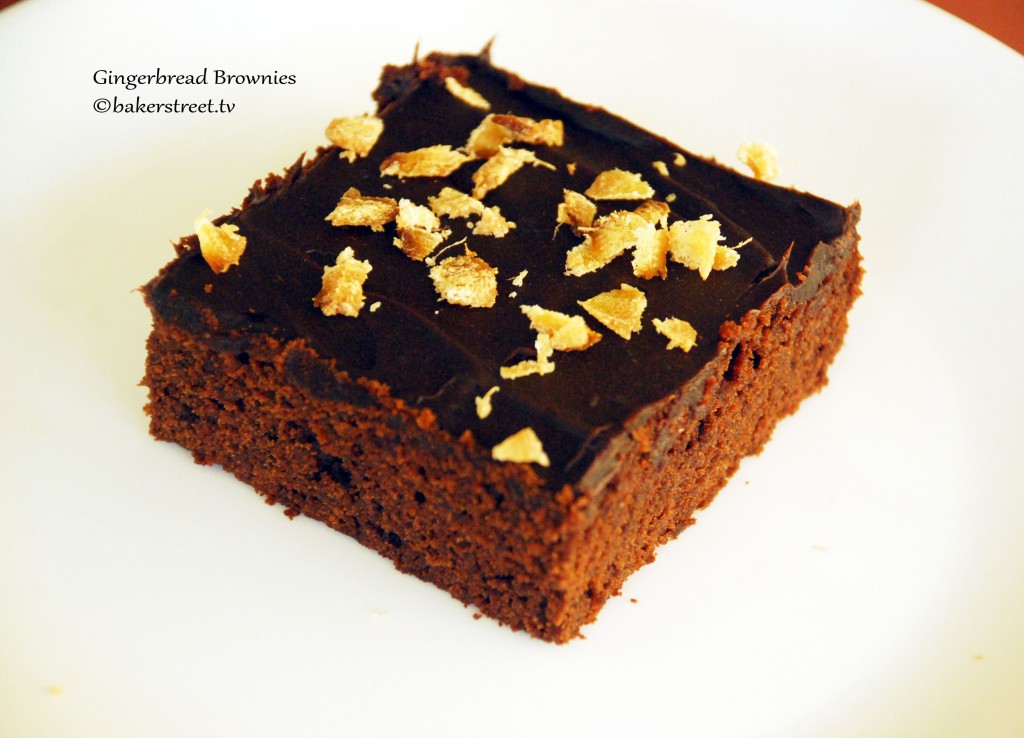 Gingerbread Brownies
Recipe Rating: 2 out of 5 (dense & one dimensional)
The Test: Although this recipe is easily executed, be warned that it does call for quite a few different spices and I recommend you skip none, even the hot chill powder. The best bit about these brownies was the whiff of warm spices and sweet chocolate filling the kitchen in the morning while they were in the oven. This was the recipe I was most excited to try.
The Result: As warned by the author, the brownies should not be eaten on the same day. Give it a day or even two for the flavours to deepen and the spices to develop fully before adding the ganache. That being said, I still found them to be overly dense in texture and disappointing in the flavor department. Considering the amount of spices that went into the batter, they tasted flat and held none of the punch I expected. I also wouldn't recommend trying these without the ganache topping, as by themselves the brownies were rather dry.
Cupcake Brownies (great texture & visually very elegant)Recipe Rating: 4 out of 5
The Test: I picked this particular recipe for two reasons: My love for individual treats, and my wish to bake another brownie that used the ganache recipe. Moreover, a brownie + cupcake combo is one that few would be able to resist. Would you be able to say no?!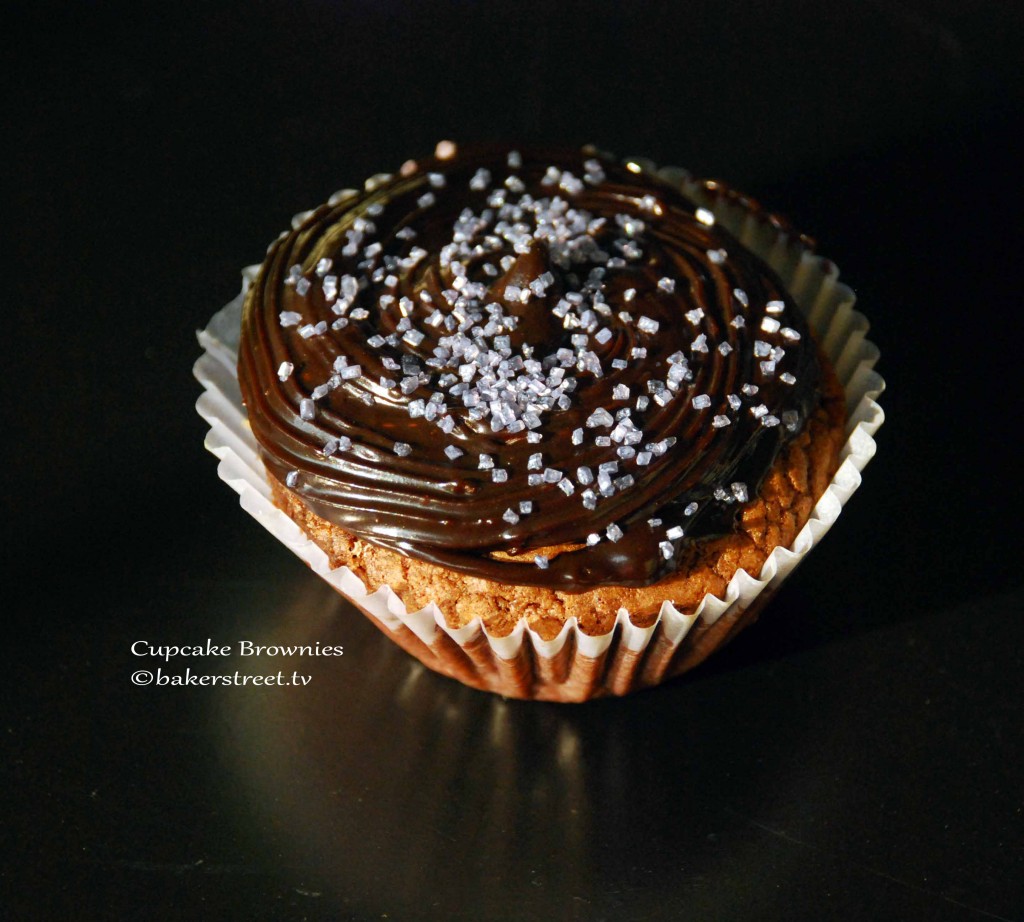 The Results: As with the other recipes I tested, this one was simple and straightforward to prepare. It used easily sourced ingredients and resulted in a very elegant looking dessert. The results are rich and hold a lovely caramelized flavour due to the use of brown sugar over regular granulated sugar. If you're making these treats for kids, I suggest opting for the milk ganache but if you're looking for a more grown-up taste try the dark ganache. Want to play naughty? Add a splash of rum. Don't give up on the ganache; it does take time to thicken but have faith – it will come together. (I have some ideas for variations I've put down along side the author's recipe.)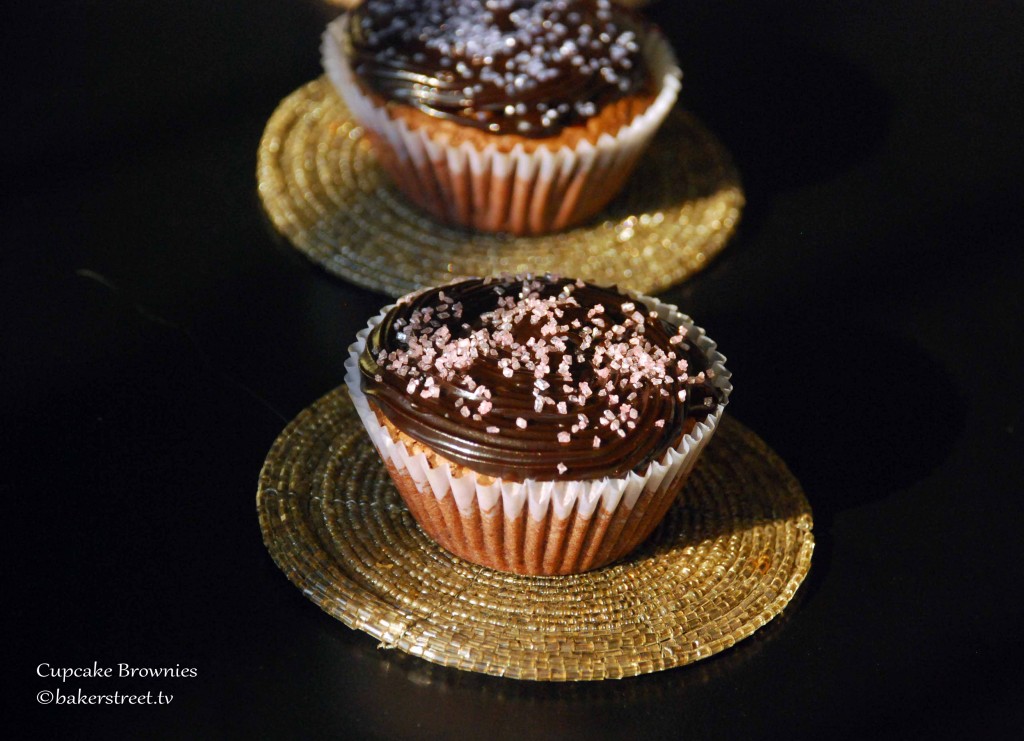 These brownies make for a great treat no matter how old you are. They take the cupcake form easily, and have a nice, firm, crackly top while maintaining a gooey center. With or without the ganache these can easily be put in a basket and whisked away for a picnic or snuck into the office for a mid-day snack.
Review: Annie Rigg's Fabulous Brownies | Cupcake Brownies
Author:
Recipes from Fabulous Brownies by Annie Rigg. Ryland Peters and Small, $18.95 (www.rylandpeters.com), distributed by Thomas Allen & Son in Canada. Available from all leading booksellers. Excerpted by permission of publisher. All rights reserved.
Recipe type:
Brownies, Dessert
These aren't strictly cupcakes or brownies. They are, however, fudgy and dark, and the perfect option when you want brownies but in cute, individual portions.
Ingredients
175 g/6 oz. dark/bittersweet chocolate, chopped
125 g/1 stick butter, diced
150 g/¾ cup light brown (soft) sugar
2 eggs
1 teaspoon vanilla extract
100 g/¾ cup plus 1 tablespoon plain/all-purpose flour
teaspoon baking powder
a pinch of salt
1 quantity Milk Chocolate Frosting
sugar sprinkles
125 g/4 oz. dark/bittersweet chocolate, finely chopped (I prefer to use a chocolate with a lower cocoa percentage, around 54–68%, for this frosting)
125 g/4 oz. milk chocolate, finely chopped
175 ml/2/3 cup double/heavy cream
1 tablespoon maple syrup or golden syrup
125 g/1 stick soft butter, diced
a 12-cup muffin pan, lined with 10 pretty cupcake cases
a piping bag, fitted with a star-shaped nozzle/tip
Instructions
Preheat the oven to 170°C (325°F) Gas 3.
Put the chocolate and butter in a heatproof bowl set over a saucepan of barely simmering water. Stir until smooth and thoroughly combined. Leave to cool slightly.
In a separate bowl, whisk the sugar, eggs and vanilla extract for 2–3 minutes until light and foamy. Add the melted chocolate mixture and stir until combined. Sift the flour, baking powder and salt into the bowl and fold in until well incorporated.
Divide the mixture between the prepared cupcakes cases, filling them two-thirds full. Bake on the middle shelf of the preheated oven for 15 minutes, or until firm and well risen.
Remove from the oven and leave to cool in the pan for 2 minutes, then transfer the cupcakes to a wire rack to cool completely.
Meanwhile, prepare the Milk Chocolate Frosting according to the recipe and spoon into the prepared piping bag. Pipe a generous swirl over each cupcake brownie. Scatter sugar sprinkles over the top and leave to set before serving.
Tip the chocolates into a small, heatproof bowl. Heat the cream and syrup in a small saucepan until only just boiling. Pour it over the chopped chocolates, add the butter and leave to melt. Stir until smooth, then leave to thicken slightly before using.
Notes
– Add in any extract of your choice: Mint, Almond, Lemon – If you're making this for yourself i'd suggest a dark chocolate ganache with a splash of rum – Add a dash of cinnamon, there's nothing better than chocolate and cinnamon. – Add chocolate chips to the batter before baking. You could use a variety of white chocolate, dark chocolate, peanut butter
Happy Baking!