There's electricity in the air! And a whiff of something sweet baking in the oven to go with it. So What's so special about today? Well Muffin Monday turns 6 months! We have relentlessly baked muffins week on week for the last half year. If you're new and want to know all about Muffin Monday, head to the Muffin Monday page on my blog with pictures and links to everything we've baked so far.
We're celebrating in more than one way for our 6 months of maniacal mondays being transformed to magical ones. So for this party I'm hosting today, there is a brilliant chef and a lovely friend baking with me, some booze of course, and the very FIRST giveaway for my fabulous readers.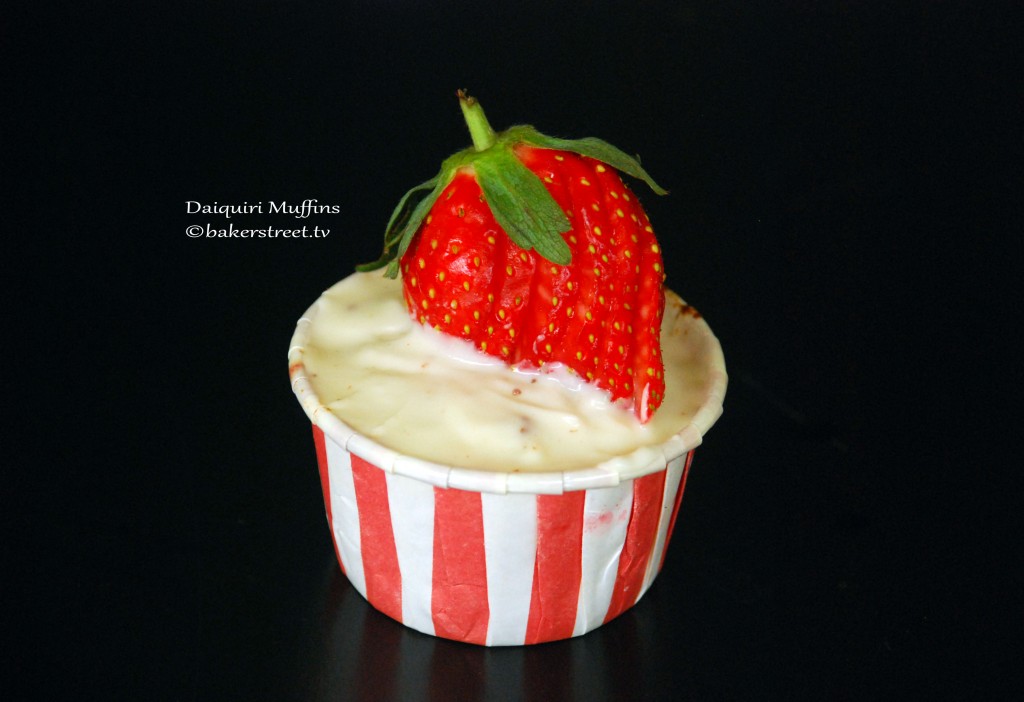 Its been a thrilling joy ride, a happy journey with my fellow Muffin Monday bakers, a challenge to keep something for everyone involved, a holiday muffin series that we're in the midst of and and an effort to fit in savory muffins as well. But 6 months down, I took a moment and said 'Wow, not so long ago I was wondering what I got myself into… Will I be really able to post every single monday?'
And you know what? The answer is Yes. This is something I really enjoy doing.
So without much ado, here's today's recipe which in turn provides for an introduction for today's guest post and giveaway too.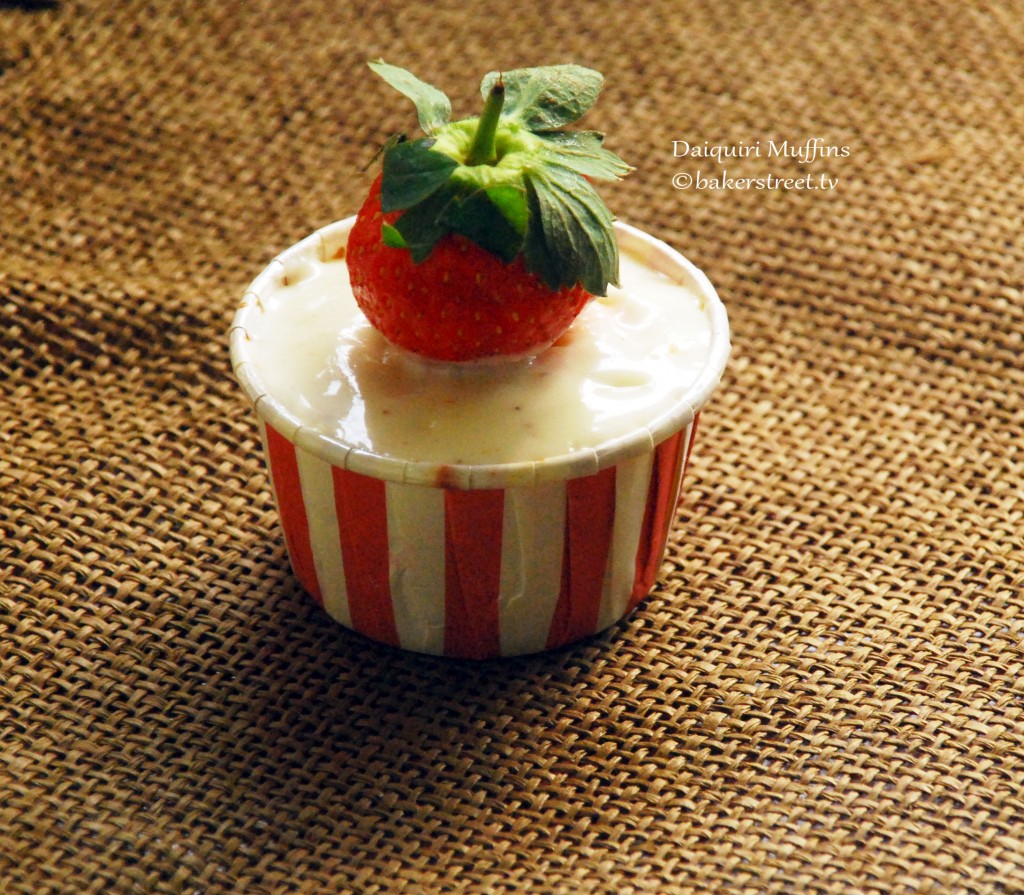 Today we're baking Daiquiri Muffins. That's right. What better way then to celebrate with some of that old moonshine, right? This exceptional recipe comes from Mark Scarbrough and Bruce Weinstein's 'The Ultimate Muffin Book'. I've been saving up to share a recipe from this book and today's the perfect occasion. I know there is no shortage of cookbooks when it comes to recipes and giving tips but what I love most about the book is the ease with which Mark and Bruce lead you into a recipe. The book has excellent tips and tricks, dos and don'ts, and clear, precise instructions that can be followed by anyone. You don't need fancy equipment, or be an experienced 'baker' to follow any of these recipes. Still the book's 600 recipes has something for everyone, including the pros.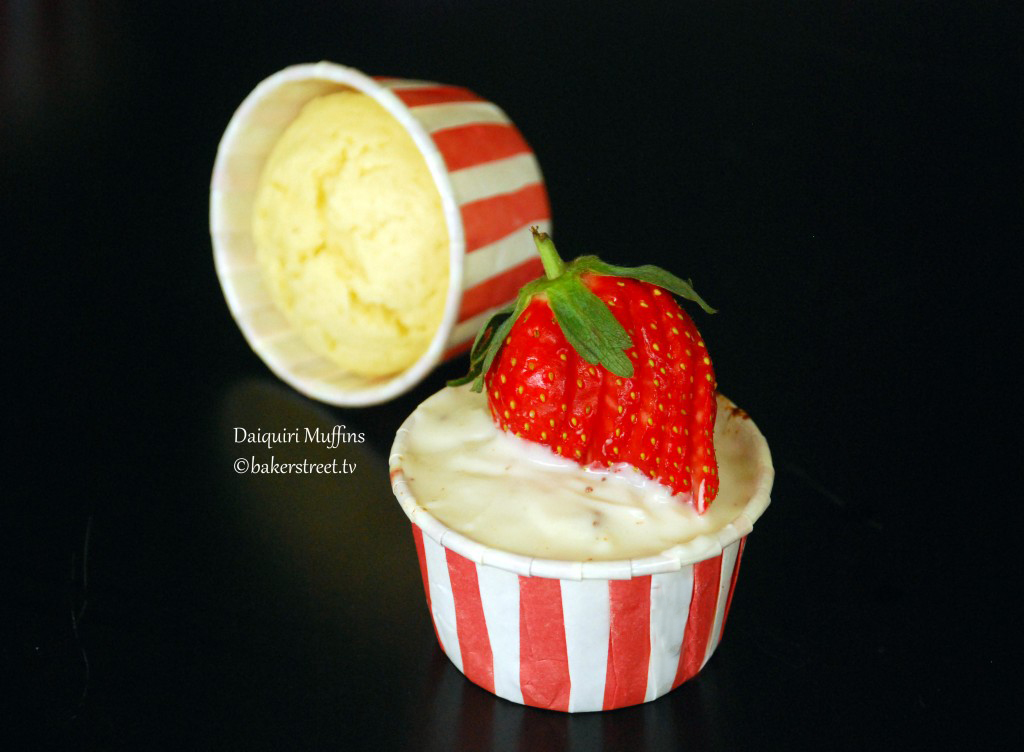 I picked daiquiri muffins and gave it my own little twist. The muffins are perfect and I wouldn't make a change to the base of this recipe, however, since we're indulging during the holidays, I gave it a cream cheese frosting and dressed it with some fresh strawberry. The batter was quickly divided into two. One half remaining induced with lime and for the other half I squished some strawberries into the batter. The sweet strawberries and lime complemented each other perfectly.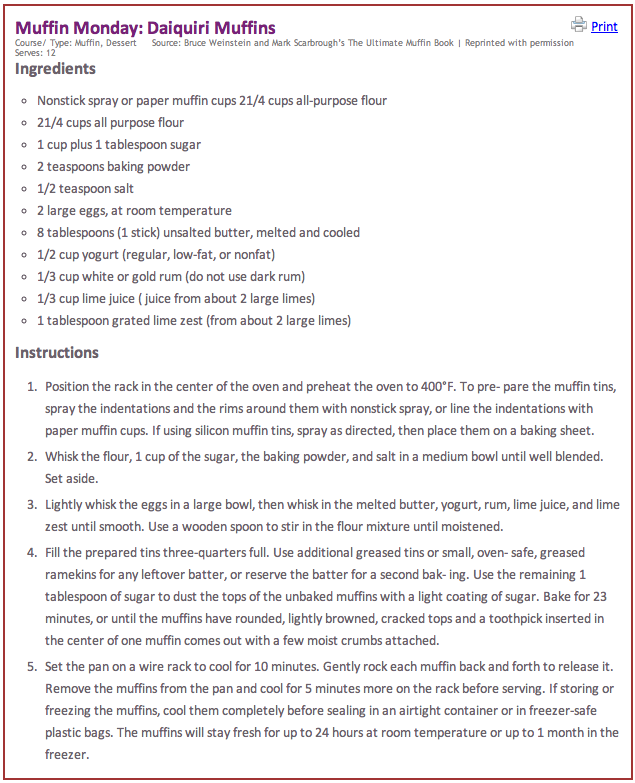 GUEST POST by Mark Scarbrough
Joining me in the kitchen is a fabulous baker/chef/ and award winning writer of over 20 cookbooks, Mark Scarbrough. Mark, a former literary professor. He manages to win awards and maintain a fabulous blog and shares with the world delicious recipes while writing 3 books a year!
Mark has got something savory for the occasion, a Quiche Lorraine Muffin. The name alone says it all right? Take it away Mark,
What's the only thing better than the smell of muffins baking? Maybe the smell of bacon frying! When Bruce and I were writing 'The Ultimate Muffin Book', we decided to combine the two for these Quiche Lorraine Muffins, a baking twist on the classic egg dish.
I'm glad to be a part of MuffinMonday, an initiative by Anuradha of Baker Street. What I'm brining to the 6 month anniversary party is a savory muffin.
Savory muffins may be a surprise for some people. Yes, there's still sugar in the batter, mostly to build good crumb and structure with the eggs and oil. That said, because savory muffins are so loaded down with "extras"—here, with bacon, onion, cornmeal, and cheese—they don't necessarily develop the characteristic puffed top of sweeter muffins.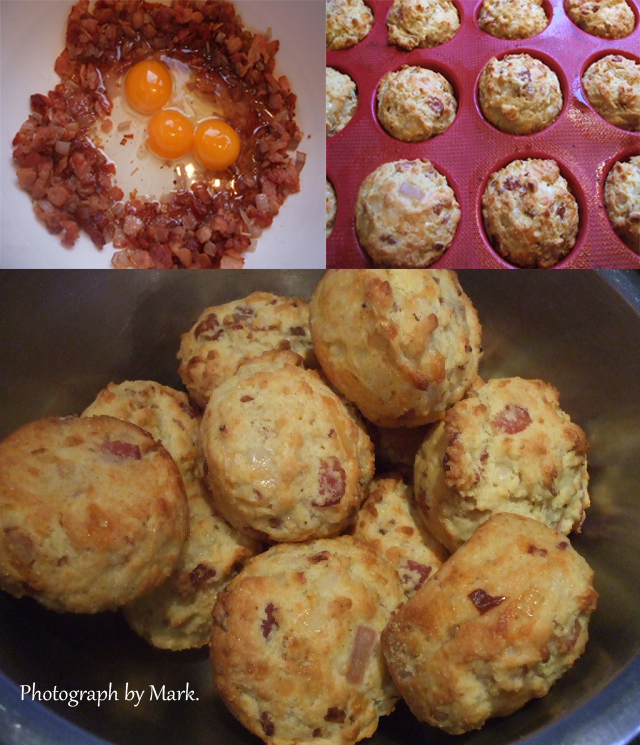 Still and all, they're a treat for breakfast—or a great mid-day break. Even better these muffins freeze well. Seal them in a plastic bag and keep them in the freezer for up to 4 months. Thaw several under a clean kitchen towel on the counter overnight and you're ready for a savory breakfast the next morning!
Let's get to the recipe.
Muffin Monday: Quiche Lorraine Muffins
Author:
From The Ultimate Muffin Book by Mark S and Bruce W | Reprinted with permission
Recipe type:
Breakfast, Muffins
Ingredients
Nonstick spray or paper muffin cups
¼ cup canola or vegetable oil
6 strips thick-cut bacon, or 8 thin strips bacon, roughly chopped 4 medium scallions, thinly sliced
2 cups all-purpose flour
½ cup yellow or white cornmeal
1 tablespoon baking powder
1 tablespoon sugar
½ teaspoon salt
1 large egg, at room temperature
2 large egg yolks, at room temperature
1 cup whole milk
11/4 cups shredded Gruyère (5 ounces)
Instructions
Position the rack in the center of the oven and preheat the oven to 400°F. To pre- pare the muffin tins, spray the indentations and the rims around them with nonstick spray, or line the indentations with paper muffin cups. If using silicon muffin tins, spray as directed, then place them on a baking sheet.
Heat a medium skillet over medium heat. Swirl in 1 tablespoon of the oil, then add the bacon and sauté for 1 minute. Add the scallions and cook for 2 minutes, stirring occasionally, until the scallions are wilted and the bacon is lightly browned. Transfer the contents of the skillet to a large bowl and cool for 10 minutes.
Meanwhile, whisk the flour, cornmeal, baking powder, sugar, and salt in a medium bowl until well blended. Set aside.
Whisk the egg, egg yolks, and the remaining oil into the bowl with the bacon. Stir in the milk and cheese until well incorporated. Finally, stir in the prepared flour mixture until moistened.
Fill the prepared tins three-quarters full. Use additional greased tins or small, oven- safe, greased ramekins for any leftover batter, or reserve the batter for a second bak- ing. Bake for 18 minutes, or until the muffins are lightly browned and a toothpick inserted in the center of one muffin comes out with a few moist crumbs attached.
Set the pan on a wire rack to cool for 10 minutes. Gently tip each muffin to one side to make sure it isn't stuck. If one is, rock it back and forth to release it from the tin. Remove the muffins and cool them for 5 minutes more on the rack before serving. If storing or freezing, cool them completely before sealing them in an airtight con- tainer or in freezer-safe plastic bags. The muffins will stay fresh for up to 2 days at room temperature or up to 3 months in the freezer.
Notes
Here are some variations: – Duck Confit Quiche Lorraine Muffins: Omit the bacon. Remove the fat from 1 large duck confit leg (about 6 ounces). Place the fat in the skillet over medium heat.When it's melted, shred the meat off the leg and add it to the skillet with the scallions. Sauté for 3 minutes, or until the scallions are wilted, stirring frequently. – Mushroom Quiche Lorraine Muffins: Omit the bacon.Add 11/2 cups thinly sliced mushrooms to the skillet with the scallions. Sauté for 4 minutes, or until the mushrooms give off their liquid and it evaporates. – Smoked Turkey Quiche Lorraine Muffins: Omit the bacon.Add 1 cup chopped smoked turkey to the skillet with the scallions.
About Mark and Bruce:
Mark and Bruce have written over 20 cookbooks in 12 years. Over the past year there were 3 exceptional ones, Goat: Meat, Milk, Cheese (Stewart, Tabori, & Chang). The sensational Lobsters Scream When You Boil Them and 100 other Myths About Food and Cooking and lastly and one that is quickly becoming my favorite The Complete Quick Cook. But that's not all, a little known secret is the one that's coming out next year and one that you should totally watch out for: Grain Mains – a book on whole-grain main courses. Do check them out!
GIVEAWAY
If you'd like to win a copy of 'The Ultimate Muffin Book' leave us a comment and tell us what your favorite muffin is or drop in a line if you'd like to bake with us.  You have until December 25, Midnight EST to enter the giveaway. One lucky winner will be chosen via random.org. And the best news: It is OPEN TO ALL. No matter where you are in the world, you are allowed to enter this contest.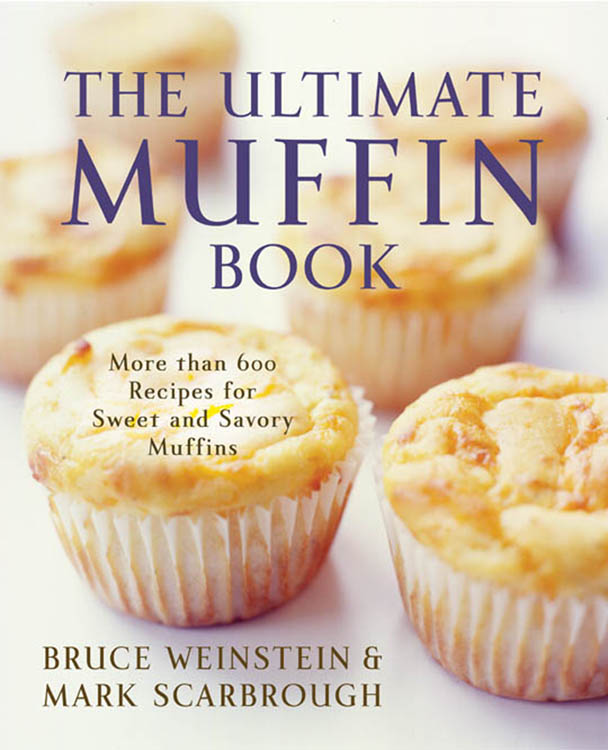 For additional entries do the following and leave a comment letting us know you did:
1. Follow @bakerstreet29,  @MarkScarbrough and @BruceWeinstein on twitter.
2. Like Baker Street's FB page
3. Tweet about the giveaway. Be sure to include my handle so I know you did. Here's a sample tweet: I just entered to win The Ultimate Muffin Book from @bakerstreet29 #giveaway #muffinmonday http://ow.ly/83suz Please RT.
4. Sign up for the email or RSS feed.
5. Stumble this post and follow bakerstreet29 on SU and give this post a thumbs up.
The winner will be announced on Monday, 2nd Jan, 2012.
And last but not least, a big shout out to the MM bakers. Be sure to check out their delicious blogs. Alphabetically: Annapet, Anita, Aimee, Alan, Alex, Barbie, Bianca, Carrie, Caroline, Dudut, Elizabeth, Elena, Holly, Francys, Jasmine, Junia, Kate Kristen, Rene, Terra, Monika, Maya, Marta, Mike, Marnley, Malou, Nastassia, Sally, Valerie, Wendy, Xai, Yuri
Happy Baking!
*GIVEAWAY CLOSED*