I'm absolutely thrilled to guest post for Jen from The Three Little Piglets. Jen is doing a 12 day Cookie Marathon. From sugar cookies, recipes to cookie decoration ideas, she's capturing it all.
When Jen asked me to write her a guest post for her marathon, I was super enthusiastic. Later I was a bit more apprehensive given that I'm not big on baking sugar cookies and don't always have the patience required for each layer of icing to dry. The term 'holiday cookies' makes me want to run to an old classic: one you can indulge in as comfort food.

What I'm bringing to Jen's table is a Cinnamon Hazelnut Shortbread. Rich and buttery cookies studded with toasted hazelnuts and scented with cinnamon, these are perfect for a Christmas morning.
When it comes to shortbread, I like mine soft and tender, one that melts in your mouth. Am not particularly a fan of the thin and crisp ones. The original recipe calls for only 1/2 cup sugar which I increased to 3/4 cup. And in the spirit of the holidays I added a little cinnamon cream cheese drizzle.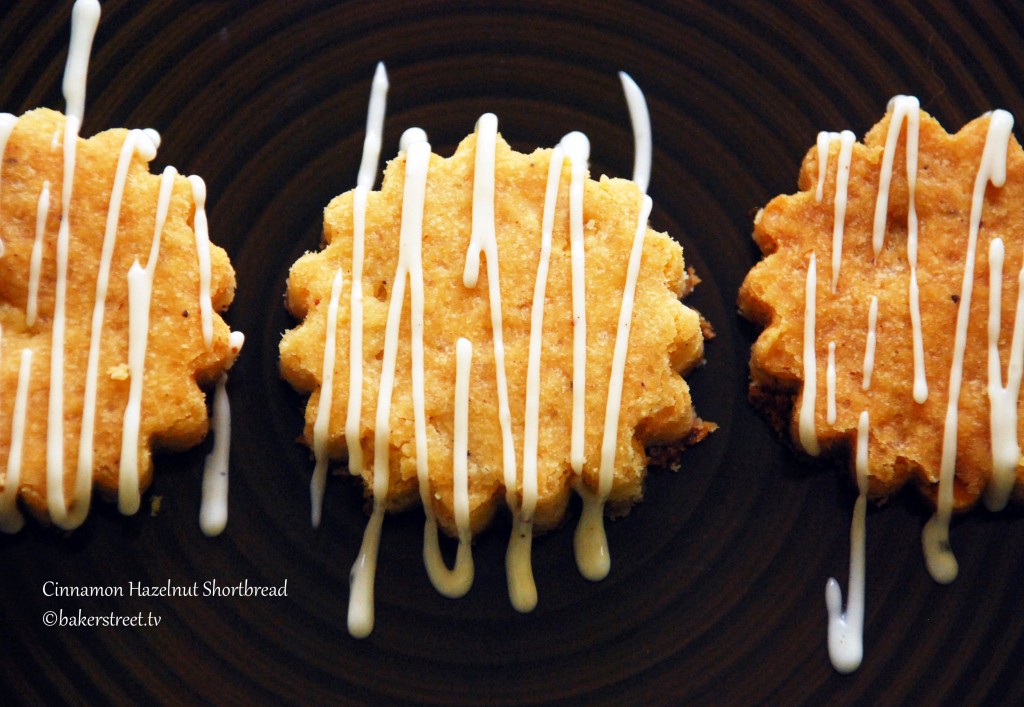 Jen has fabulous bloggers guest-posting for her. Be sure to check in what these very talented bloggers are bringing to the table.
Cinnamon Hazelnut Shortbread
Author:
from Beth Lipton's You Made That Dessert
Recipe type:
Cookie, Shortbread, Dessert
Prep time:
Cook time:
Total time:
Ingredients
2 cups all purpose flour
½ teaspoon salt
11/2 teaspoon cinnamon
1 cup unsalted butter
¾ cup packed dark brown sugar
½ cup finely chopped hazelnuts
Instructions
Preheat the oven to 325F
In a small bowl, combine flour, salt, cinnamon and stir to combine.
In a large bowl, cream the butter and sugar until light and fluffy, approximately 2 minutes.
Using a wooden spoon, stir in the flour mixture into the butter mixture until just combined. (The mixture may appear dry). Stir in the hazelnuts.
Using your hands, press the dough into an ungreased 9″ square baking pan. Ensure the batter is evenly distributed. (See Note)
Bake 20-25 minutes until golden brown
While the shortbread is still hot, using a pairing knife mark out the 16 squares or any other shape you like. Don't cut all the way through.
Leave for the shortbread to cool down completely, cut along the lines you marked out earlier and serve
Notes
– You could use the bottom of the glass to make sure the dough is evenly distributed.
Happy Baking!