Rocky Road is a muffin. It is also synonymous with the state of the last week, busy and demanding as it's been with no respite over the weekend either. And in all honesty I did these muffins in a hurry. Still, they turned out brilliant and I'm really glad with the results… an absolute chocolate lover's delight. These were super chocolate-y especially with the additional chocolate glaze and topped with cute pink and white marshmallows that I added.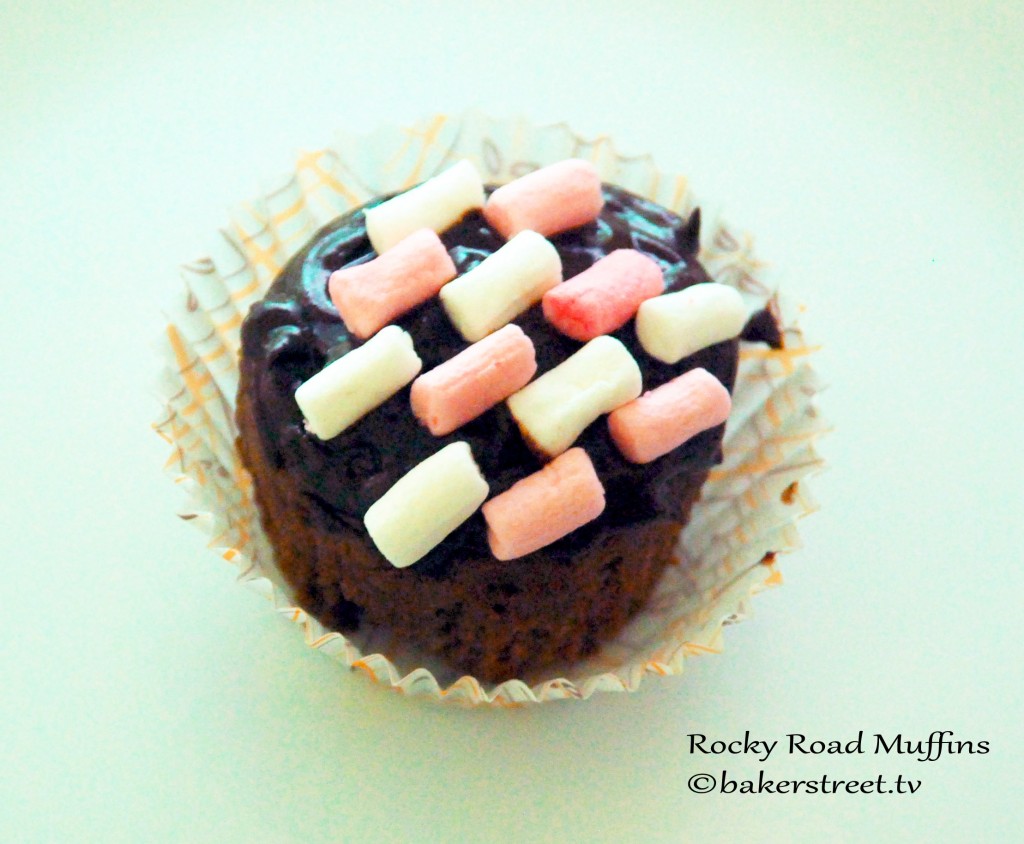 I took out the muffins slightly earlier then the time mentioned which left them a little fudgy. This irresistible chocolate and marshmallow treat makes for an excellent addition to our holiday muffin series.
Muffin Monday: Rocky Road Muffins
Author:
Adapted from Susannah Blake's Muffin Magic
Ingredients
2 cups (300grams) self raising flour
1 teaspoon baking powder
3 tablespoons cocoa powder
75 grams milk chocolate chopped
½ cup walnuts
60 grams mini marshmallows or you can just chop large ones into small pieces
⅔ cup (150 grams) soft brown sugar
¾ cup (200 ml) milk
2 eggs
75 grams butter
Instructions
Preheat the oven to 400F. Grease or line a 12 hole muffin pan.
In a large bowl, combine the flour, baking powder, cocoa powder and marshmallows. Set aside.
Reserve about ⅓ of the chocolate chunks and walnuts and add the rest to the flour mixture.
In a separate bowl or jug; combine sugar, milk, eggs and butter.
Stir the egg mixture into the dry ingredients just until combined.
Spoon dollops into muffin cases and sprinkle chocolate and nuts on top. Press them gently into the batter
Bake for 18-20 minutes or until a toothpick comes out clean.
Cool for 5 minutes and transfer to wire rack.
Holiday Muffin Monday: Round Up
Happy Baking!