As far as chocolate cakes go, you always want one recipe on hand that is reliable and can be easily whipped up as a mid-week treat, quick enough and hassle free to be packed in the picnic basket on a Sunday or to munch on when on the couch, watching midnight TV on those insomniac days. A warm slice of cake drizzled upon by chocolate sauce: quick, inexpensive, baked with pantry staples. This recipe is just that.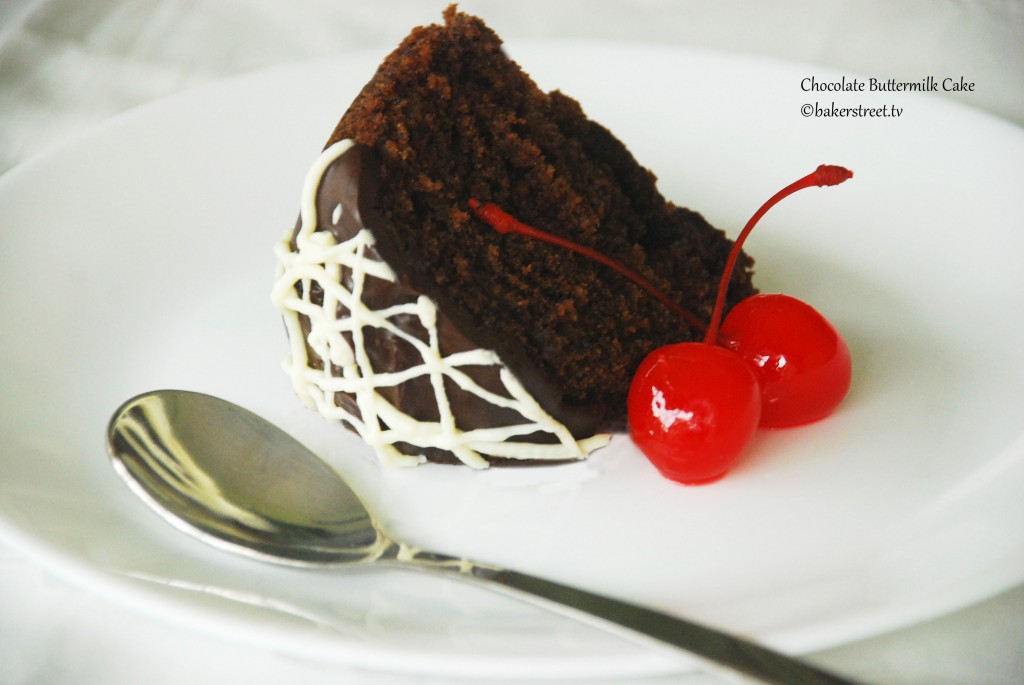 The cake is moist and chocolate-y. Pairs well with a dash of hot chocolate sauce, a couple of cherries and voila – a treat that's hard to say no to.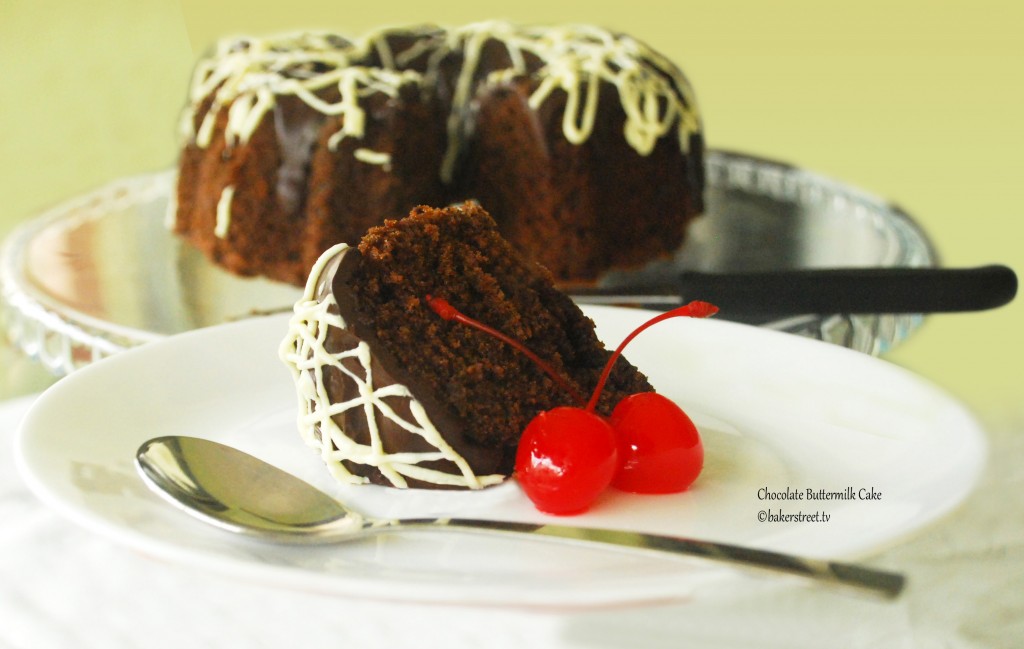 Chocolate Buttermilk Pound Cake
Author:
Minimally adapted from passionate about baking
Ingredients
For The Cake:
¾ cup plain flour
¼ cup whole wheat flour
¼ cup rice flour
½ tsp baking powder
¼ cup cocoa powder
¼ tsp baking soda
¼ tsp salt
½ cup unsalted butter, room temperature
1 cup vanilla or plain sugar
2 eggs
100ml buttermilk
1 tsp pure vanilla extract
For The Ganache:
100 gms dark chocolate
3-5 tablespoons low fat cream
1 tablespoon golden corn syrup
Instructions
Preheat the oven to 340F | 170C
For the Cake:
Grease and flour the sides a 6″ bundt pan.
In a medium bowl, sift together the flour with the cocoa, baking powder, baking soda and salt. Set aside.
In a large bowl, cream the butter and sugar. Beat in eggs one at a time, followed by the vanilla extract.
With beater on low add the flour and buttermilk alternately in three lots.
Bake for 50-60 minutes until and the tester comes out clean. Make the ganache in the meantime.
For the Ganache:
Gently simmer all the ingredients over low heat, stirring constantly until the chocolate melts. Take off heat and stir briskly till nice and shiny. The glaze should be nice and thick, yet of flowing consistency. (See Note)
Assemble:
Overturn the cake out gently on rack and let it cool for about 15-20 minutes.
Pour the ganche evenly over the hot cake, letting some drip over the sides. You could add chocolate shavings, nuts, mini marshmallows, a white chocolate drizzle which could also be coupled with nuts.
Notes
For the ganache: If the ganache is too thick add a little cream If it is too thin then add a little chocolate as it will continue to thicken as it cools down.