Balance, balance, balance! Yin vs. Yang. Sinful cheesecake muffins vs. er…  a healthy dessert!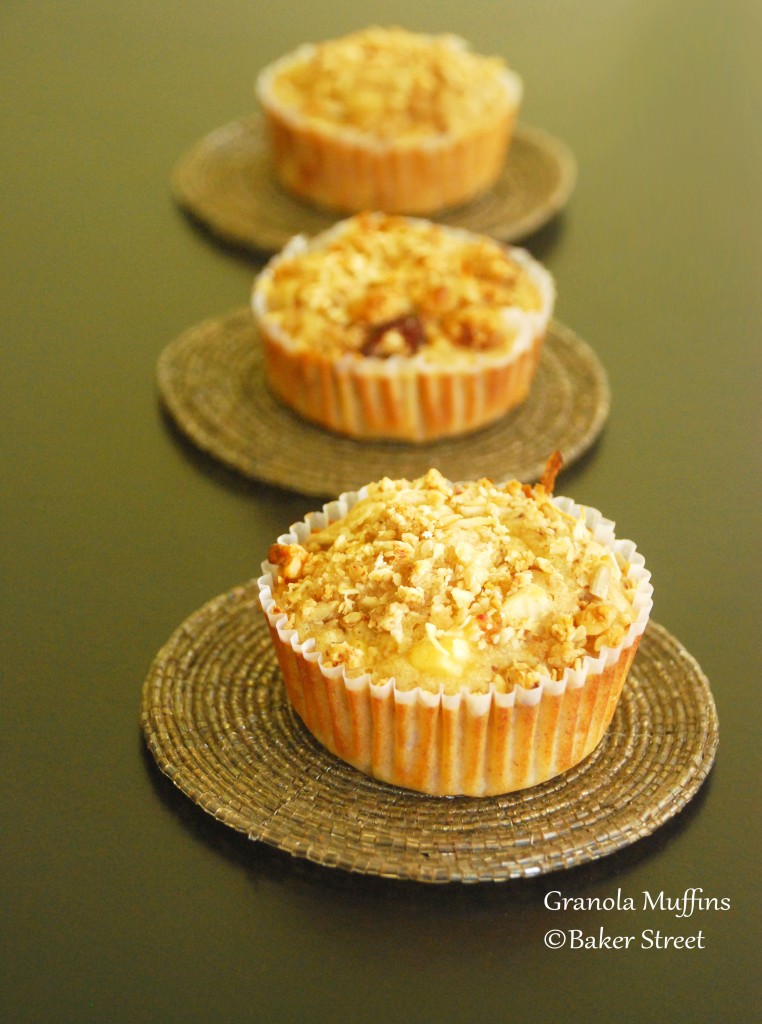 I'm sure a lot of you wake up in the morning to cereal, or if you have the luxury of time then its a fried egg with toast and sausages and perhaps even pancakes. Or if you're always in a hurry like me, then it has to be a 'to-go' breakfast. Preferably sans cheese.I consider this muffin is the perfect breakfast. You can pick a couple and enjoy them on your way to work. They are fairly simple make and they store well.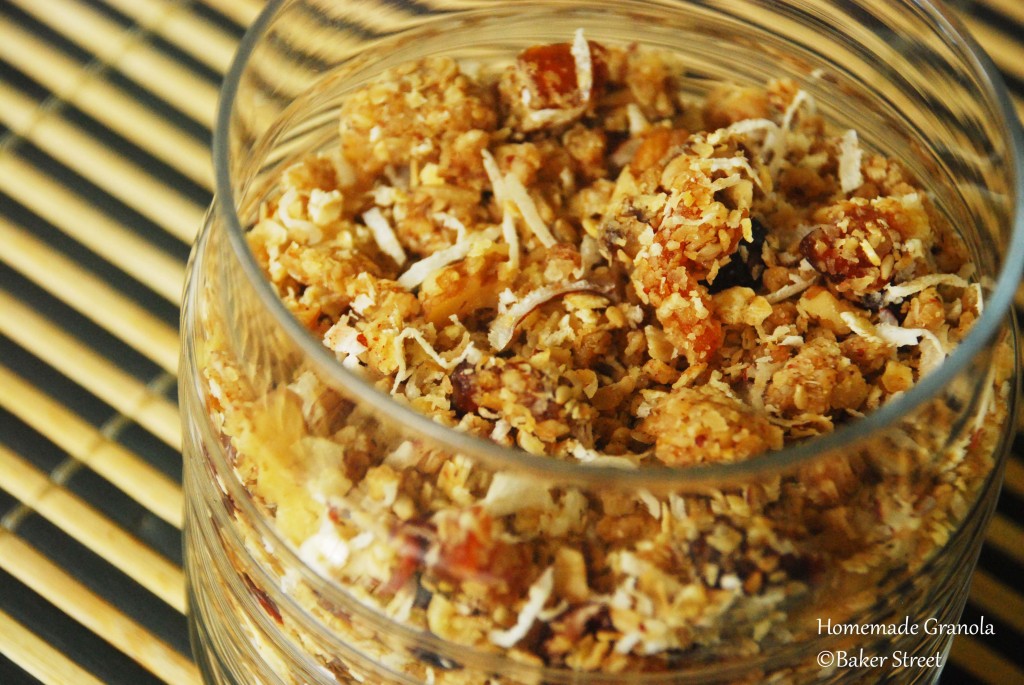 Lets skip to my variation of Martha Rose Shulman's version. To make these sightly more special and different, I used homemade granola (post and recipe coming up shortly) that I made over the weekend. This was the first time I took the effort, but it was entirely worth it: Using a homemade granola made all the difference. It is packed with nuts, oats and fruits.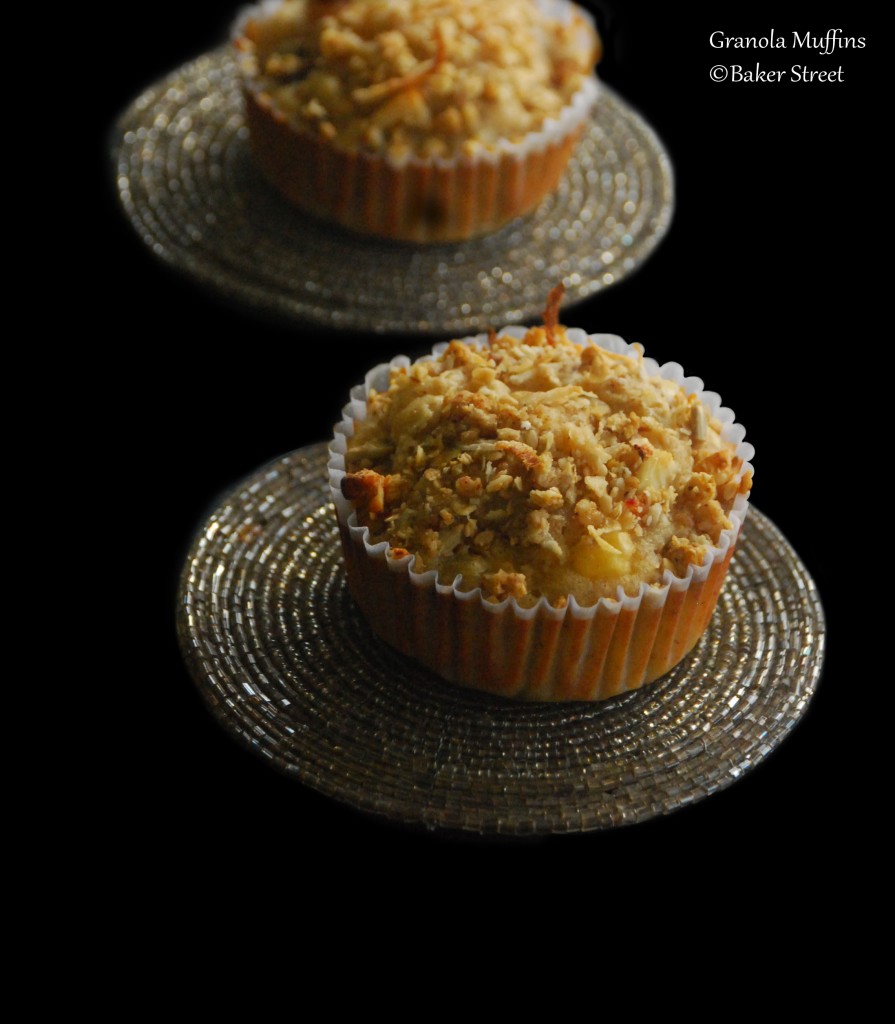 Baked with whole wheat flour, low fat milk and yogurt. A quick whisk of simple ingredients yield these perfect muffins. Treat yourself with a generous spread of jam on one of these healthy muffins.
Muffin Monday: Granola Muffins
Author:
Adapted from Martha Rose Shulman
Recipe type:
Muffins, Breakfast
Ingredients
1 cup granola + 1-2 tablespoons (See Notes)
½ cup low-fat milk
1 cup golden raisins
1 cup whole wheat flour
2 teaspoons baking powder
½ teaspoon baking soda
¼ teaspoon salt
2 large or extra large eggs
¼ cup mild honey, such as clover
½ cup buttermilk or plain low-fat yogurt
¼ cup canola oil
1 teaspoon vanilla extract
1 apple peel, core and chopped
1 tablespoon brown sugar
½ teaspoon cinnamon powder
Instructions
Preheat the oven to 375ºF with a rack in the middle.
Grease 12 muffin cups.
In a bowl combine the granola and milk in a bowl and let sit for 30 minutes. Meanwhile, cover the raisins with hot water and soak for 15 minutes. Drain and dry on paper towels.
Peel, core and chop the apple, toss with brown sugar and ½ teaspoon cinnamon, set aside
Sift together whole wheat flour, baking powder, baking soda, and salt.
In medium bowl, beat together the eggs, honey, buttermilk or yogurt, canola oil and vanilla. Quickly whisk in the flour, then fold in the granola, raisins and apple. Combine well.
Spoon into muffin cups, filling each about ¾ full.
Bake 20 to 25 minutes, until lightly browned. Cool in the tins for 10 minutes, then unmold and cool on a rack.
Notes
My Variation: – I made apple granola muffins, Tossed 1 apple with a couple of spoons of brown sugar and a teaspoon of cinnamon and nutmeg. – Add it in batter along with the granola at the end. Gently fold it into the batter and bake right away. – I added some granola on top of the muffin before baking which served as a nice and crunchy streusel topping.
You wouldn't have imagined 16 more versions of this muffin right. Well don't miss what my lovely muffin monday bakers have in store for you.