This is my version of the twin post with Shulie (aka Foodwanderings)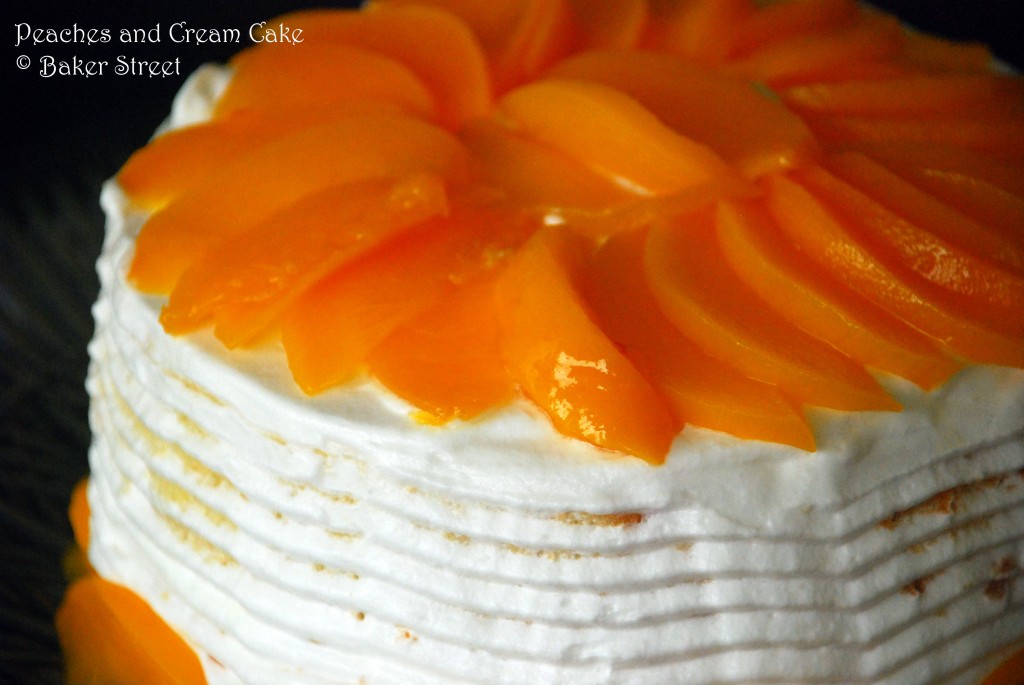 History: Shulie and I have known each other for almost a year, albeit virtually. About 8 months ago, we did an apple project together; which was an exciting experience. We came up with a recipe while exchanging hundreds of tweets, trying to pick the best of everything; it was sure a fun process. Apart from having to got to know each other, our likes and dislikes, the one thing we certain of is that we had to do this exercise again.
Challenge: Even though our blogs are testament to our love for food, they are very different. Shulie's blog speaks volumes of her background, with a focus on Indian and India-inspired recipes along with myriad snippets of her Israeli culture. You will also find a bouquet of recipes that have been influenced by her stay in America over the last two decades. My blog on the other hand mainly focuses on baking. The challenge was to find a recipe that fit both our profiles.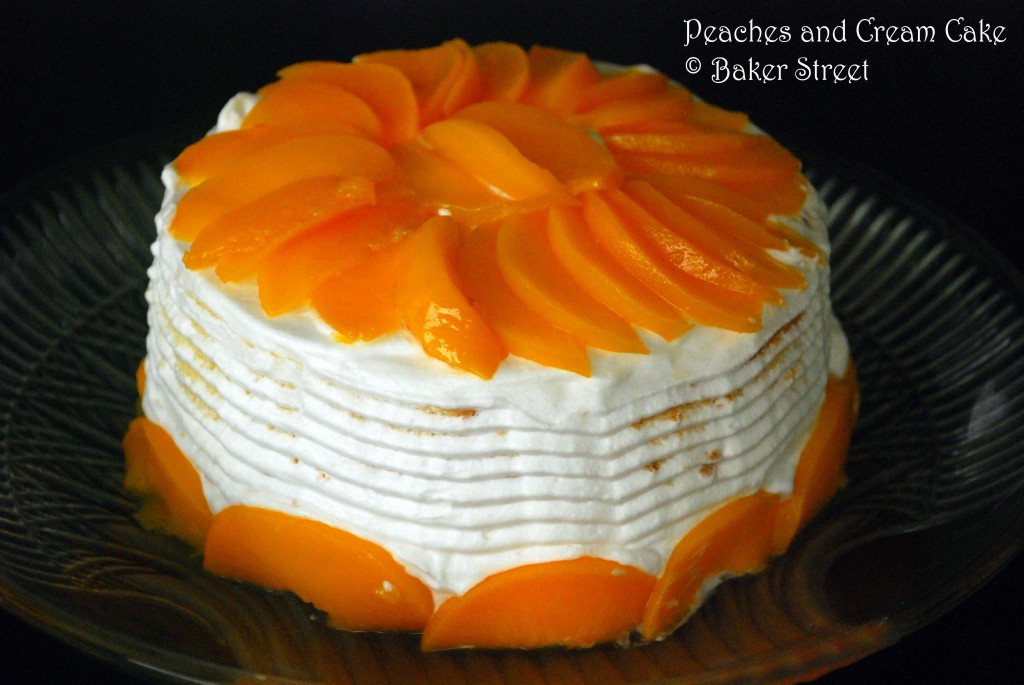 Solution: Dessert was our common ground, and we quickly realized that neither of us were not good at layer cakes. The idea of a fruity layer cake was born. To bake one was our challenge.
Fun: Project on, we were soon exchanging lots of emails, tips and tricks, and other trivia. There was major bonding as we exchanged childhood memories, ranted about our daily chores… it was like sitting with an old friend and taking off from where we left.
Exception: Strawberries. They're out of season for me. Peaches were the easy alternatives: sweet as they were, their color and texture redolent of summer in a bowl.
Cake: As I've mentioned, I'm an amateur baker and consequently apprehensive of getting the layers right. Cream being of the right consistency was paramount. It was important to keep in mind the egg whites were not over beaten, else they'd result in a cake too dry. Other than the glazing difference of strawberries and peaches there is a slight variation in the recipe we followed. I added 3/4 cup of lightly toasted ground peanuts instead of 1 cup that Shulie added.
Result: Even though I may have not perfected the layers, I loved the texture of the cake that popped out of the oven. Soft and moist, the cream was neither too sweet or overbearing. It turned out to be the perfect 4 am snack (writing this blog can result in a complete loss of tracking time!)
Author:
Whipped Cream Cake from Chow.com
Recipe type:
Dessert, Cake
Ingredients
4 cups Peaches rinsed and chopped
2 tablespoons granulated sugar
1 tablespoon freshly squeezed lemon juice (from about ½ medium lemon)
1½ teaspoons vanilla extract
1 teaspoon grated lemon zest
2 plus ¼ cups cake flour (Or 1 cup of cake flour + 1 cup of roasted peanuts finely grounded)
2 teaspoons baking powder
½ teaspoon kosher salt
½ cup vegetable oil
¼ cup water
1 tsp lime juice
2 teaspoons vanilla extract
6 large eggs, separated
1½ cups granulated sugar
½ cup mascarpone cheese
½ cup heavy cream
1 tablespoon vanilla extract
6 tablespoons granulated sugar
3 cups heavy cream
Instructions
Combine all ingredients in a medium mixing bowl and toss to thoroughly coat peaches. Let the peaches macerate at room temperature at least 20 minutes before using.
Strain macerated peaches and reserve syrup separately.
Heat oven to 350°F and arrange rack in upper third. Butter and flour two (8-inch) cake pans.
Sift flour, ground peanuts, baking powder, and salt together into a mixing bowl; set aside.
In the bowl of a stand mixer fitted with the whip attachment or you can use a large bowl with a hand mixer, combine vegetable oil, water, lemon zest, vanilla extract, egg yolks, and 1¼ cups of the sugar.
Whip on medium speed, until mixture is airy and light in color, this will take 5 to 7 minutes.
Turn off the mixer and scrape down the sides of the bowl; add dry ingredients and whip until smooth, 1 minute more.
In another clean bowl, whip egg whites to soft medium peaks. Add remaining ¼ cup sugar and continue whipping until stiff peaks form, about 1 minute more.
Using a rubber spatula, fold ¼ of the egg whites into the cake batter until evenly incorporated; gently fold in remaining egg whites until just combined.
Divide batter between prepared cake pans.
Bake until surface of cakes springs back when pressed and a toothpick or cake tester inserted into the center comes out clean, about 25 to 30 minutes. Remove cakes from the oven, and let cool for 10 to 15 minutes. Turn them out onto wire racks to cool completely.
Meanwhile, make the filling and the frosting.
In a bowl, combine mascarpone cheese and heavy cream and whip until stiff peaks form, about 2 minutes.
Cover and refrigerate until ready to use.
Using either a stand mixer and the whip attachment or a large bowl with a hand mixer, combine vanilla extract, sugar, and heavy cream in the chilled bowl and whip at medium speed until medium peaks form, about 2 minutes.
Cover and refrigerate until well chilled, at least one hour.
Using a long serrated knife, trim the tops of the cakes as necessary so they are level.
Place cake rounds on a clean, dry surface and, using a pastry brush, brush ½ of the reserved peach syrup (See Note 1) on the cut side of the first cake round; repeat on the cut side of the second cake round.
Evenly spread ¼th of the mascarpone filling over the cut side of the bottom cake layer. Arrange peaches as you desire Cover peaches with the remaining filling, being sure to fill in any empty space.
Place second cake layer over mascarpone and peaches, cut side down, pressing gently to secure it.
Using an offset spatula or a long, thin spatula, spread ¾ cup of the frosting in a thin layer over the top and sides of the cake. Return remaining frosting and cake to the refrigerator until frosting on cake is set, about 15 minutes.
Spread the remaining frosting all over the top and sides of the cake. Let sit in the refrigerator at least 15 minutes before serving.
Notes
1. In case you're using canned peaches like I did, then you can omit the first part and use them directly. You can also save the syrup and use it during the assembly of the cake. 2. For the Frosting: Put the stand mixer or your large bowl in the freezer for 10 minutes before you use it. 3. The frosting can be made 12 hours in advance as well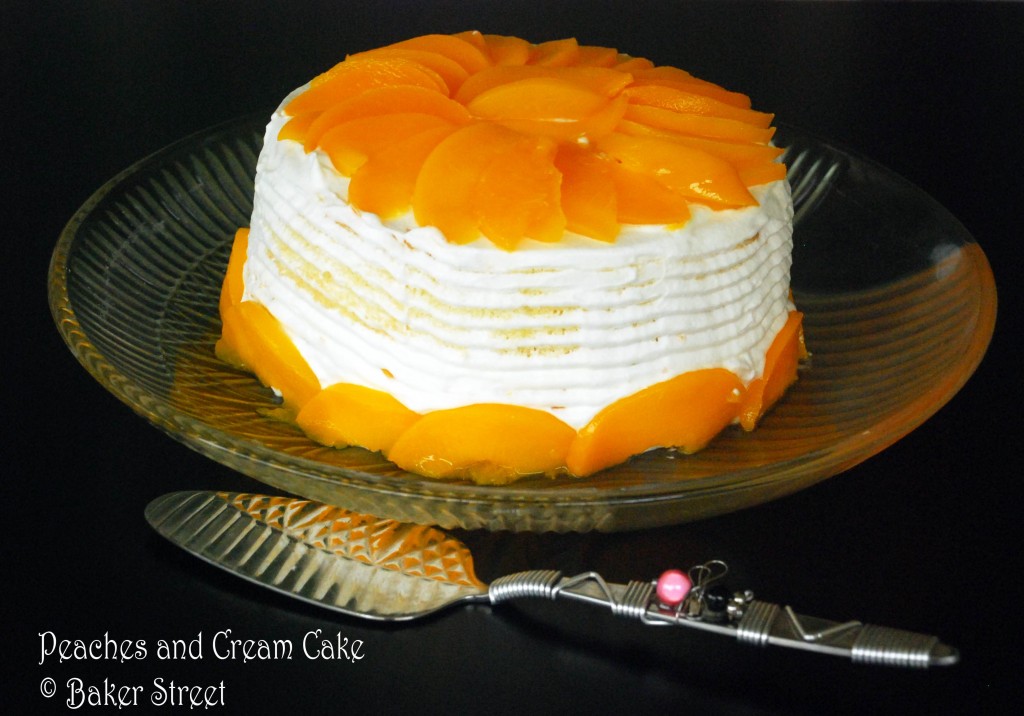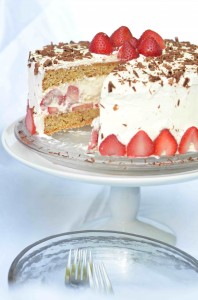 My twin-post author: Shulie is my virtual adopted mother and one of the nicest people you'll meet (even if only online!). Born and raised in Israel, with Indian and Jewish ancestry, now living in America. Shulie, is a caring mother, charming wife, and a lovely friend. You can follow her on twitter here: @foodwanderings
Happy Baking!