Life expectancy would grow by leaps and bounds if green vegetables smelled as good as bacon.
~ Doug Larson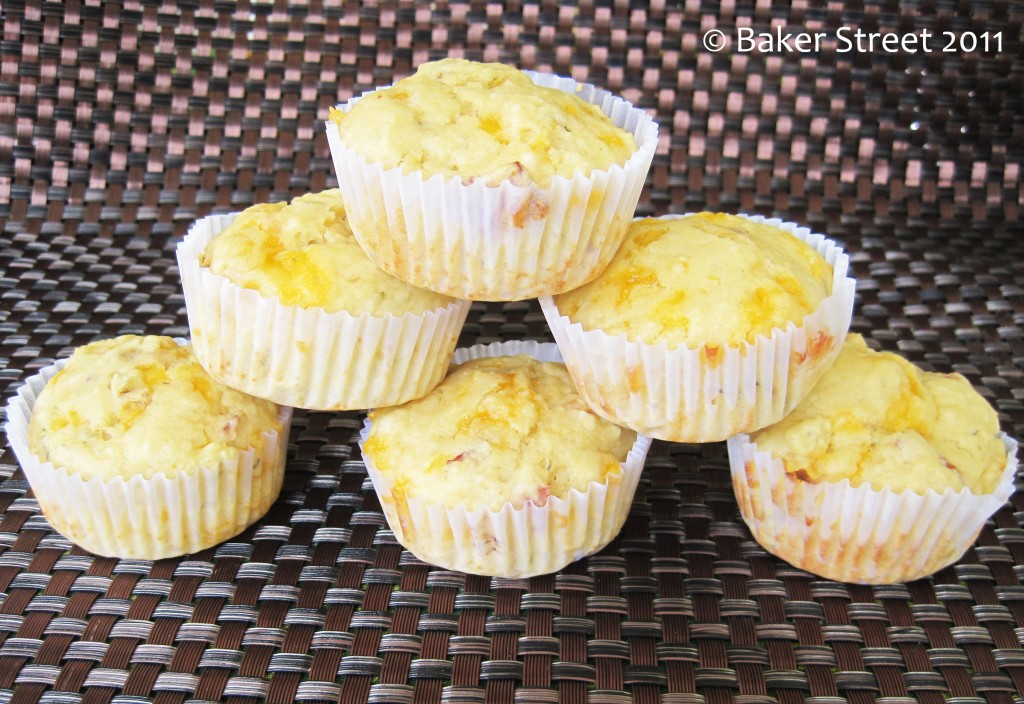 He stumbled out of bed. The dream was so palpable, his mind manufactured the aromas while he slept. Now he was awake and it was fading. No! he would not deny himself now. The crunchy sound of sizzling bacon the sweet sight of maple slathered on a tower of pancakes, the whiff of baked cheese. Ah this chilly morning, was going to be complete with warm little cheesy muffins speckled with generous bits of bacon in their white blankets waiting to be unwrapped.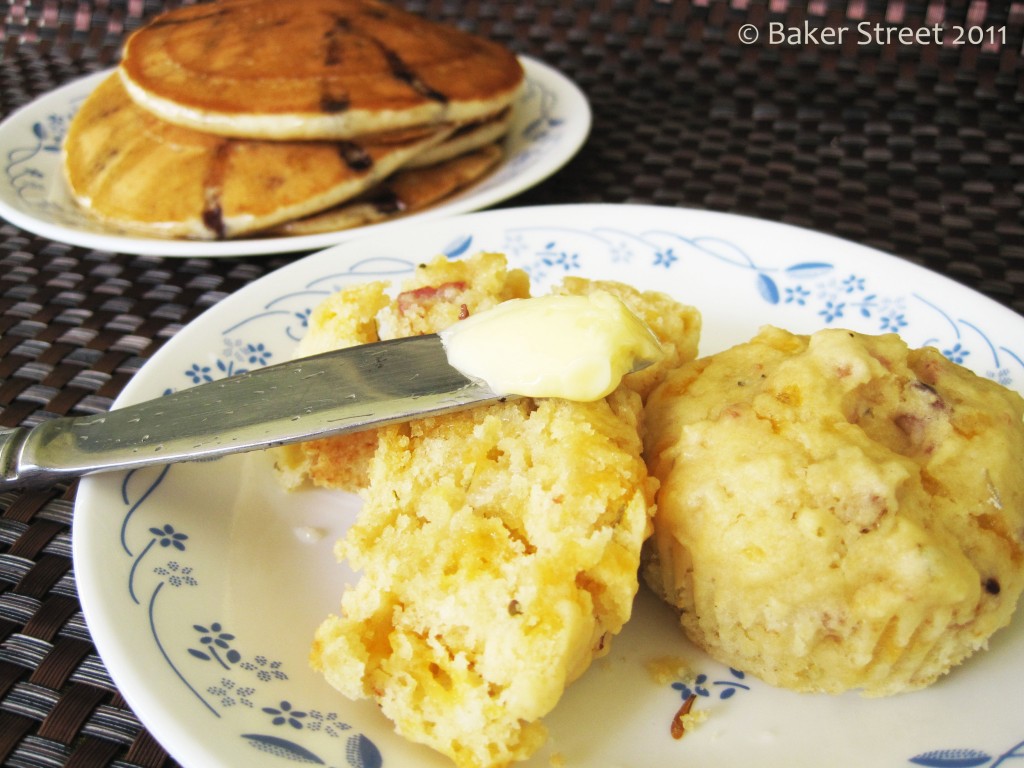 It is the ideal savory 'grab and go muffin' for breakfast, a mid-morning snack or a substitute for a roll or bread during a meal.
Muffin Monday: Bacon Cheddar Muffins
Author:
Adapted from Canadian Living
Recipe type:
Muffin, Savory
Ingredients
6 strips bacon cooked and chopped
1 cup shredded and aged cheddar
3 cups all-purpose flour
2 tbsp granulated sugar
1¼ tbsp baking powder
2 tsp pepper
1 tsp salt
1 cup milk
½ cup vegetable oil
½ cup sour cream
2 eggs
Instructions
Preheat the oven to 375°F (190°C) and grease or pap
er line a 12 hole muffin pan
In small bowl, combine 1 tbsp of the chopped bacon and 2 tbsp of the Cheddar; set aside.
In large bowl, whisk together flour, sugar, baking powder, pepper and salt ; stir in remaining bacon and Cheddar.
Whisk together milk, oil, sour cream and eggs; pour over dry ingredients. Stir together just until moistened. Do not overmix.
Spoon into greased or paper-lined muffin cups; sprinkle reserved bacon and Cheddar mixture on top.
Bake for 20 to 25 minutes or until tops are firm to the touch and muffins are golden.
Muffin Monday: Round Up
I've also had the pleasure of five lovely ladies joining me this week;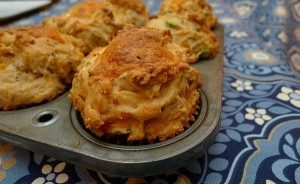 First up is Rene, a food writer and editor for Los Angeles Times. Rene is a dog-o-holic. A whisky loving, marathon running, doting wife. She says she's not much of a baker but click here and you will agree with me when I say, she is. You can follow her on twitter: @latimesfood and @renelynch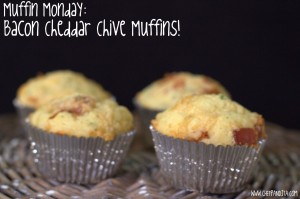 Yuri (aka @chefpandita), a culinary school grad, a master sushi instructor and caterer. Obsessed with wine and on her way to becoming an AIS & WSA certified sommelier. A Dominican-Japanese island baker, living in the Caribbean. Click here to view her post.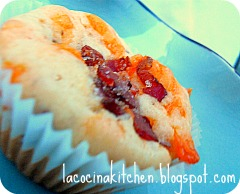 Francys, Author of Lococina Kitchen. She is a young CIA graduate, professional Chef from Dominican Republic. Worked under renowned Jose Andres in DC.  You can follow her on twitter (@francys_mariel) and click here to view her post.
And joining me once again are Marnely and Annapet who were so awesome the last time round. I'm honored that they are a part of Muffin Monday.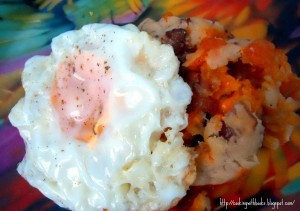 Marnely, author of Cooking with Books also writes for Honest Cooking. She did a fabulous article on Fruit leathers recently. Click here to eat breakfast that she is serving us today and follow her on twitter if you're not already. She's a riot. @nella22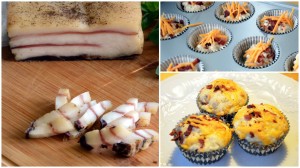 Annapet (aka @thedailypalette). Anything that I say about Annapet is just not going to do any justice to her talent. Let me for starters tell you that she made the bacon herself. Yes, that's right. She used Mangalitsa bacon; originally from Hungary or the Balkans, it is the name of three breeds of pigs grown.  Click here to learn all about it.
Happy Baking!