I love the rain. From a distance, that is. I used to like getting drenched once upon a time; but the more you age, the more you want to keep dry and warm and appreciate the downpour from a distance. Yep, it's been a long time since a 'voluntarily drenching'.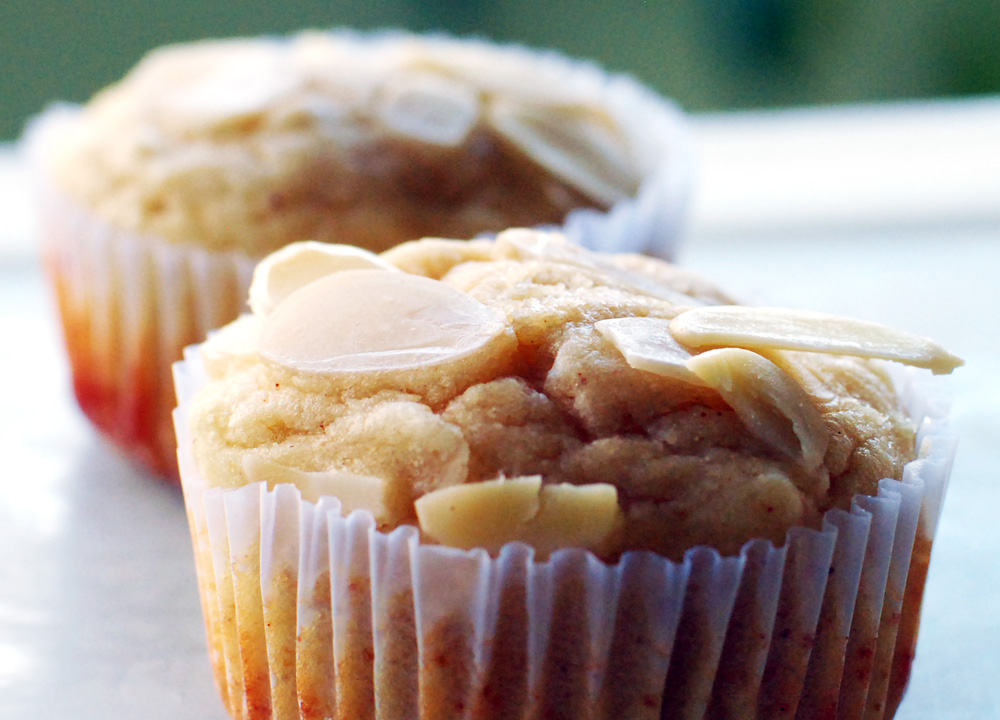 You'll easily agree when I say one of the best ways to enjoy the rain is being in bed, wrapped in a blanket, sipping on a hot cup of tea with a warm muffin right out of the oven. Comfort food for a grey and gloomy rainy day. The crunch of the almonds and the aroma of cinnamon; with each bite you will reminisce about the absent sunshine.
These muffins are easy, light, moist and taste delicious. I especially like the texture of the sliced almonds added on top. You can also dust them with powdered sugar if you want them sweeter.
Recipe type:
Muffins, Dessert
Ingredients
1 medium egg, beaten.
11/2 cups of flour
¾ cup of milk.
½ cup of almonds, chopped
½ cup of sugar
½ cup of oil
3 tsp of baking powder
½ tsp of almond extract
¼ tsp of cinnamon
Tiny pinch of salt
Instructions
In a medium bowl mix together egg, milk, oil and almond extract.
In another bowl, mix together the flour, sugar, baking powder, cinnamon, salt and chopped almonds.
Make a small well in the centre of the bowl and add the egg mixture. Mix gently till the flour mixture is incorporated. Do not overmix
Bake at 390F for about 15 minutes
Happy Baking!