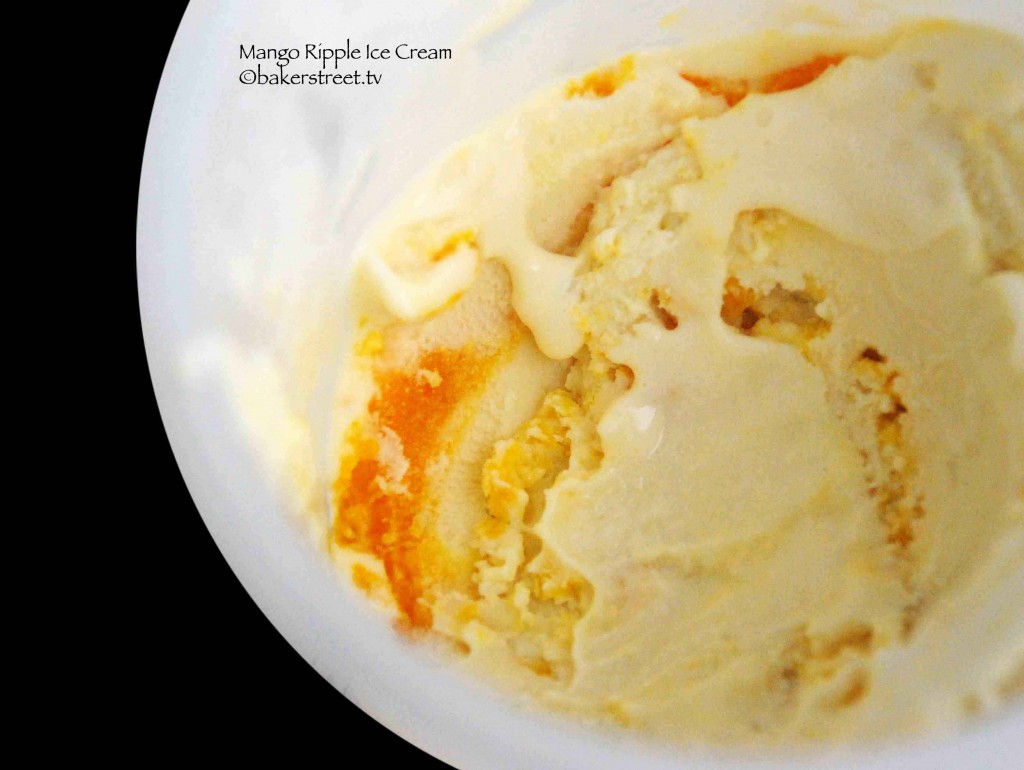 Mango Ripple Ice Cream: Rich and creamy with vibrant mango swirls laced in between.
Author:
Adapted from Family Kitchen
Recipe type:
Ice Cream, Dessert
Ingredients
1 cup whole milk
3 eggs
½ cup superfine sugar
1 tablespoon good quality vanilla extract
2 cup heavy whipping cream
3 tablespoon superfine sugar
Juice of 1 small lemon
½ cup water
2 cup fresh mangoes, washed and chopped roughly
Instructions
In a small saucepan, pour the water, sugar and lemon juice and heat until the sugar is dissolved and the mixture is slightly reduced – approximately 4 minutes.
Place the mango in a blender, pour in the sugar mixture and puree until smooth.
Pour the mango mixture through a fine mesh sieve to catch any seeds. Refrigerate until you need to assemble.
In a saucepan, heat the milk over medium heat until tiny bubbles form around the edges.
In a medium bowl, whisk the eggs, sugar and vanilla extract.
Ladle a small portion of the hot milk mixture into the egg mixture and whisk constantly to incorporate. This will help temper the eggs.
Whisk in another small ladle of milk. Then, pour in the remaining milk mixture and whisk to completely combine.
Pour the egg/milk mixture back into the saucepan over medium heat and stir constantly until mixture thickens and is thick enough to coat the back of a spoon.
Remove it from the heat, pour it into a fresh bowl and whisk in the heavy cream until mixture is completely smooth. Using a fine mesh sieve the custard into a bowl. Using a fine mesh sieve the warm custard over the bowl then whisk in the cream.
Place plastic wrap over glass bowl and put it in the fridge to chill for at least 3 to 5 hours.
To make the ice-cream, pour custard into ice-cream maker and churn according to manufacturer's directions.
In an airtight container, pour a thin layer of the mango ripple then pour a half of the ice cream, then add another layer of the mango ripple and alternate (so it would be ripple-ice cream-ripple-ice cream). Fold in the ripple with a spoon or spatula to give a ripple effect. (Or Alternatively, at the very end of the churn cycle drizzle in the swirl for about 1 minute so it forms a ribbon through the ice-cream, but doesn't get too distributed.)
Freeze ice-cream until ready to eat.