Finally. I have pictures of this cake in its entirety. This is not the first time I've baked this cake. It's been made many times before in my kitchen. But I've never gotten to the stage of taking pictures and writing a post because no sooner is it out of the oven than it is pounced upon by people present like vampires on unsuspecting innocent teenagers or been parceled away as a present to unsuspecting recipients.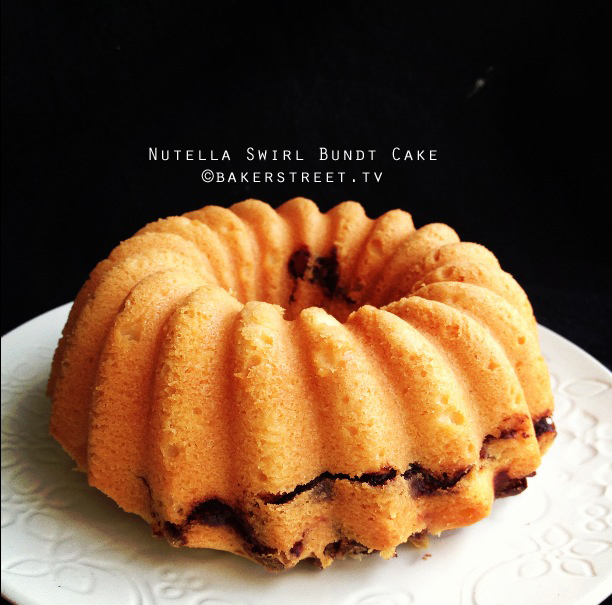 But sixth time's a charm! I've finally taken pictures and am able to share this exceptional recipe with you. The USP of this recipe: it uses an entire jar of nutella. Well, almost. Yes nutellaholics, you heard that right. An entire jar.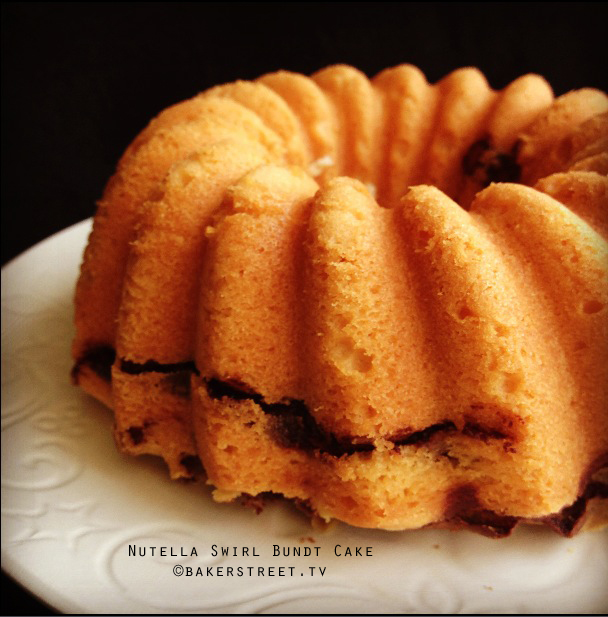 This cake would set well in a loaf pan too. Just make sure you don't let the nutella layer touch the end of the pan to avoid it burning. It may take an entire hour to bake but never has the wait been more rewarding.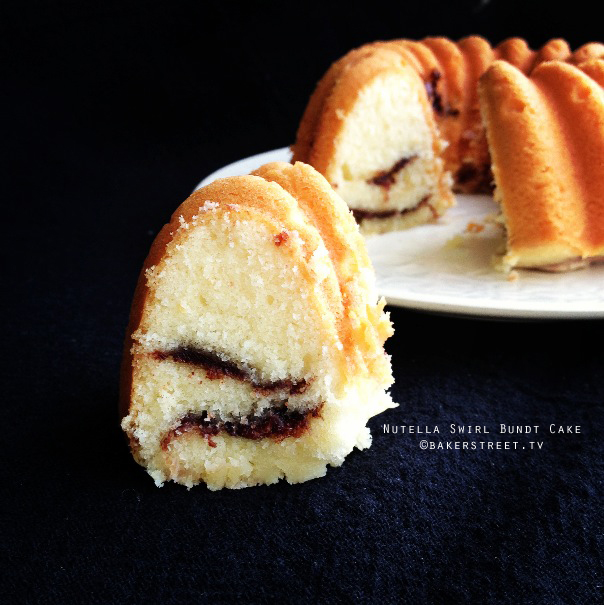 The Nutella Swirl Pound Cake: A jar of nutella, oodles of cream cheese and butter and – well – the ultimate nutellicious treat!
Ingredients
1½ cups butter, softened
3 cups sugar
1 (8-oz.) package cream cheese, softened
6 large eggs
3 cups all-purpose flour
1 teaspoon vanilla extract
1 jar nutella
Instructions
For The Cake:
Preheat oven to 350° and generously grease a 14 cup bundt pan.
In a large bowl beat butter at medium speed with a heavy-duty electric stand mixer until creamy. Gradually add sugar, beating at medium speed until light and fluffy. Add cream cheese, beating until creamy.
Add eggs, 1 at a time, beating just until blended after each addition.
Gradually add flour to butter mixture. Beat at low speed just until blended after each addition, stopping to scrape bowl as needed.
Stir in the vanilla extract.
Assemble:
Pour one-third of batter into a greased and floured 10-inch (14-cup) tube pan (about 2? cups batter). Dollop 6-8 rounded teaspoonfuls nutella over batter, and swirl with wooden skewer. Repeat procedure once, and top with remaining third of batter.
Bake at 350° for 1 hour to 1 hour and 10 minutes or until a long wooden pick inserted in center comes out clean.
Cool in pan on a wire rack 10 to 15 minutes; remove from pan to wire rack, and cool completely (about 1 hour).
We have a swirly theme this month for #bundt-a-month. 16 gorgeous swirly cakes in every form will be inspiration enough for you to bake with us this month.
Here ís how you can be a part of Bundt-a-Month:
Simple rule: Bake us a swirly bundt
Post it before June 30, 2013
Use the #BundtaMonth hashtag in your title. (For ex: title could read  #BundtaMonth: Cherry Bundt)
Add your entry to the Linky tool below
Link back to our announcement posts
Even more bundt fun! Follow Bundt-a-Month on Facebook where we feature all our gorgeous bundt cakes. Or head over to our Pinterest board for inspiration and choose from hundreds of Bundt cake recipes.