There are many tough decisions people have to make at every stage of your life. Some are life-changing, others make no difference. I'd like to think that picking a falvor once you've walked into an ice-cream parlour is somewhere in between.
Standing there looking at the hues, what you're really contemplating, rather than "What flavor should I pick", is "How am I feeling at the moment."
Am I feeling adventurous? Or do I need comforting? Do I want that first taste of the season's fruit? Or should I stick with my favorite?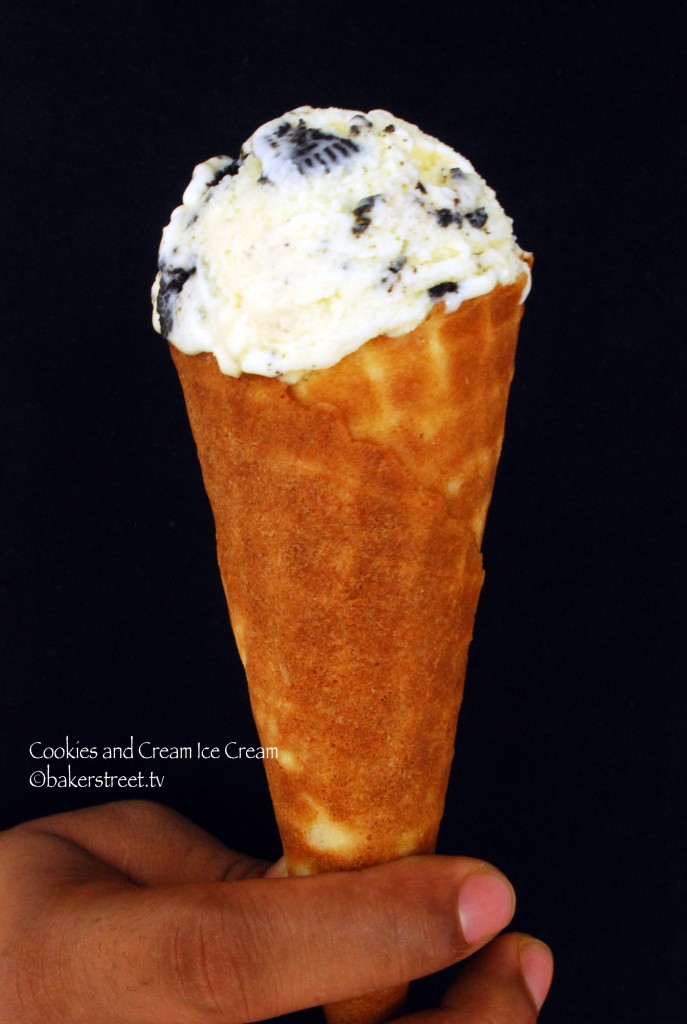 I think a similar parallel can be drawn when you are making your own ice cream too. The options are infinite. While there isn't much to do while it churns, except wait and watch, there is much planning to be done. You make a selection, chart the course, prepare your custard and then wait anxiously for 12 hours to know if you got it right.
Because this was my first custard base ice cream, I was even more on the edgy. The strawberry cheesecake ice cream as well as the roasted banana ice cream were philadelphia style – which is basically a quick whiz of ingredients. Not worrying if the custard will burn or the eggs will cook.
I opted for cookies and cream because, for me, it was a combination of the known and unknown. While I've eaten it several times, I've never made my own. Happy to report it turned out well. I was in a hurry to take a picture and it hadn't set properly yet after churning. Adding the Oreo chunks could be done either in the last two minutes of churning or while transferring it to an air tight container. You could also make a Coffee and Cookies and Cream Ice Cream. Refer the recipe for instructions.
Apart from serving it in waffle cones, this made for an extremely decadent dessert. I like to call it a Warm Mocha Brownie Oreo Ice Cream Cup. For this, all you need to layer a cup with small chunks of Oreos, a generous layer of mocha brownies, topped with a big scoop of cookies and cream ice cream finally topped with a couple of chocolate sticks.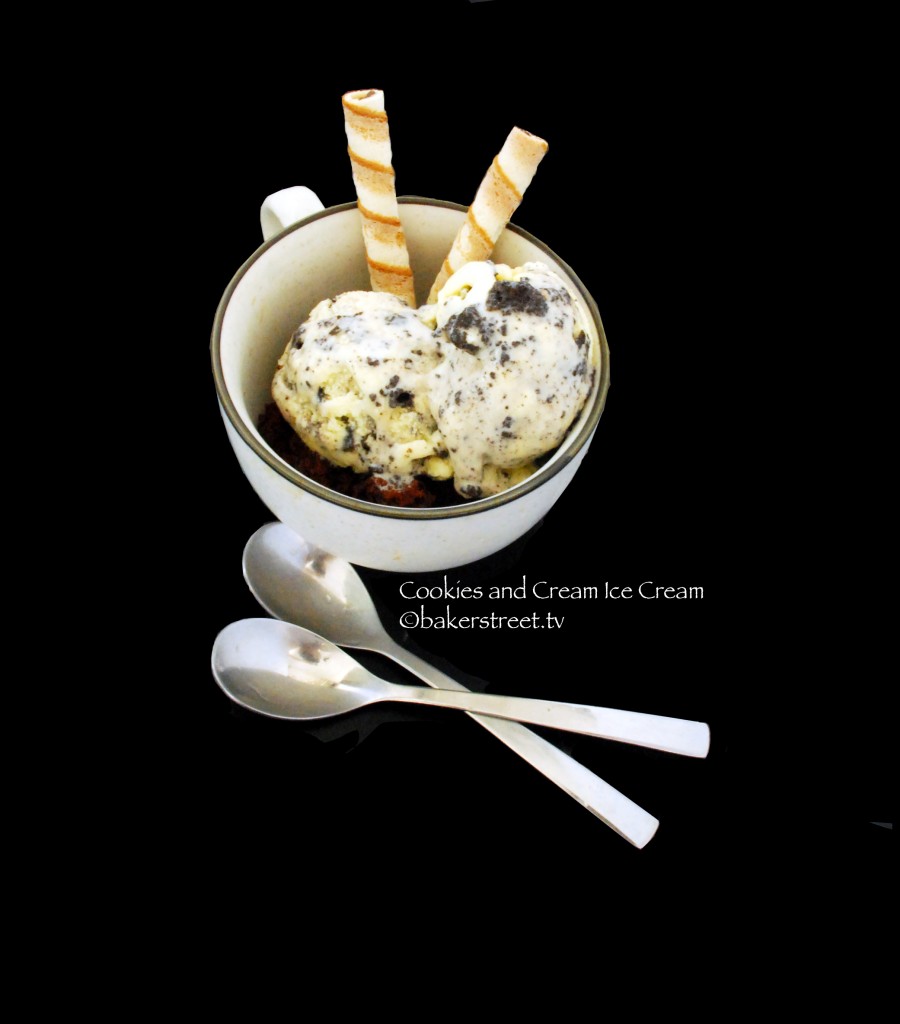 Over to the recipe: Rich and creamy, Cookies and Cream Ice Cream – The quintessential summer dessert. Highly recommended.
Cookies and Cream Ice Cream
Author:
Adapted from serious eats
Recipe type:
Ice Cream, Dessert
Ingredients
2 cups heavy cream
1 cup whole milk
½ Tahitian vanilla bean, split and scraped
7 egg yolks
½ cup plus 2 tablespoons sugar
¼ teaspoon vanilla extract
½ teaspoon salt
1½ cups crushed Oreo sandwich cookies, storebought or homemade
Instructions
In a heavy saucepan, bring cream and milk to simmer. Stir in the vanilla bean, cover and let it steep for 30 minutes.
Remove vanilla pod and reserve for another use.
Return cream mixture to a simmer and heat on a bare simmer for 5 minutes, stirring frequently.
In a bowl, whisk egg yolks and sugar together until pale in color and thick. Ladle about ⅓ of dairy into egg yolks, whisking constantly, then transfer yolk mixture back to saucepan.
Cook on low heat, whisking frequently, until custard coats the back of a spoon but a swiped finger leaves a clean line.
Add vanilla extract and salt, then strain into an airtight container and chill overnight.
The next day, churn ice cream according to manufacturer's instructions. Quickly stir in Oreos, then transfer to freezer to chill for several hours before serving.
Notes
To make a coffee and cookies and cream ice cream : – 4 teaspoons finely ground coffee. After removing the vanilla bean, you take the saucepan back to heat at that point whisk in ground coffee.
Remember to hop over and check out what my co-hosts are bringing this weekend. You have all of June and July to come and share your ice cream recipes with us.
Astig Vegan
Baker Street
Baking and Cooking, a Tale of Two Loves
BigFatBaker
Bon à croquer
Cake balls, cookies and more
Cheap Ethnic Eatz
Georgiescakes
Hobby And More
Mis Pensamientos
No One Likes Crumbley Cookies
Pippi's in the Kitchen Again
Queen's Notebook
Rico sin Azúcar
Simply Reem
Soni's Food for Thought
That Skinny Chick Can Bake!!!
The Spicy RD
Vegetarian Mamma
You Made That?