I did it! Made my very first bread using yeast. Powering through my fear of working with yeast, I was pleasantly surprised at how well it worked out. If you'd like to see how its done step by step, Dara did a fabulous guest post for my Bread 101 series. That coupled with Shulie, Nelly and Lora's #breakingbread series gave me the final push I needed to go ahead and bake my first loaf. My bread of choice? Garlic and Thyme Focaccia.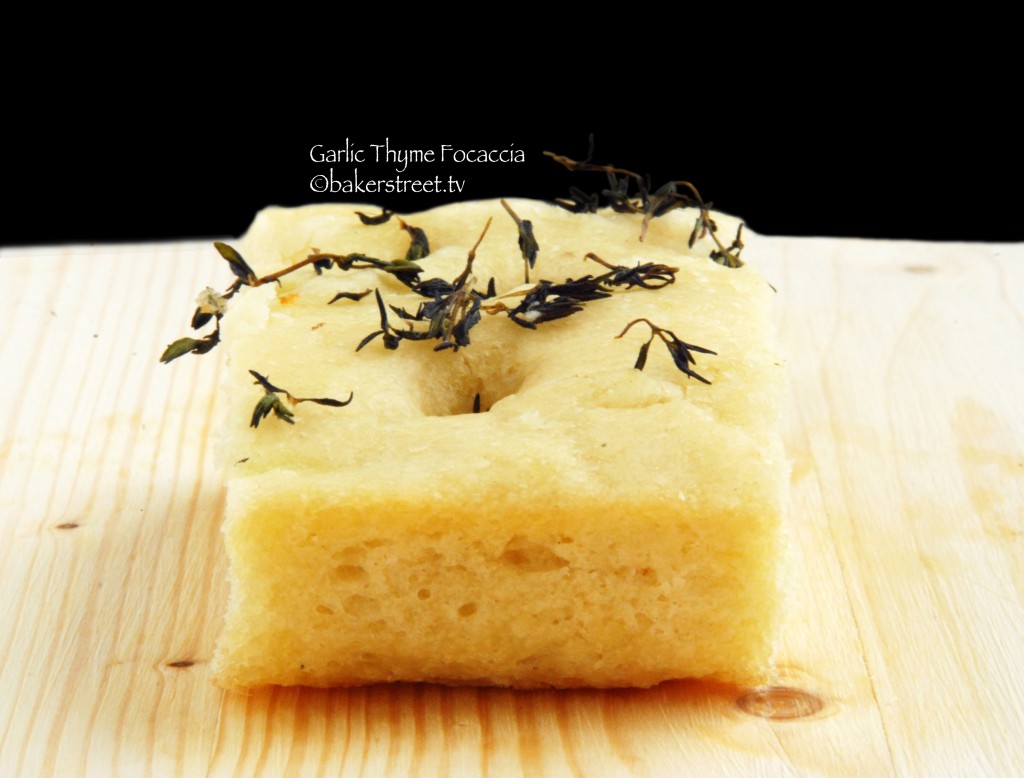 Trying that first bite of of the first bread you've baked is a once in a lifetime experience. And boy, was it satisfying! Everyone needs to experience this moment in their lives and trust me, if I can bake bread, so can you.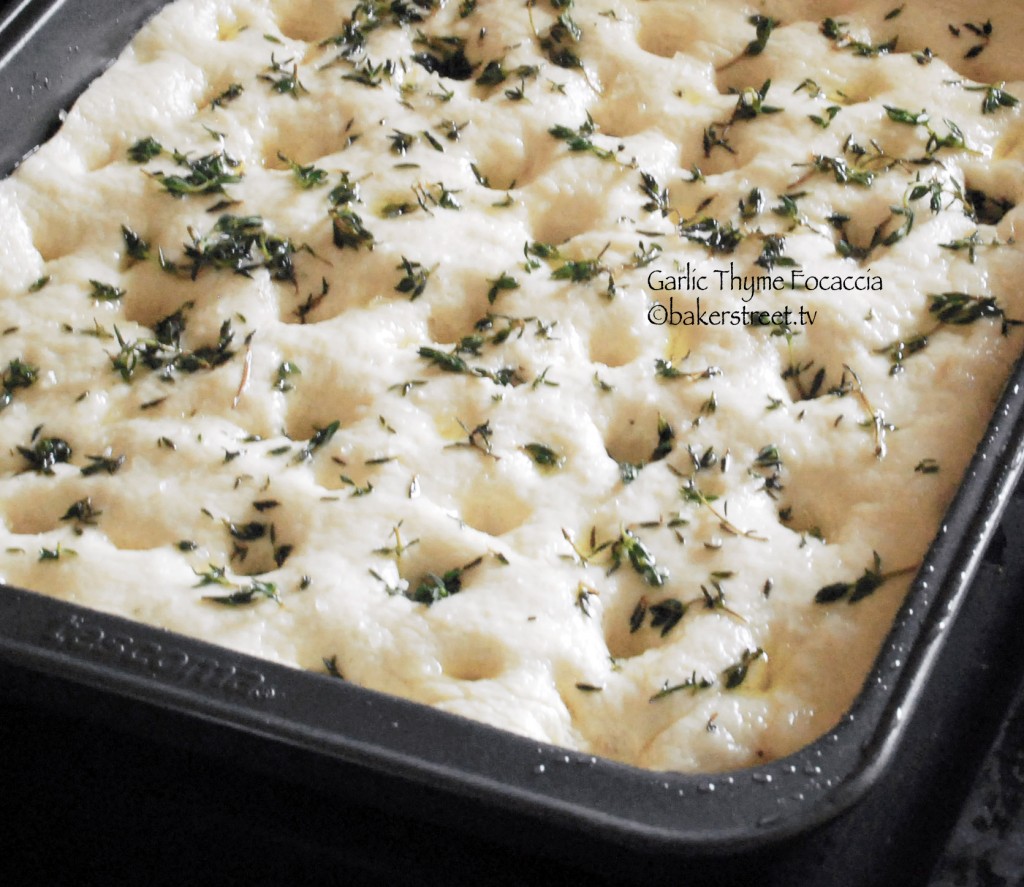 I picked a fairly simple recipe, read through it a couple of times and embarked on my adventure. The kneading is, I was led to believe, critical. You have to trust your instinct and know when to stop. Surely one gets the hang of it after having done it a dozen times but what do you do in your first go? The combination of garlic and thyme was just right. Instead of using whole or crushed garlic, the recipe called for 1 tablespoon of oil being heated along with the garlic. I used a garlic flavored olive along with 2 cloves of garlic which did the trick and which gave it an intense flavor. Always use fresh herbs. Don't think of replacing it with the dried variety. I couldn't take too many pictures on the day so I'm sharing just a couple to show you the texture of the bread.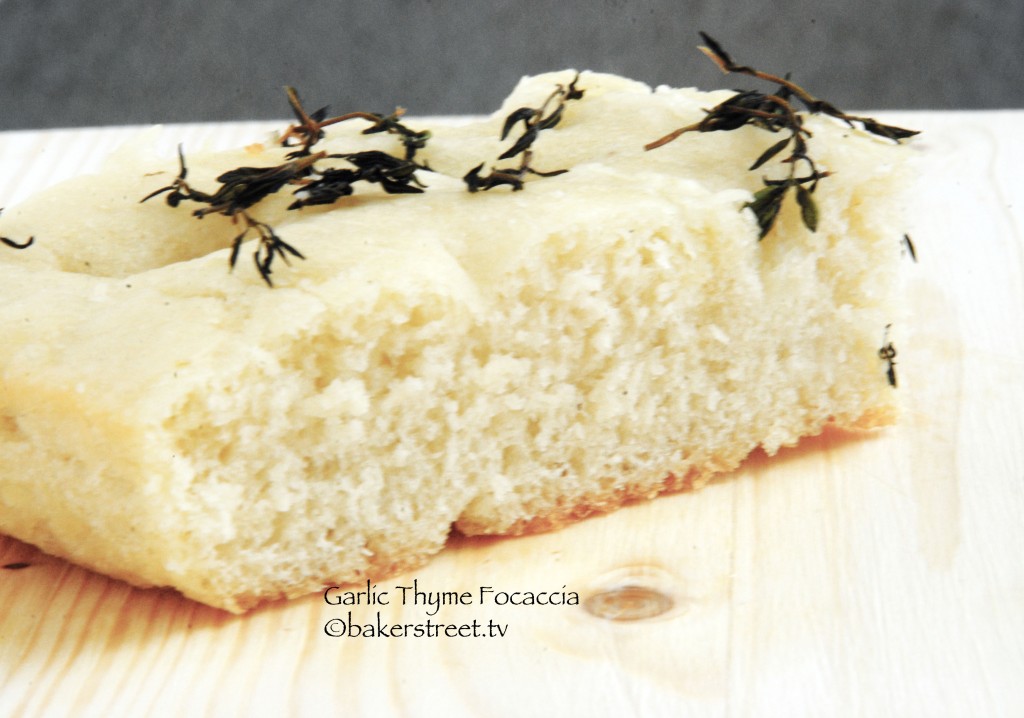 Over to the recipe: Light, tender crumb infused with garlic and thyme – just perfect when smeared with butter fresh out the oven.
Author:
from myrecipes.com
Ingredients
1 teaspoon sugar
1 package dry yeast (about 2¼ teaspoons)
1 cup warm water (100° to 110°)
½ teaspoon fine sea salt
2⅓ cups plus 2 tablespoons all-purpose flour, divided (about 11¼ ounces)
Cooking spray
1 tablespoon olive oil (I used garlic infused)
2 garlic cloves, thinly sliced
1 tablespoon chopped fresh thyme
¾ teaspoon coarse sea salt
Instructions
In a large bowl, dissolve sugar and yeast in 1 cup warm water; let stand 5 minutes. Stir in fine sea salt. (Making sure the water isn't too warm)
In another bowl, measure 2 cups + 2 tablespoons flour, stirring the yeast mixture slowly to a soft dough.
Turn dough out onto a floured surface. Knead dough until smooth and elastic (about 8 minutes); add enough of remaining ⅓ cup flour, 1 tablespoon at a time, to prevent dough from sticking to hands.
Generously grease a large bowl, with cooking spray or olive oil. Place the dough coated nicely, turning the coat side up and cover and let it rise in a warm place (85°) free from drafts, 45 minutes or until doubled in size.
To know if its done, gently press two fingers into dough. If indentation remains, dough has risen enough.
In the meantime, heat oil in a small skillet over medium-low heat. Add garlic; cook 5 minutes or until fragrant. Remove garlic from oil with a slotted spoon; discard garlic, and remove pan from heat.
Place dough on a baking sheet coated with cooking spray; pat into a 12 x 8-inch rectangle. Brush garlic oil over dough; sprinkle with thyme. Cover and let rise 25 minutes or until doubled in size.
Preheat oven to 425F
Make indentations in top of dough using the handle of a wooden spoon or your fingertips; sprinkle dough evenly with coarse sea salt. Bake for 12 to 14 minutes or until lightly browned. Remove from pan; cool on a wire rack.
#BreakingBread is a series hosted by Lora, Shulie and Nelly. Hop over to check out the other recipes.
Happy Baking!