Baking savory muffins are always a treat. And this one provides for a neat little break from all the rich, sweet ones we have been relentlessly baking. These are not very unlike frittatas in the shape of a muffin and make for a perfect Sunday morning breakfast accompaniment.
Changes and variations: The original recipe welcomes a choice of ingredients. I chose butter sautéed mushrooms and bacon along with roasted red pepper. My choice of herbs were fresh oregano and basil; they set the tone with their aroma while being chopped. Finally I added a little more cheese then the recipe demanded. I made half the batch with a sprinkling of cheddar on top for people like me, who love to indulge on weekends.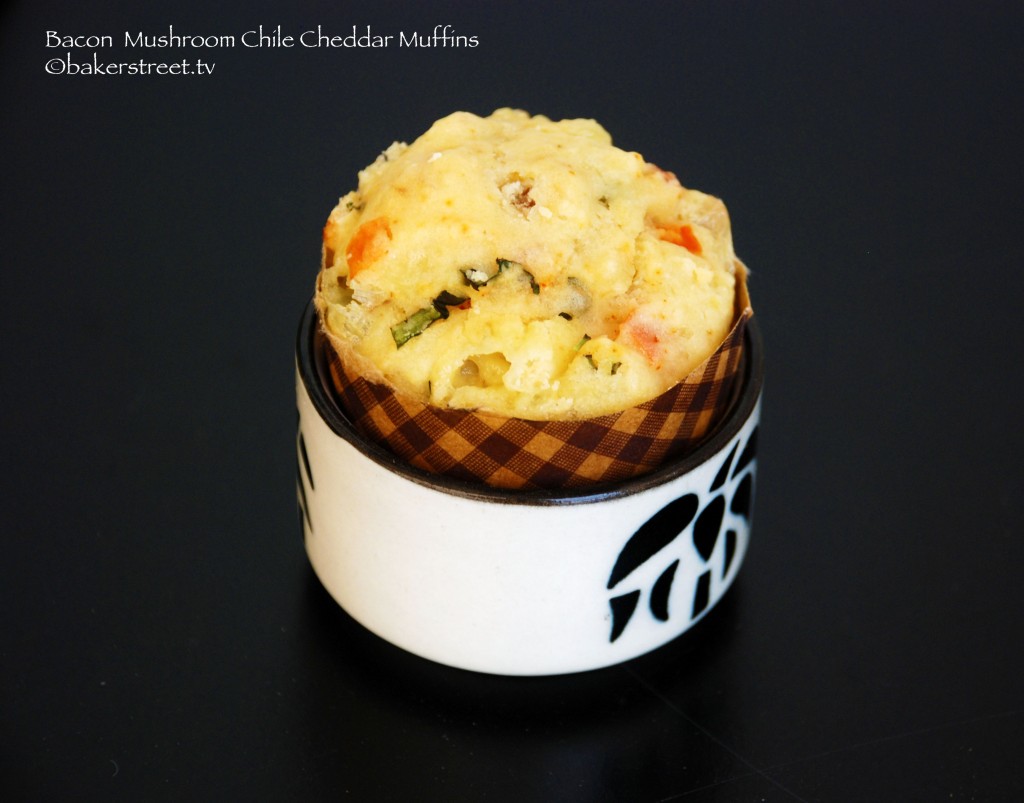 Over to the recipe: Tastes like a frittata, looks like a muffin. Roasted peppers, your choice of herbs and smoked bacon makes this a heavenly breakfast item.
Muffin Monday: Chile Cheddar Muffins
Recipe type:
Muffin, Breakfast
Ingredients
¾ cup shredded cheddar cheese
¼ cup (2 ounces) roasted red pepper, diced
2 tablespoons bacon, cooked and diced
1 tablespoon mushrooms, sautéed in butter and diced
2 tablespoons fresh oregano, chopped
1 tablespoon fresh basil, chopped
2 cups (250 g) all-purpose flour
2 teaspoons baking powder
1 teaspoon chile powder
½ teaspoon baking soda
½ teaspoon salt
1 cup buttermilk
¼ cup olive oil
1 egg
Instructions
Preheat the oven to 375 degrees F (190 C). Lightly oil a muffin pan (I used non-stick cooking spray with flour in it).
In a small bowl, combine the cheddar, red pepper, mushrooms, bacon oregano, and basil; set aside.
In a large bowl, or the bowl of a standing mixer, combine the flour, baking powder, baking soda, chili powder, and salt.
Gently mix the wet ingredients into the flour mixture until just combined and pretty smooth (a few lumps are ok).
Fold the cheddar mixture into the batter until evenly distributed.
Divide the batter evenly between the 12 muffin cups (about 2½ tablespoons per cup).
Bake for 18 to 20 minutes until golden.
Allow to cool for at least 10 minutes before serving.
Muffin Monday: Round Up
Happy Baking!