There are four basic food groups: milk chocolate, dark chocolate, white chocolate, and chocolate truffles. –Anon.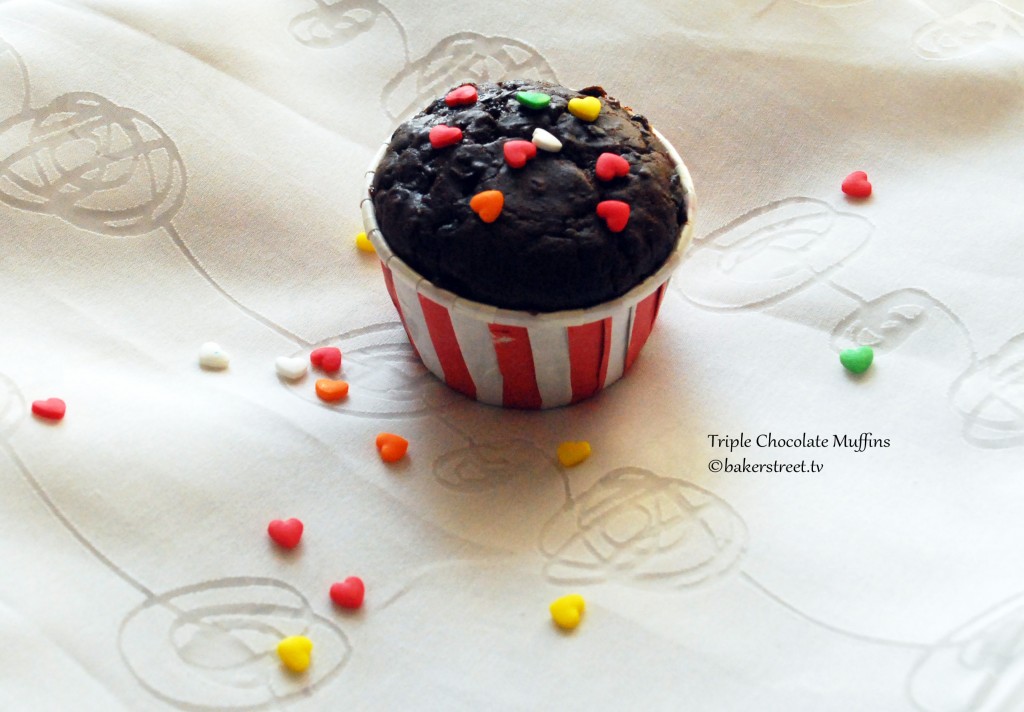 With chocolate being featured in this month's blog hop, it was an easy choice for me to share one of my all time favorite muffin recipes, the TRIPLE CHOCOLATE MUFFIN. And even though there are many variations I could have done for this muffin, I've stuck to the original as it is simple and delicious all by itself.
This recipe with never fail you. Its easy, an absolute treat if you're baking with kids and great for anytime-of-the-day indulgence.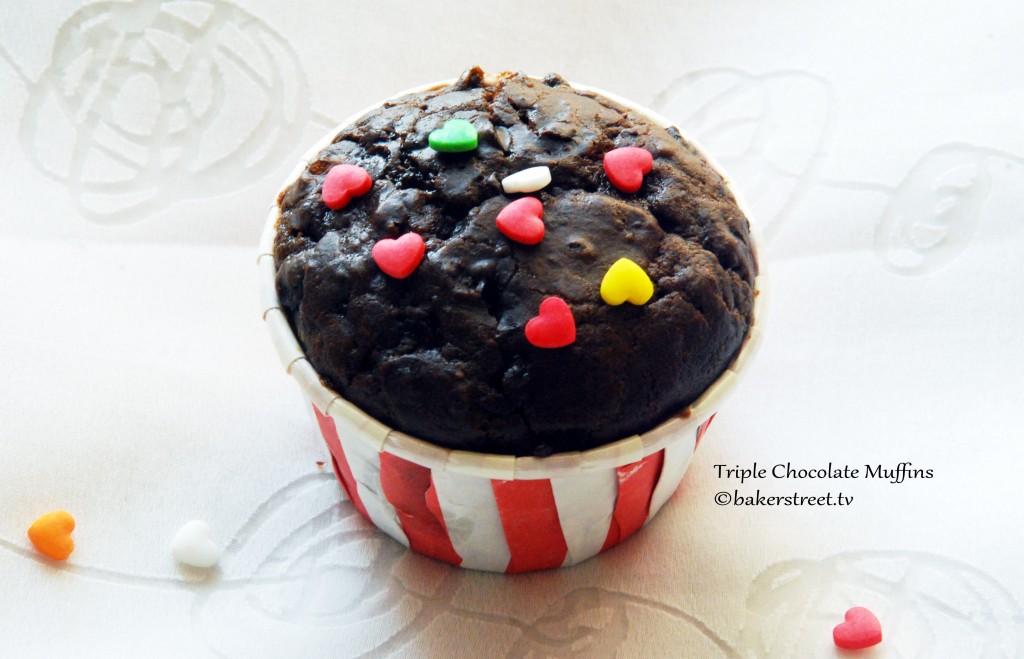 Over to the recipe: A triple dose of chocolate, rich and buttery has a crisp outside and a melt-in-your-mouth interior. Easy recipe yielding a chocolate lover's delight.
Muffin Monday: Triple Chocolate Muffins
Recipe type:
Muffins, Dessert
Ingredients
½ cup (1 stick) salted butter
1¾ cup unbleached, all-purpose flour
⅔ cup dutch-process cocoa (I used Hershey's)
11/4 cup sugar
1 tsp instant espresso powder
1 tsp baking powder
1 tsp baking soda
¾ tsp Kosher salt
½ c. bittersweet chocolate chips
½ c. semisweet chocolate chips
2 eggs
1 cup milk
2 tsp pure vanilla extract
2 tsp white vinegar
Instructions
Line a muffin tin with 12 paper cups. Spray lightly with cooking spray. Preheat oven to 425.
Melt the butter; set aside to cool.
In a large bowl, whisk together the flour, cocoa, sugar, espresso powder, baking powder, baking soda, salt and chocolate chips.
In a separate bowl, whisk the eggs, milk, vanilla and vinegar until blended. Stir in the cooled, melted butter.
Add the wet ingredients to the dry ingredients. Stir with a rubber spatula, just until blended.
Spoon into the prepared muffin liners…the cups will be very full.
Bake for 15-20 minutes until the muffins bounce back when pressed with a finger. Cool on a wire cooling rack for 5 minutes.
Remove from the pan and let them cool just a bit longer. Serve warm.
Muffin Monday: Round Up
Happy Baking!