When it came to deciding what I wanted to do next in the series for Dessert for Two, the image that flashed was one o strawberries dunked in chocolate. It made sense: it's easy and quite the perfect dessert after a mid-week dinner. The inspiration of this week's Muffin Monday comes from there, only I took it one step further. Why not have chocolate lava muffins and berries being dunking into oozy gooey muffins.
'Dessert For Two' is a new series on Baker Street that caters to baked delicious dessert for two with limited ingredients and pantry supplies. I was inspired to this delicious challenge while I was moving homes and my kitchen was basically in suitcases and cardboard boxes. Unpacking after a long tiring day at work deserved gratification and this is what got me through. The first featured dessert was Chocolate Hot Pots. What I'm sharing today is yet another chocolate delight.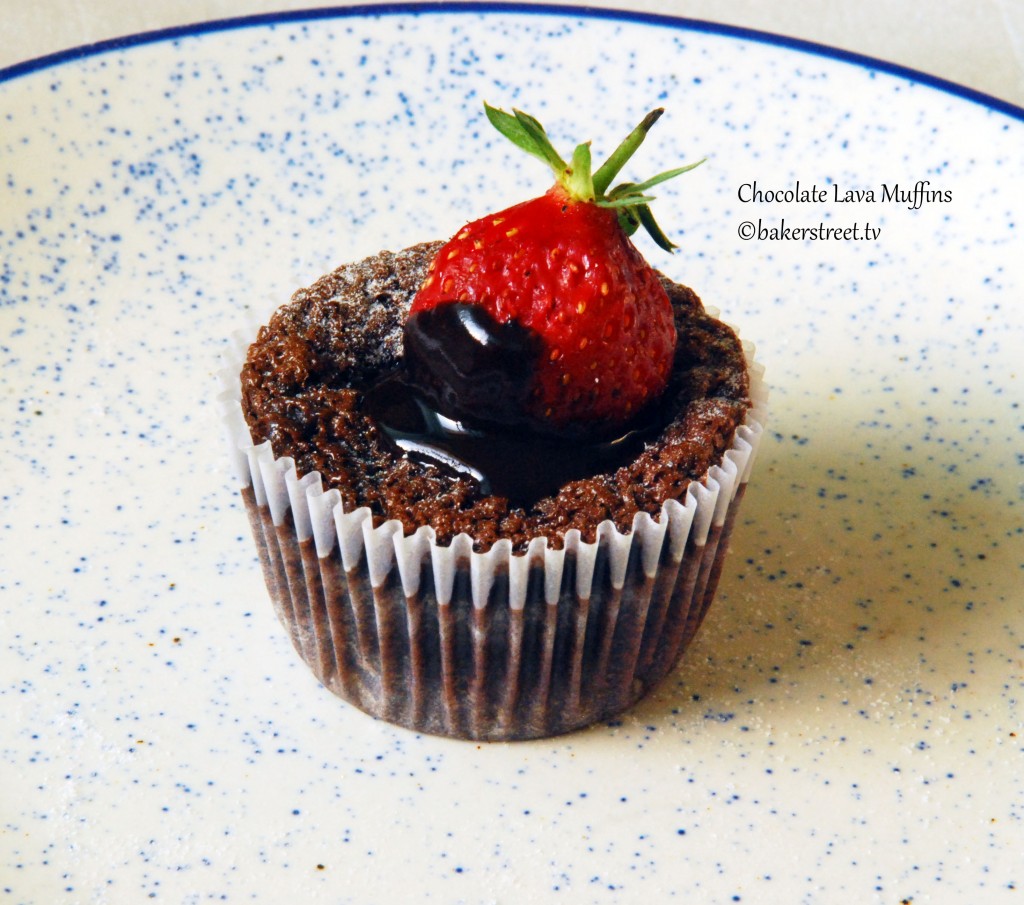 Changes and variations: The recipe is one of Alton Brown's finest and I am yet to discover an Alton recipe that fails to deliver. However, you have to keep a few things in mind. Over-baking these muffins is easy and the window is small: seconds, in fact. I recommend not leaving the kitchen for those crucial 8 minutes. In fact, you want to under-bake these muffins, because even after you take them off, the heat will ensure it continues to cook in the pan. So take them out a minute or two earlier.
The original recipe recommends melting ice-cream and adding some coffee to it which is something I'll try the next time round but in my version I dusted with some confectioners sugar and to make it a little more chocolatey, I added small chunks of milk and semi sweet chocolate chunks between the batter. The chocolate melted at just the right consistency for the strawberries to be dunked. The texture on top is cake-like but the minute you pin it with a toothpick, the chocolate gushes out. A sight everybody loves!
Muffin Monday: Chocolate Lava Muffins
Recipe type:
Muffin, Dessert
Ingredients
8 ounces semisweet chocolate chips
1 stick butter
½ teaspoon vanilla extract
½ cup sugar
3 tablespoons flour
¼ teaspoon salt
4 eggs
Bunch of fresh strawberries
Instructions
Preheat the oven to 375 degrees F. And line the tin with muffin liners.
Place a small metal bowl over a saucepan with simmering water. Melt the chocolate and butter in the bowl. Stir in vanilla.
In a large mixing bowl, combine sugar, flour and salt. Sift these into the chocolate and mix well with electric hand mixer. Add eggs one at time, fully incorporating each egg before adding the next. Beat at high until batter is creamy and lightens in color, approximately 4 minutes. Chill mixture.
Coat the top and each cup of the muffin tin with butter. Dust with the cocoa powder and shake out excess. Spoon mixture into pan using a 4-ounce scoop or ladle. Bake for 8 to 10 minutes. Outsides should be cake-like and centers should be gooey.
Happy Baking!