There was mighty conflict in picking a muffin this week. After a sensational holiday muffin series that resulted mostly in calories for each of us, I thought I'd throw in a little token balancing act and make the healthy choice. However, I was easily swayed and ended up picking a cheesy delight. A savory muffin, then. If not healthy, at least something had to be done to counter all that sweetness from the holidays that was muffin-topping my waist.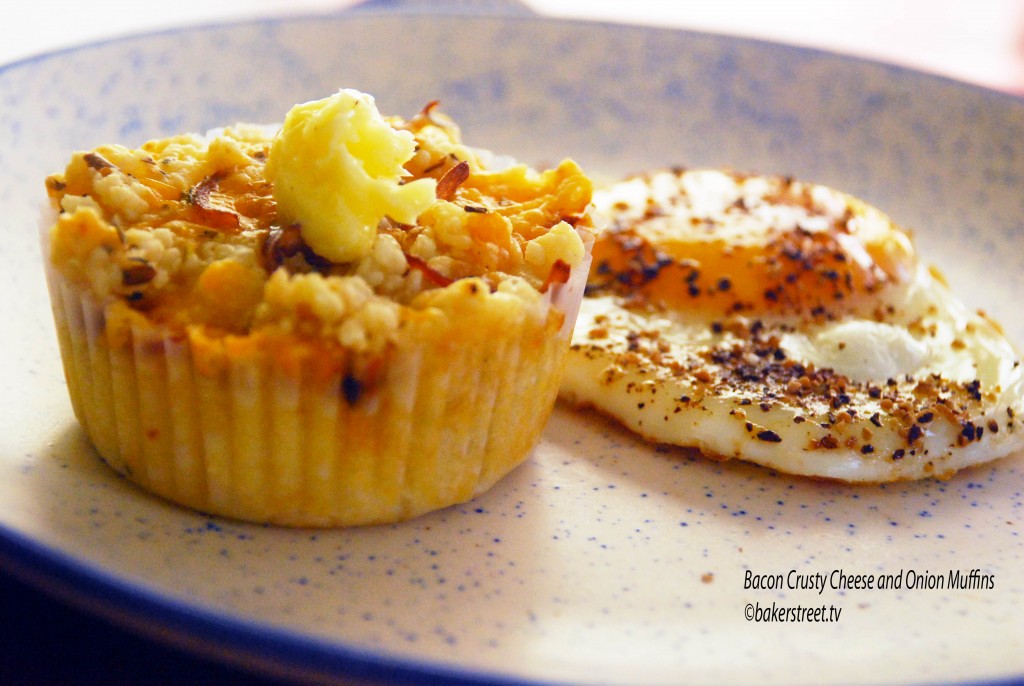 We picked an easy recipe from Home Baked which makes for a super scrumptious breakfast. The original recipe only calls for cheese and onions, I used bacon and extra cheese in mine. Served warm with a fried egg and a dollop of butter, this made for a perfect start to what seems like a rather long week.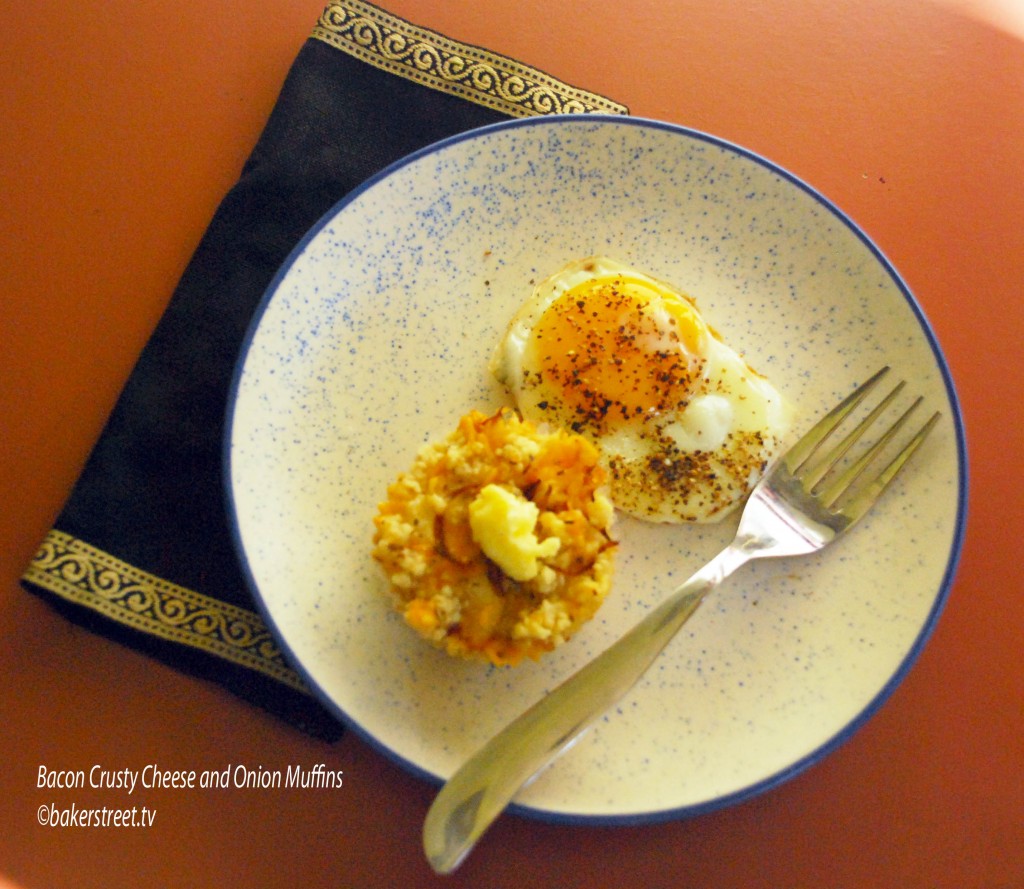 Over to the recipe: Carmelized onions, melted cheese and bacon bits enveloped in a soft chive muffin.
Muffin Monday: Crusty Cheese and Onion Muffins
Author:
Home Baked (Women's Weekly)
Recipe type:
Muffins, Breakfast
Ingredients
¼ cup all purpose flour
20 grams butter
1 teaspoon water, approximately
1 tablespoon vegetable oil
1 medium (150g) onion, halved and sliced
13/4 cups self raising flour
¾ cup grated cheddar cheese
1 tablespoon chopped fresh chives
1 egg, lightly beaten
11/4 cups buttermilk
½ cup vegetable oil
2-3 rashes of bacon; cooked and roughly chopped
Instructions
Place the all purpose flour in a small bowl and rub in the butter, mix in just enough water to bind ingredients. Press dough into a ball, cover, freeze about 30 minutes or until firm
Preheat the oven to 200C. Grease a 6 hole (3/4 cup deep) muffin tray.
Heat Oil in a frying pan, add onion, cook, stirring, until soft and lightly brown. Set aside to cool.
Sift self raising and extra flour into a large bowl, stir in half the onion, half the cheese and all of the chives, half the bacon, then egg, buttermilk and extra oil
Spoon Mixture into prepared tray. Grate frozen dough into a small bowl, quickly mix in remaining onion, cheese and remaining bacon. Sprinkle over muffins.
Bake muffins for about 25 minutes. Serve warm with chive butter.
Muffin Monday: Round Up
Happy Baking!