So this post is the last of the sweet quick bread series. I hope you enjoyed it. I promise there will be many more quick breads: sweet and savory and a series of yeast breads in the future.
Today, I will share with you two (I thought I'll pick one, but simply couldn't choose and decided to treat you with both) variations of zucchini bread and do a round up of what we covered in this series.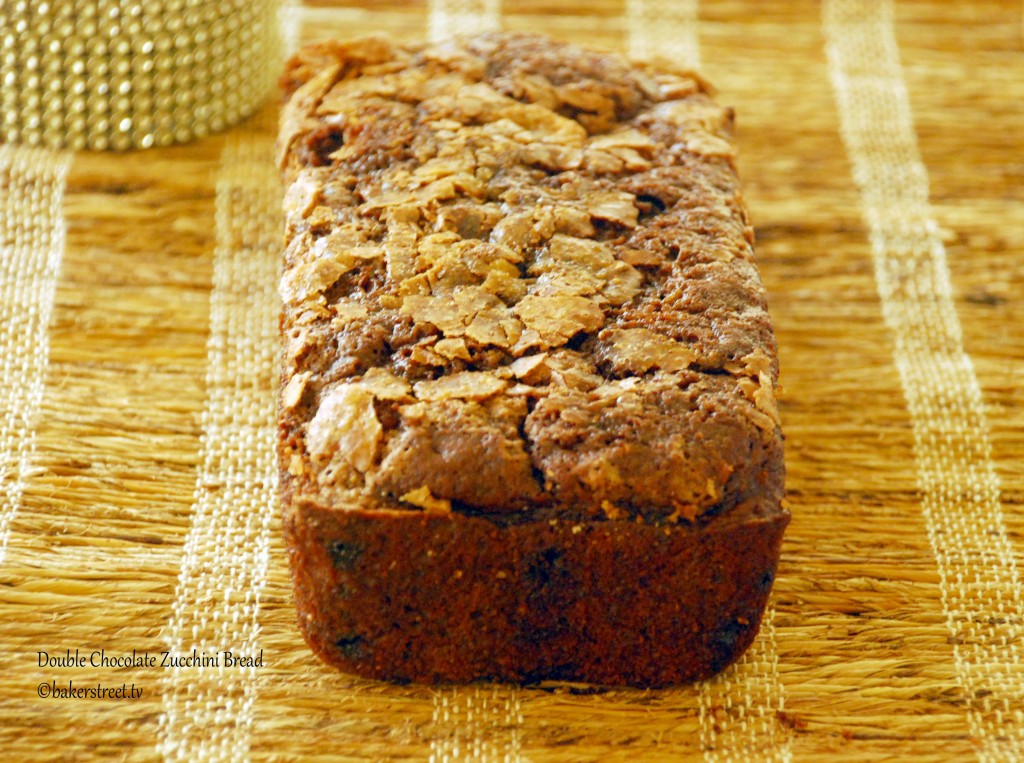 The first one is a Double Chocolate Zucchini Bread. Incredulous as it sounds, chocolate and zucchini compliment each other perfectly. What I love about the bread is the topping. Have a look at the the recipe, a combination of sugar and spice is generously spread over the bread before baking making for a great crunchy top. With a moist inside and chocolate chips in every other bite combined with the warmth of cinnamon, this makes this a perfect breakfast treat.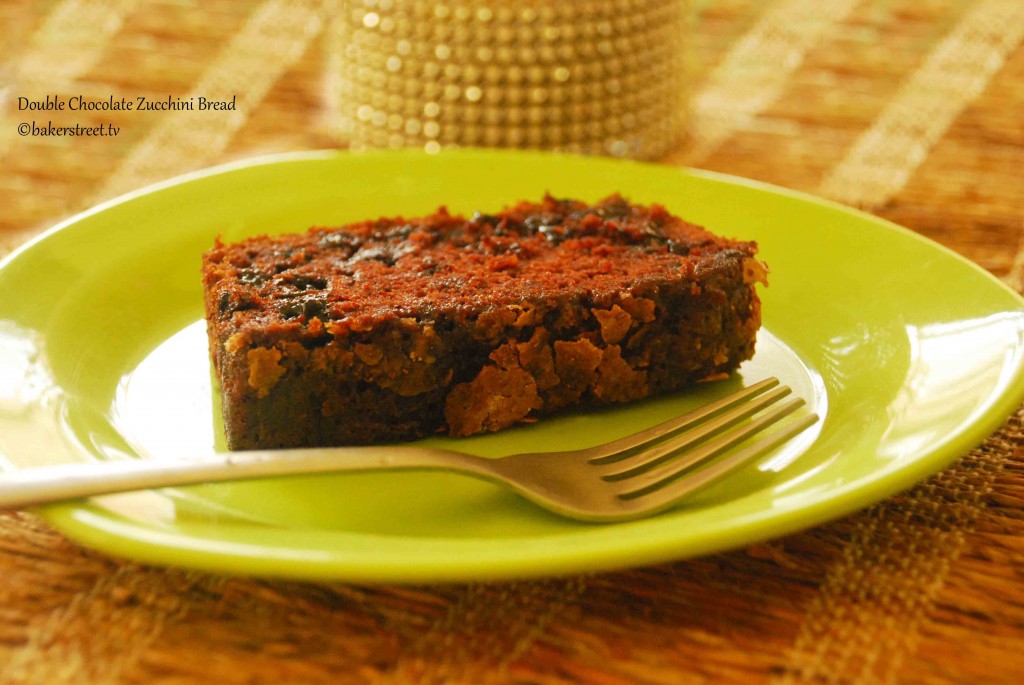 Double Chocolate Zucchini Bread
Ingredients
2 cups all purpose flour
2 teaspoon cinnamon
½ teaspoon salt
1½ teaspoon baking soda
6 tablespoons unsweetened cocoa powder
½ cup canola oil
1 cup sugar
¼ cup brown sugar
3 eggs
2 teaspoons vanilla
½ cup sour cream
3 cup grated zucchini
¾ cup mini chocolate chips
2 tablespoons brown sugar
2 tablespoons white sugar
½ teaspoons cinnamon
Instructions
Preheat oven to 350F. Butter and flour 2 loaf pans. Set aside.
In a small bowl, mix the topping ingredients and set aside.
In a medium bowl, combine flour, cinnamon, baking soda, salt, and cocoa powder Set aside.
In a large bowl with a stand or hand mixer beat oil, white sugar, brown sugar, and eggs until combined and slightly fluffy. approximately 1-2 minutes.
Add vanilla and sour cream and mix until combined.
Gently stir in the grated zucchini.
Stir the flour mixture into batter and mix just until combined.
Add chocolate chips and stir to combine.
Divide the batter between the two pans. and sprinkle topping generously over each.
Bake in a preheated oven for 45-50 minutes or until a tester comes out clean.
Let it cool on a rack for 5-10 minutes and then remove from pans. Serve warm
Notes
You could use 1 tablespoon of the flour mixture and toss the chocolate chips in it so that they are evenly distributed and don't sink to the bottom.
The second recipe I made was a Whole Wheat Zucchini Maple Bread. One of the rare examples of where the baking is as much as as eating! The whole house warms up to wafts of maple. Divine.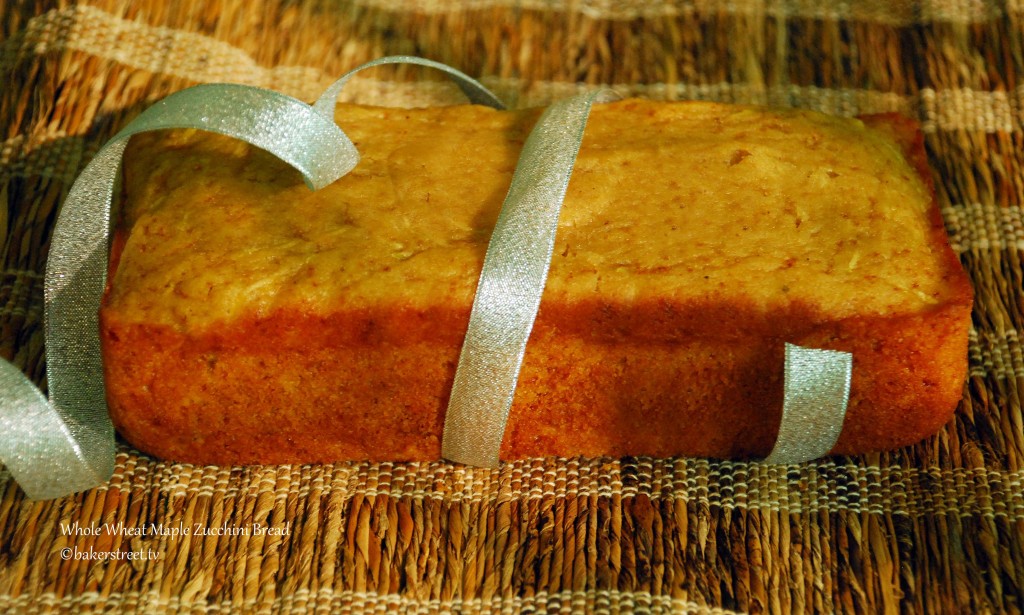 The next time I plan to bake this, I'm going to switch the canola with a nutty oil or maybe even coconut oil. A nutty oil would add significantly to this delectable bread.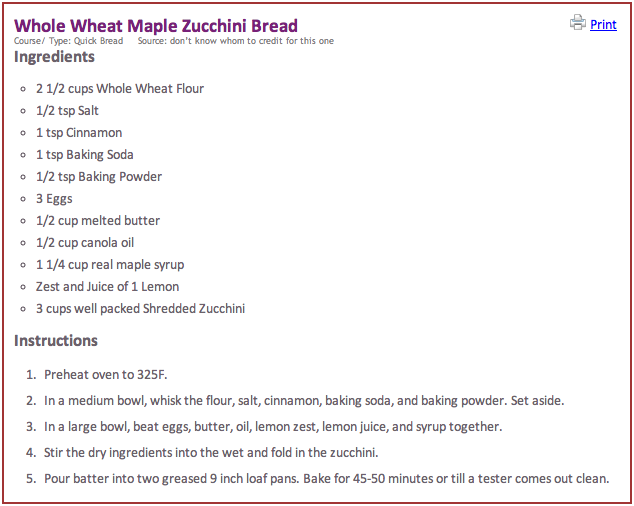 If you had a choice which one would you pick? The sensational chocolate that pairs so well with zucchini or the whole wheat bread laced with maple and zucchini?
Onto a quick round up of the quick bread series:
We're in the midst of our #squashlove bloghop and would love for you to come and share your recipes with us. The only requirement for a valid entry is that you post is this month. So come and hop along.
Happy Baking!