Our last month's blog hop got a phenomenal response. We focused on apples and over 84 recipes were linked in. If you'd like to bake with apples for the holidays then click here for cakes, muffins, savory dishes, cocktails and desserts. We're carrying forward the delicious momentum and we're onto #squashlove this month.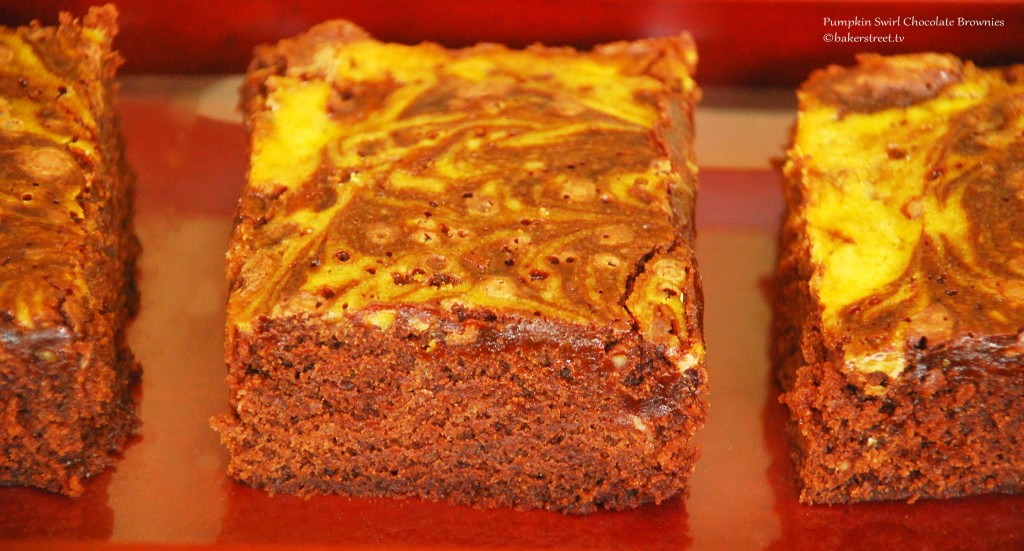 Squash is a big family, divided into two: summer and winter. The most popular ones used in day to day life are zucchini (or courgette), acorn squash, pumpkins, and butternut squash. Of course the list in endless and they can be classified into various categories and sub categories.
There are a lot of baked goods using some of or all of the above-mentioned varieties of squash in store for you this month, kickstarting with a sweet and sensational pumpkin swirl chocolate brownies.
One thing I am absolutely not going to use for #squashlove is canned pumpkin puree. I made my own and posted it earlier this week. Homemade Pumpkin Puree really makes all the difference. I highly recommend try making some too.
Onward: two absolutely perfect recipes have been combined to bake these divine brownies.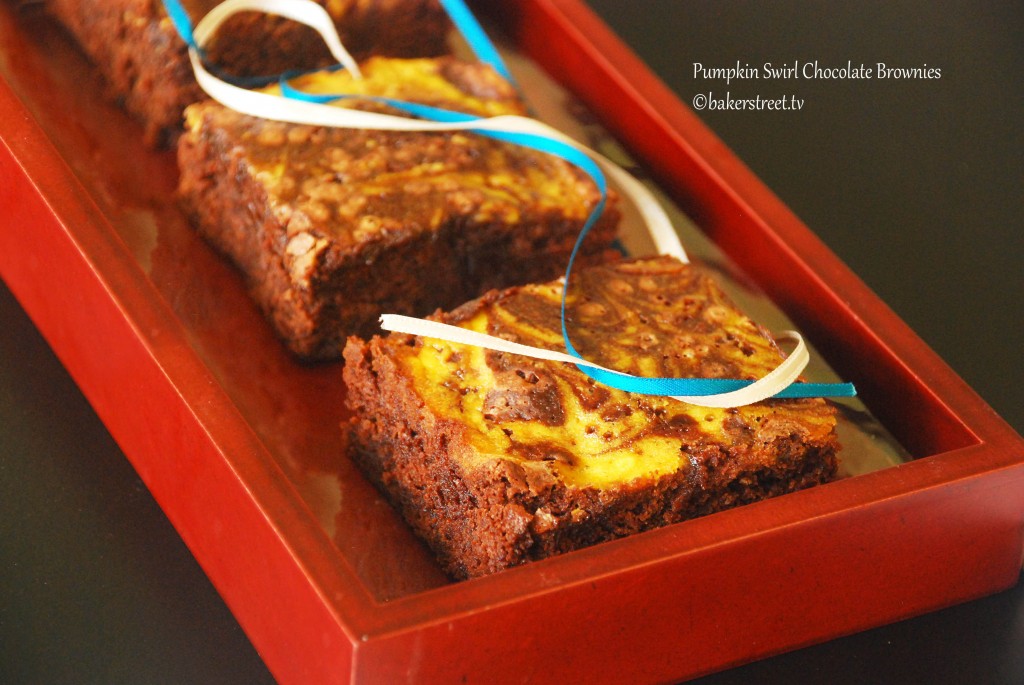 I used Dorie Greenspan's brownie recipe, the same one I used to bake 'Chocolate Chip Cookie Topped Brownies', substituting her choice with whole wheat flour. The pumpkin batter is used from the dependable Betty Crocker.
The best part of this recipe is that you can easily replace the following brownie recipe with your personal favorite. The brownies are dense, rich and a perfect marriage between chocolate and a creamy pumpkin-y cream cheese batter.
Pumpkin Swirl Chocolate Brownies
Author:
Adapted from Betty Crocker | Brownies from Dorie's Baking from My Home to Yours
Ingredients
For The Brownies:
170 grams (6 ounces) bittersweet chocolate, coarsely chopped
85 grams (3 ounces) unsweetened chocolate, coarsely chopped
226 grams (8 ounces) unsalted butter, cut into chunks
1⅔ cups sugar
4 large eggs
½ teaspoon salt
½ teaspoon pure vanilla extract
1 cup whole wheat flour
For The Pumpkin Batter:
85 grams (3 oz) cream cheese, softened
½ cup canned pumpkin (not pumpkin pie mix)
1 egg
3 tablespoons sugar
1 teaspoon ground cinnamon
¼ teaspoon ground nutmeg
Instructions
For The Brownie Batter:
Preheat the oven to 350 F. Butter a 9-x-13-inch baking pan. Put the pan on a baking sheet.
Put both chocolates and the butter in a heat proof bowl set over a saucepan of simmering water. Heat just until the ingredients are melted, stirring occasionally. Remove the bowl from the heat.
Working with a stand mixer fitted with a paddle attachment, beat the sugar and eggs on medium-high speed for about 2 minutes, until pale. Beat in the salt and vanilla extract.
Reduce the speed to low, and mix in the melted chocolate and butter, mixing only until incorporated. Scrape down the sides of the bowl, then, still on low speed, add the flour, mixing only until its combined. Set aside.
For The Pumpkin Batter:
In small bowl, beat all filling ingredients with electric mixer on low speed until smooth. Set aside.
Assemble:
Spread ¾ of the batter in pan. Spoon tablespoonfuls of filling evenly over batter. Spoon remaining brownie batter over filling. Add a couple of the spoons of filling on top and cut through batter several times with knife for marbled design.
Bake 30 to 40 minutes or until toothpick inserted 1 inch from side of pan comes out almost clean. Cool completely.
I'm co-hosting the blog hop with these 20 fabulous foodies. So hop along with us, bake a biscotti or cook rissotto. As long as it has a form of squash and is posted on your blog in the month of November, your entry is valid.
Meet the Co-Hosts
Baker Street
 | Anuradha : @bakerstreet29
Bloc De Recetas
 | Salomé : @blocderecetas
Bon à croquer
 | Valerie : @valouth
Cafe Terra Blog
| Terra : @cafeterrablog
Cake Duchess
| Lora : @cakeduchess
Elephant Eats
| Amy 
Food Wanderings
| Shulie : @foodwanderings
Hobby and More
| Richa : @betit19
Georgie Cakes
| Gorgie : @georgiecakes
Mike's Baking
| Mike : @mikesbaking
Mis Pensamientos
| Junia : @juniakk
My Twisted Recipes
| Dudut : @mytwistedrecipe
No One Like Crumbley Cookie
s | T.R : @TRCrumbley
Queens Notebook
| Elizabeth : @mango_queen
Simply Reem
| Reem : @simplyreem
Skip To Malou
| Malou : @malou_nievera
Teaspoon Of Spice
| Serena : @tspcurry
The Daily Palette
| Annapet : @thedailypalette
The Professional Palette
 | Regan : @profpalate
The Spicy RD
| EA : @thespicyrd
Vegan Miam
| Rika : @veganmiam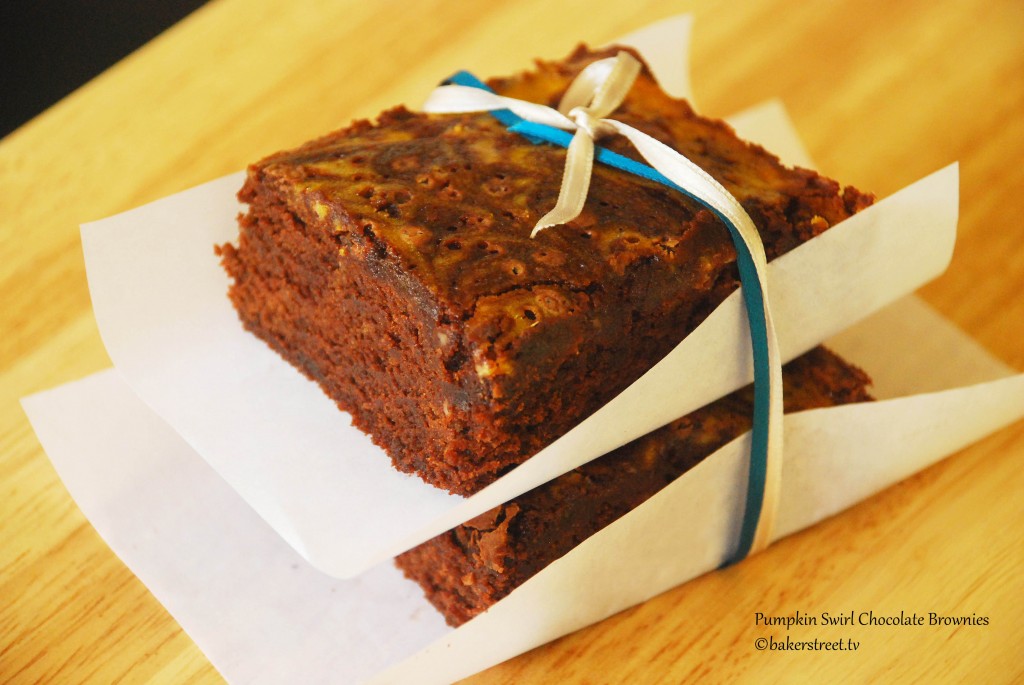 CLICK HERE FOR MORE SQUASH RECIPE IDEAS 
Happy Baking!