It's rare to form so many enduring memories in so short a time. Chatter over bottles and bottles of wine, 2 AM distress calls, tears at the vet's, surprise parties, window shopping, and … oh the list could go on and on.
S (my sister-in-law) is in essence the younger sister I never had. We took our time getting to know each other, but it was a road less rocky than most, I'd imagine. There's rarely been a day in the last few years where we haven't spoken to each other.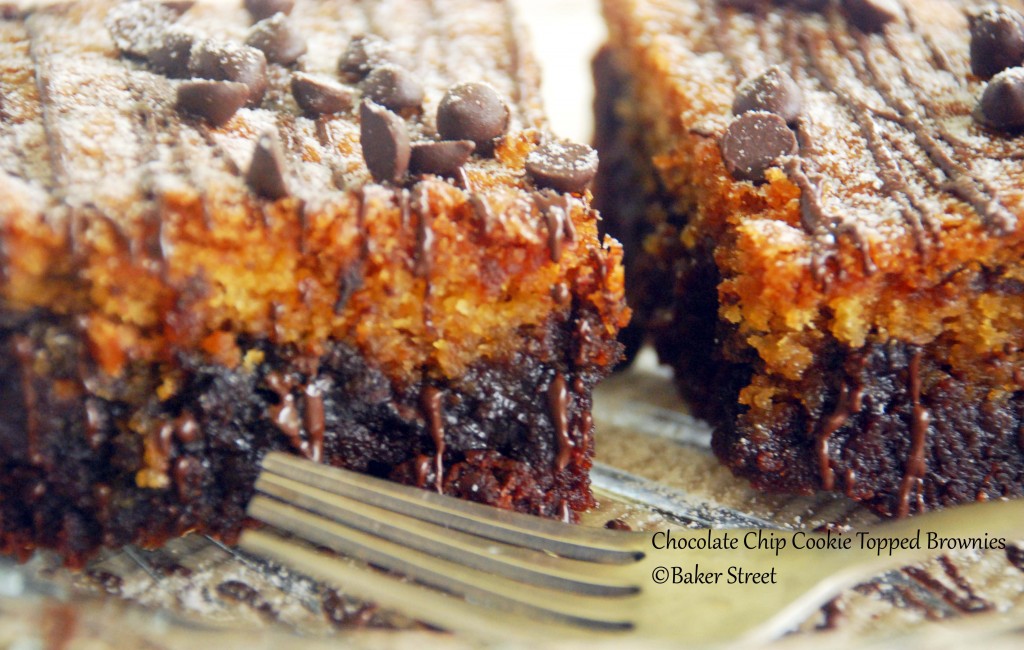 The reason I'm writing this post is because S is starting a new chapter in her life. She's leaving for the UK for a year to pursue her master's degree. A brilliant girl, who got picked out of hundreds for a scholarship. She makes me real proud.
Over the last few years I have seen her grow, watched her take tentative steps towards life changing decisions and – while I'm extremely happy for her – there is just no denying how much I will miss her. Knowing she's not down the lane for a quick chat or getting a random call and coming over, asking me to bake something, always being there to give an unconditional support and that nudge I need every once in a while. This is all dawning upon me as the date of her departure comes closer.
I asked her a few days ago, what she wanted me to bake for her before she leaves and her first reaction was 'Ooh… many things'. But what topped the list without any hesitation was a 'Cookie Topped Brownies'.
Chocolate Chip Cookie Topped Brownies
Author:
Adapted from Dorie Greenspan's "Baking: From My Home to Yours."
Ingredients
For The Brownies:
6 ounces bittersweet chocolate, coarsely chopped
3 ounces unsweetened chocolate, coarsely chopped
2 sticks (8 ounces) unsalted butter, cut into chunks
1⅔ cups sugar
4 large eggs
½ teaspoon salt
½ teaspoon pure vanilla extract
1 cup all-purpose flour
1 cup walnuts, coarsely chopped (Optional)
For The Cookie Top:
11/4 cup all purpose flour
½ teaspoon baking soda
1 ½ sticks (12 tablespoons) unsalted butter, at room temperature
¾ cup (packed) light brown sugar
⅔ cup sugar
1 large egg
1 egg yolk
1 teaspoon pure vanilla extract
6 ounces bittersweet chocolate, chopped into chips, or 1 cup store-bought chocolate chips
Instructions
Preheat the oven to 350 degrees F. Butter a 9-x-13-inch baking pan. Put the pan on a baking sheet.
For the Brownie Batter:
Put both chocolates and the butter in a heat proof bowl set over a saucepan of simmering water. Heat just until the ingredients are melted, stirring occasionally. Remove the bowl from the heat.
Working with a stand mixer fitted with a paddle attachment, beat the sugar and eggs on medium-high speed for about 2 minutes, until pale. Beat in the salt and vanilla extract.
Reduce the speed to low, and mix in the melted chocolate and butter, mixing only until incorporated. Scrape down the sides of the bowl, then, still on low speed, add the flour, mixing only until its combined. Using the spatula, fold in the walnuts, and scrape the batter into the prepared pan. Set aside.
For the Cookie Dough:
In a medium bowl, whisk together the flour, baking soda, and salt.
Working with a stand mixer, beat the butter and both sugars together on medium-high speed until smooth and creamy, about 3 minutes. One at a time, add the egg and the yolk, beating for 1 minute after each addition. Beat in the vanilla. Reduce the mixer speed to low and add the dry ingredients, mixing only until they disappear into the dough. Mix in the chopped chocolate.
Drop the cookie dough by spoonfuls over the brownie batter and, using a spatula and a light touch, spread it evenly over the batter.
Bake for 50-60 minutes, or until the cookie top is deep golden brown and firm and a thin knife inserted into the brownie layer comes out with only faint streaks of moist chocolate. Transfer the pan to a rack and cool to room temperature.
When the brownies are completely cool, carefully run a knife between the sides of the pan and the brownies, then invert them onto another rack. Cut into bars, drizzle with chocolate or just dust sugar and enjoy.
For my dearest S,   We hope that the coming year is everything you want it to be. We'll miss you while you're away! Hope you enjoy your brownies.   Love, A and K and Max and Flash too.
Happy Baking!