A simple post, a simple recipe, and a perfectly simple dessert for the fall: Pumpkin Chocolate Chip Bars. These bars are moist, tender and cake-like in texture. Pumpkin and chocolate pair superbly. I've used another one of Martha Stewart's recipes not modifying it the tinniest bit (except for using homemade pumpkin puree) because it's just perfect.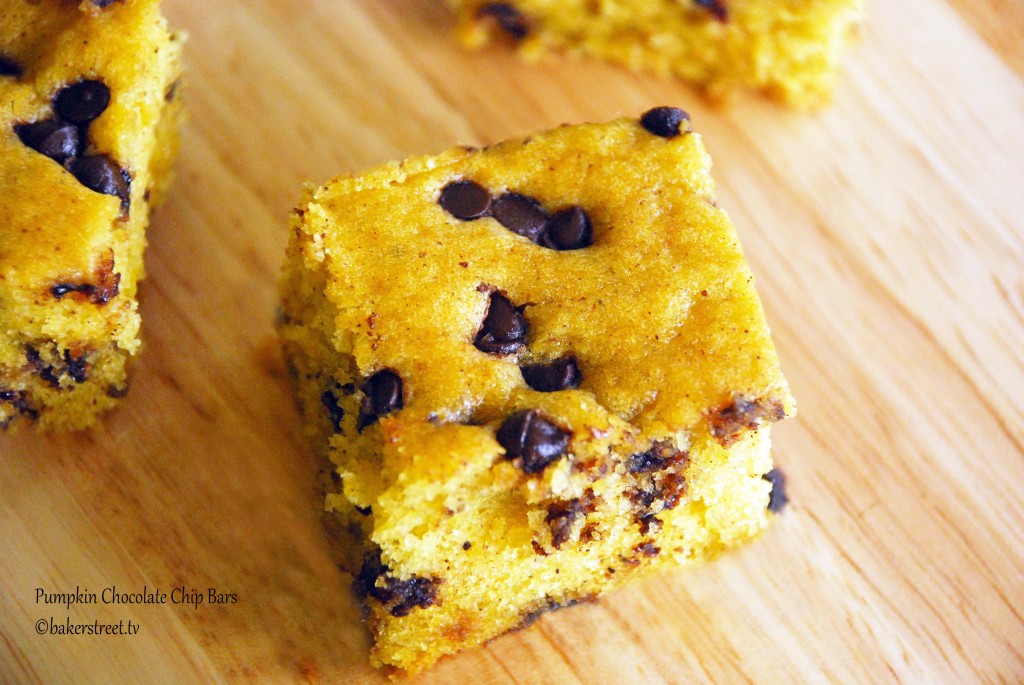 The bars are pumpkin-y and studded with dark chocolate chips. The next time I bake these, I'd like to try a couple of variations: with streusel topping or a cream cheese frosting. In the meantime, sit back and enjoy this decadent bars.
Pumpkin Chocolate Chip Squares
Recipe type:
Squares, Dessert
Ingredients
2 cups all-purpose flour, (spooned and leveled)
1 tablespoon pumpkin-pie spice
1 teaspoon baking soda
¾ teaspoon salt
1 cup (2 sticks) unsalted butter, room temperature
1¼ cups sugar
1 large egg
2 teaspoons vanilla extract
1 cup canned pumpkin puree
1 package (12 ounces) semisweet chocolate chips
Instructions
Preheat oven to 350 degrees. Line bottom and sides of a 9-by-13-inch baking pan with foil, leaving an overhang on all sides. In a medium bowl, whisk together flour, pie spice, baking soda, and salt; set aside.
With an electric mixer, cream butter and sugar on medium-high speed until smooth; beat in egg and vanilla until combined. Beat in pumpkin puree (mixture may appear curdled). Reduce speed to low, and mix in dry ingredients until just combined. Fold in chocolate chips.
Spread batter evenly in prepared pan. Bake until edges begin to pull away from sides of pan and a toothpick inserted in center comes out with just a few moist crumbs attached, 35 to 40 minutes. Cool completely in pan.
Lift cake from pan (using foil as an aid). Peel off foil, and use a serrated knife to cut into 24 squares.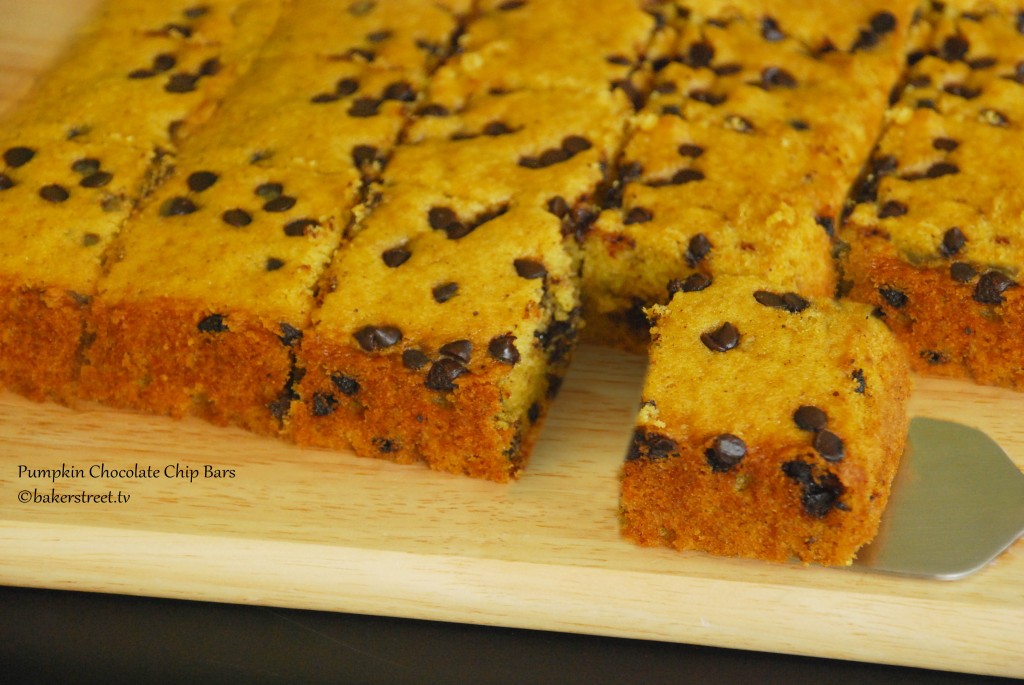 Happy Baking!