I am letting you in on a little secret… I have made a list of hundreds of muffins, options for Muffin Monday so that I'm never out of ideas. The flip side? Choosing one for a particular Monday. However, this week was made easy as Aimee (one of our very talented Muffin Monday Bakers) requested a savory Zucchini Muffins. What we're baking today is a Zucchini and Sesame Muffin. Moist and delicious, these are packed with herbs, zucchini and – my little twist – using whole wheat flour.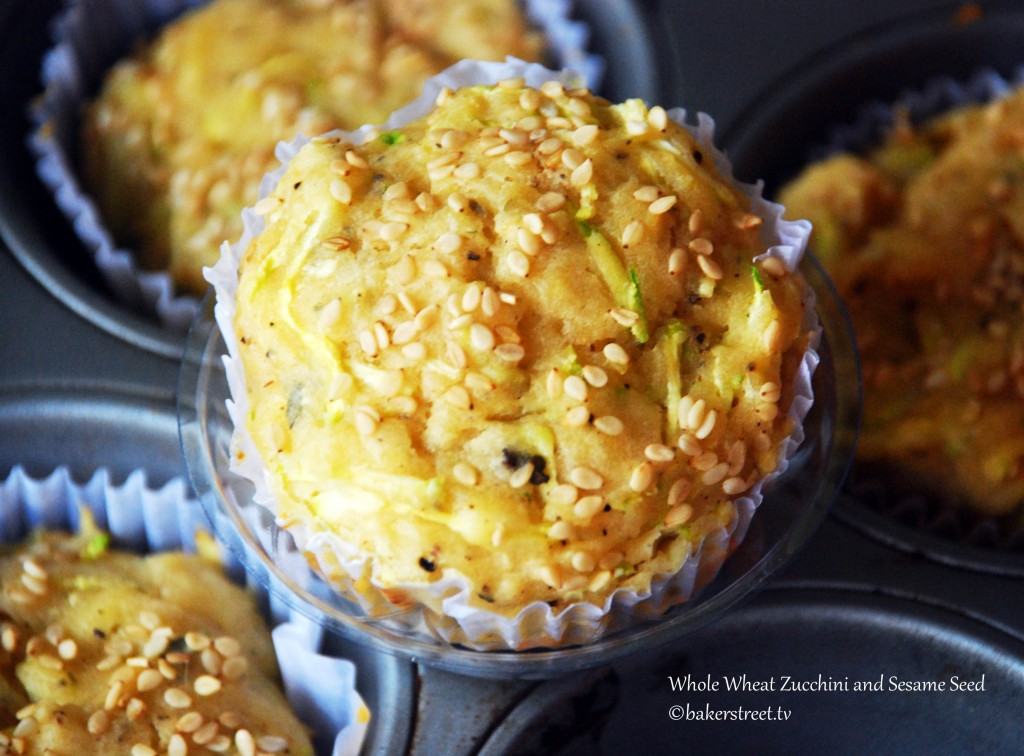 Whole Wheat Zucchini and Sesame Seed Muffins
Author:
Adapted from 1 Mix, 100 Muffins
Recipe type:
Muffins, Savory
Ingredients
2 medium zucchini (roughly 300grams)
2 cups whole wheat flour
1 tablespoon baking powder
⅛ tsp salt
freshly ground pepper
2 tablespoon sesame seeds (Plus extra for sprinkling on top)
½ teaspoon dried mixed herbs
2 large eggs
1 cup buttermilk
6 tablespoons sunflower oil or melted butter ( I used olive oil)
Instructions
Preheat the oven to 400F / 200C
Grease a 12 cup muffin pan or line it with paper liners
Grate zucchini and squeeze out any excess moisture.
Lightly beat the eggs in another bowl. Beat in the buttermilk and oil.
In a large bowl, sift together flour, baking powder, salt and pepper. Stir in the mixed herbs and half the sesame seeds.
Make a well in the centre and add in the liquid ingredients. Stir gently until just combined.
Spoon the batter into prepared muffin pan and scatter the sesame seeds to top.
Bake for about 20 minutes
Let the muffins cool in the pan and then serve warm.
Muffin Monday will be soon coming up with a fabulous batch of Holiday Muffins, so stay tuned. While ideas are simmering, I would love to know what your favorite holiday muffin is.
Muffin Monday: Round Up
Happy Baking!