I'm a big fan of coffeecakes so both my hands went up waving when Abby mentioned coffeecakes for October's #baketogether project. Abby posted a old classic and left it for us to do our very own twist on it.
With my birthday around the corner, I'm sparing no chance to indulge this week.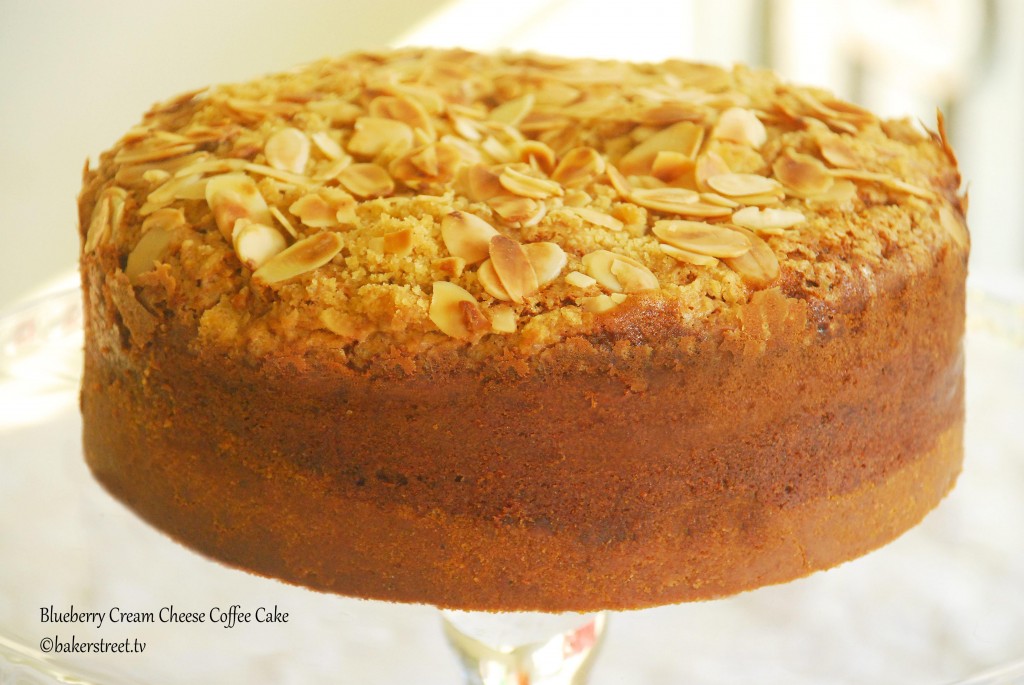 Now onto my take on Abby's recipe. If you've been following my blog closely then you know I don't give a second thought to using cream cheese if possible. After months of looking, I finally chanced upon fresh blueberries. I put them in deep freeze, too excited to actually think of what to do with them immediately.
I made a few changes to this recipe. I gave the cake a biscuit base which provided added some crunch into a smooth sponge with a blueberry filling. Abby's sponge is so good, any change to it would only make it a lesser sponge. The filling has been a concoction of various recipes and adjusted and adapted several times till I got it right. While baking my blueberries sunk to the bottom, to avoid this the next time I'm going to roll them with 1 tablespoon of flour and divide the filling into two layers. I've made these modifications in my final recipe below.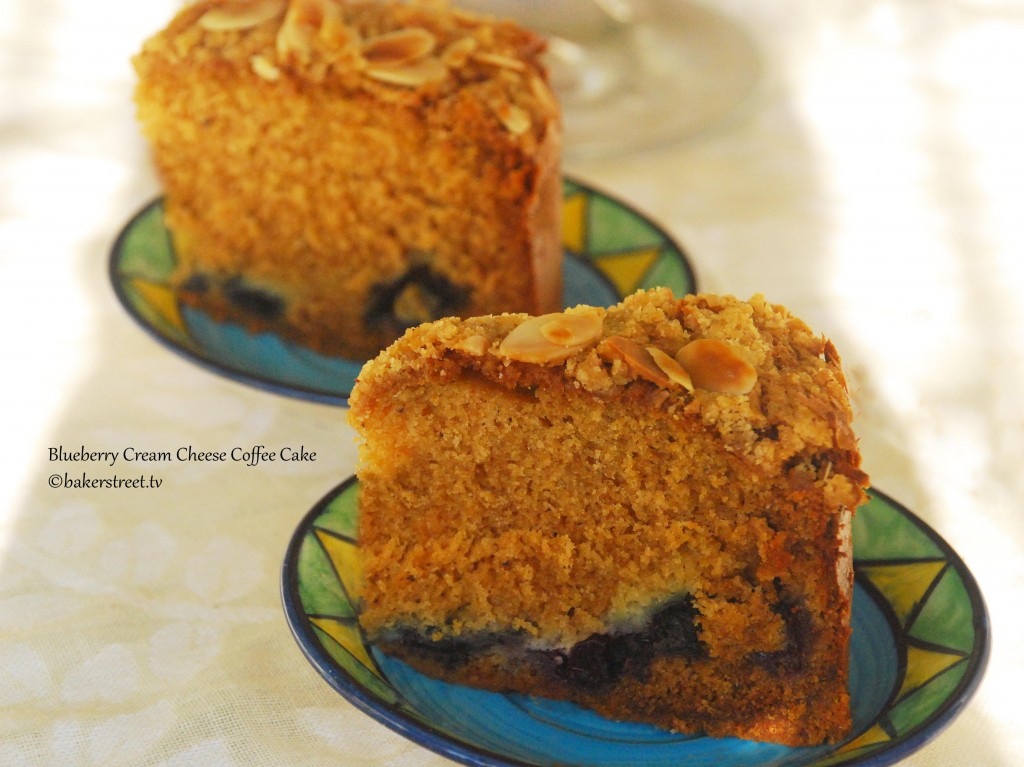 This was a perfect way to head into a week full of being spoilt. Making a wish with me this weekend is my special friend Annapet, whose birthday is very close to mine.
Blueberry Cream Cheese Coffee Cake
Author:
Adapted from Abby Dodge
Ingredients
For The Base:
100 grams graham crackers
½ teaspoon cinnamon
¼ cup brown sugar
2 tablespoons melted butter
For The Streusel:
⅔ cup (4⅝ ounces) firmly packed dark brown sugar
¾ cup ( 3 3/8ounces) all purpose flour
1½ teaspoons ground cinnamon
4 tablespoons unsalted butter, melted and cooled
For The Filling:
226 grams cream cheese
1 egg
1 cup fresh blueberries
¼ cup sugar
1 tablespoon flour
50 grams chopped almonds (optional, for garnish)
For The Cake:
2 cups (9 ounces) all purpose flour
1¼ teaspoon baking soda
¾ teaspoon ground cinnamon
½ teaspoon freshly grated nutmeg
½ teaspoon table salt
Pinch of ground cloves
8 tablespoons (4 ounces) unsalted butter, softened
1¼ cups (8¾ ounces) firmly packed light brown sugar
1 teaspoon pure vanilla extract
2 large eggs, at room temperature
1 cup sour cream, at room temperature
Instructions
To Make The Base:
Blitz all the ingredients in a food processor. Press onto the bottom and 1″ up the sides of a pan
To Make The Streusel:
In a small bowl, combine the brown sugar, flour and cinnamon. Drizzle over the melted butter and, using a fork or fingers, mix the ingredients are well blended and form small crumbs. Keep it in the fridge while you make the filling and cake batter.
Toss the blueberries with 1 tablespoon flour and gently coat all evenly, set aside
Beat the cream cheese and sugar until fluffy, about 1 minute.
Add the egg and beat until combined.
Gently fold in the blueberries. Set aside to bake the cake.
To Make The Cake:
In a medium bowl, combine the flour, baking soda, cinnamon, nutmeg, salt and cloves. Set aside.
In a large bowl, cream the butter, sugar and vanilla, about 3 minutes.
Add the eggs, one at a time, beating well after each addition. Stop to scrape the bowl and beaters as needed.
Add about half of the flour mixture and mix on low speed just until blended.
Add the yogurt and continue mixing just until blended. Using a rubber spatula, fold in the remaining flour mixture.
Assemble:
Pour one third of the batter onto the graham cracker base and spread evenly.
Spread half the filling and spoon the another third of batter evenly over the filling evenly. Repeat the process with the filling and finally the cake batter.
Evenly scatter the streusel mixture over the batter and garnish with almonds.
Bake until the top is browned and a pick inserted in the center of the cake comes out clean, 40 to 45 minutes. Cool the pan on a wire rack until warm or room temperature.
Happy Baking!