Baker Street is hosting its 3rd blog hop. It has become a monthly ritual and we're absolutely loving it. We're focusing on apple recipes this month.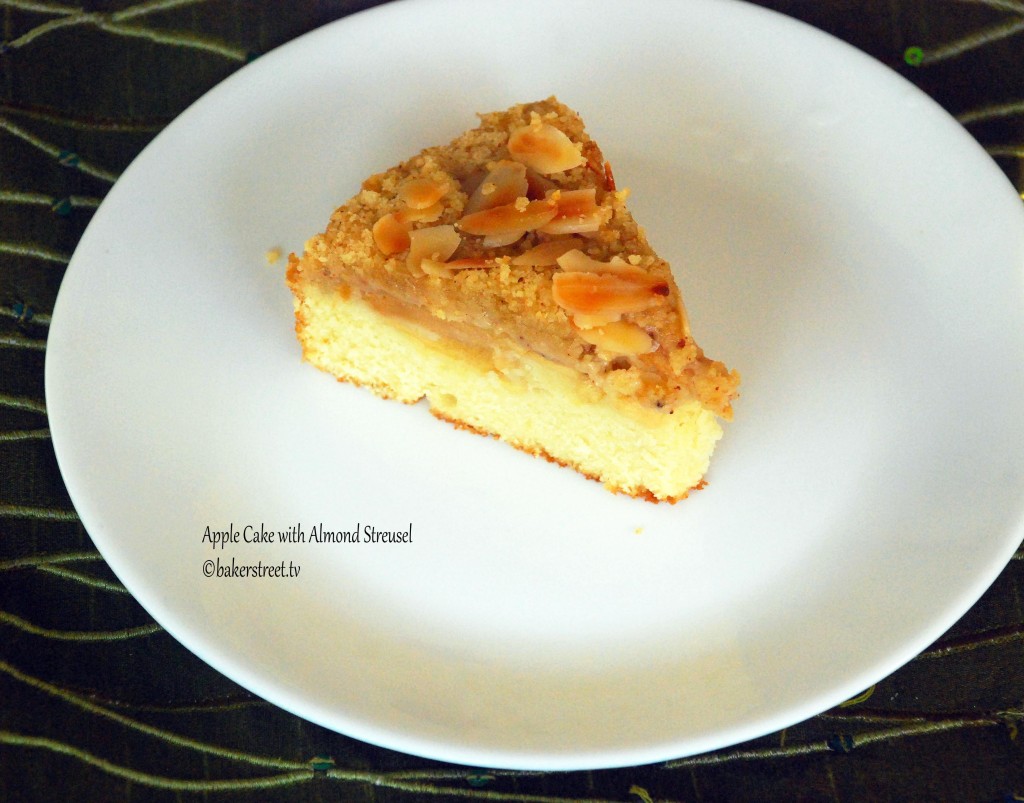 I featured a Cream Cheese Apple Tart when we embarked on this journey. But there's just so much more to share and one can bake and use apples in countless ways, and a simple cake is no less elegant than other recipes.
This cake has three basic layers: A vanilla scented sponge, a layer of apples, and finally topped off with almond crumble.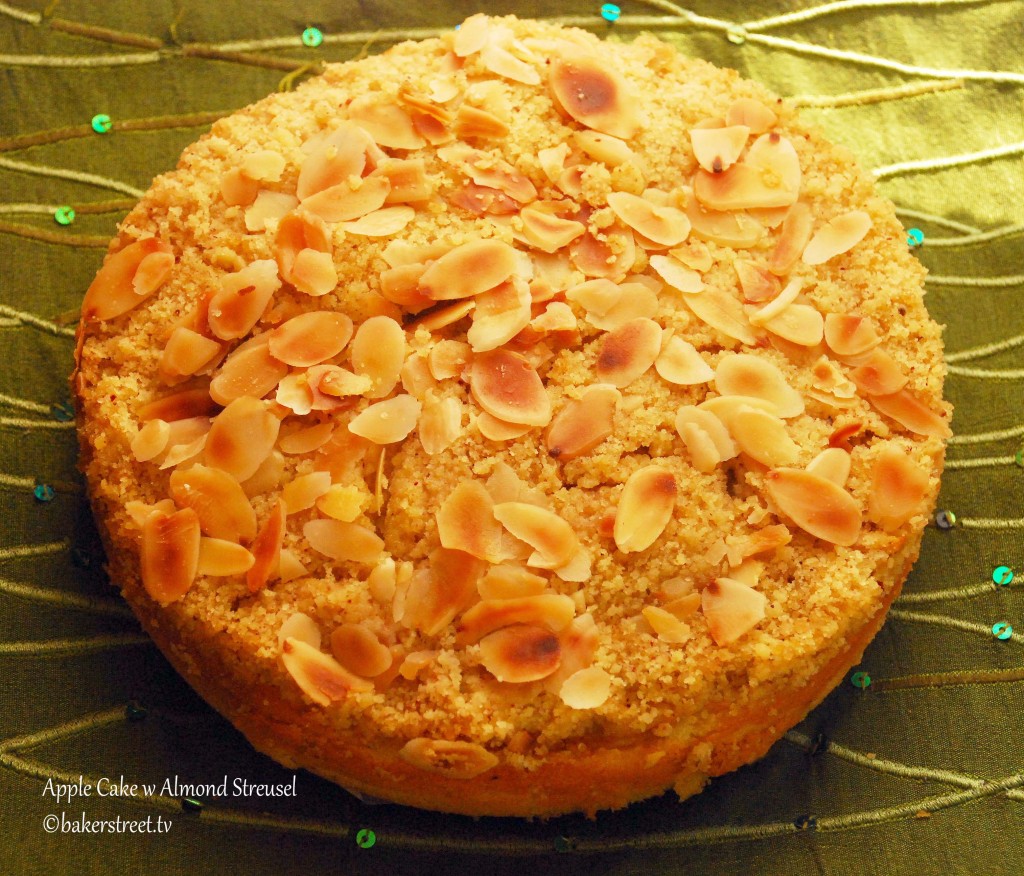 I will not only share more apple recipes with you this month but I'm also inviting you to link up any apple-related recipes you have cooked/baked in the month of October 2011.
Apple Streusel Cake with Almonds
Author:
adapted from Joy Of Baking
Ingredients
For The Streusel Topping:
¼ cup all purpose flour
¼ cup almond flour
½ teaspoon ground cinnamon
3 tablespoons cold unsalted butter, cut into pieces
¼ cup brown sugar
¼ cup blanched almonds (See Notes)
For The Cake Batter:
1 cup all purpose flour
1 teaspoon baking powder
⅛ teaspoon salt
¼ cup unsalted butter, room temperature
½ cup (100 grams) granulated white sugar
1 large egg
½ teaspoon pure vanilla extract
⅓ cup milk
2 large Apples, peeled, cored, and cut into thin (1/8 inch) slices
Instructions
Preheat oven to 350F.
Butter an 8 inch (20 cm) spring form pan and line the bottom of the pan with parchment paper.
For The Streusel Topping:
In a large bowl, mix together the almond and all purpose flour and ground cinnamon.
Cut in the butter with a pastry blender or fork until it resembles coarse crumbs. Stir in the brown sugar and blanched almonds. Set aside while you make the cake batter. (See Notes)
For The Cake Batter:
In a medium bowl whisk together the flour, baking powder, and salt. Set aside.
In the large bowl, beat the butter until creamy and smooth. Add the sugar and beat until light and fluffy.
Add the egg and vanilla extract and beat until incorporated.
Add the flour mixture, alternately with the milk, and beat only until combined. Spoon the the batter into a prepared pan, ensuring a smooth top.
Evenly arrange the apple slices on top of the cake batter and then sprinkle with the streusel topping.
Bake for about 45 – 50 minutes or until a toothpick inserted in the center of the cake comes out clean. Remove from oven and place on a wire rack to cool slightly.
Serve warm or at room temperature with ice cream or softly whipped cream.
Notes
– In place of almonds you can use toasted and coarsely chopped hazelnuts, walnuts or pecans. – You can store your streusel in the fridge while you prepare the cake batter, which ensures the butter doesn't melt.
Happy Baking!