Every recipe can be modified, and you always have a choice to adapt it and make it healthier. If you've gone through some of my recipes on my blog, you will know that I don't think twice before using butter or other saturated fats. Now, don't get me wrong, I'd like healthy Nutella Brownies (oxymoron alert!) any day but I usually put in effort to only change the flavors and make it unique. I don't try and make it vegan or opt for mono saturated fats or go easy on the sugar.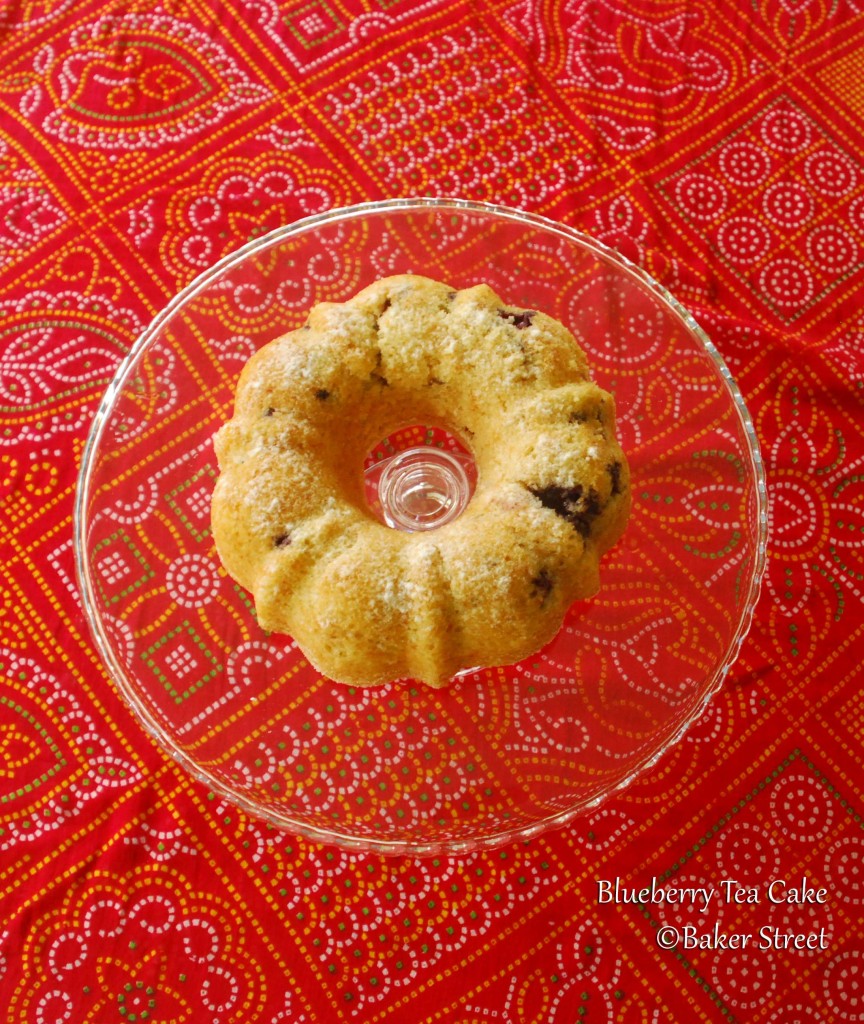 A week ago a friend (the impossibly fit @SashG, who among other things runs healthylivingindia.org) asked me to post a healthy dessert recipe which involves blueberries. A flurry of ideas: Crumble? Crisp? Brownies? Cheesecake? Cupcakes? See how I only think of rich and heavy desserts! While all these sounded great, I wanted a simpler affair that could be had at any time of the day; a dessert that makes you go back to the kitchen every now and then for a little sliver.
I finally settled on a Blueberry Tea Cake: a soft, moist cake batter with swirls of sweet and tart blueberries.
I'm including the nutrition value of each serving with this exception of a recipe.
Author:
Adapted from honeywhatscooking
Recipe type:
Dessert, Cake
Ingredients
1 cup Whole Wheat Pastry Flour
½ cup White Flour
11/2 teaspoon Baking Powder
¼ teaspoon Baking Soda
¼ teaspoon Salt
4 tablespoons Olive Oil
½ cup Sugar
1 Egg, room temperature
1 Egg White, room temperature
1 teaspoon Vanilla Extract
½ cup Milk 1% (room temperature)
1 tablespoon Vinegar
Juice of Half a Lime
⅔ cup Blueberries or Blueberry preserves (I used preserves as fresh were not available)
Instructions
Preheat oven to 350 degrees.
Lightly grease a 6 cup bundt or a square baking pan.
In a medium bowl, sift together the flours, baking powder, baking soda, and salt into a bowl. Set aside.
In a large bowl, using an electric mixer, beat oil and sugar until light and creamy and combined.
Add the egg and egg white to the butter mixture. Mix till well combined.
Add the vanilla extract and lime juice.
Alternately adding the flour mixture and milk to the butter mixture in thirds, starting with the dry and ending with the dry. Mix gently and do not over mix the batter.
Pour half the batter into the baking dish.
Top with blueberries or preserves. Cover with the remaining batter and bake for 30-40 minutes.
Notes
– If you do not have buttermilk on hand, combine the milk and vinegar, this will take about 5 minutes to curdle. Set aside. – If you're using fresh blueberries, you can increase the amount by almost a cup Variation: Use the same recipe to bake blueberry lemon crumb squares: Replace: zest of 1 lemon in place of the lime juice and Use 11/2 cup of fresh blueberries For the crumb topping: ¼ cup + 1 tbsp Brown Sugar ¼ cup White Flour ½ teaspoon Cinnamon powder 2 tablespoon Unsalted Butter, room temperature ½ tablespoon Canola Oil Combine the brown sugar, flour, cinnamon, butter, and oil into a bowl. Mix until all ingredients are combined, this will form a crumbly mixture. Add the streusel on top and bake till a toothpick comes out clean
Nutrition Information
Serving size: 1 Calories: 129.4 Saturated fat: 0.6g Unsaturated fat: 2.6g Sugar: 14.2g Fiber: 0.9g Protein: 2.2g
Happy Baking!