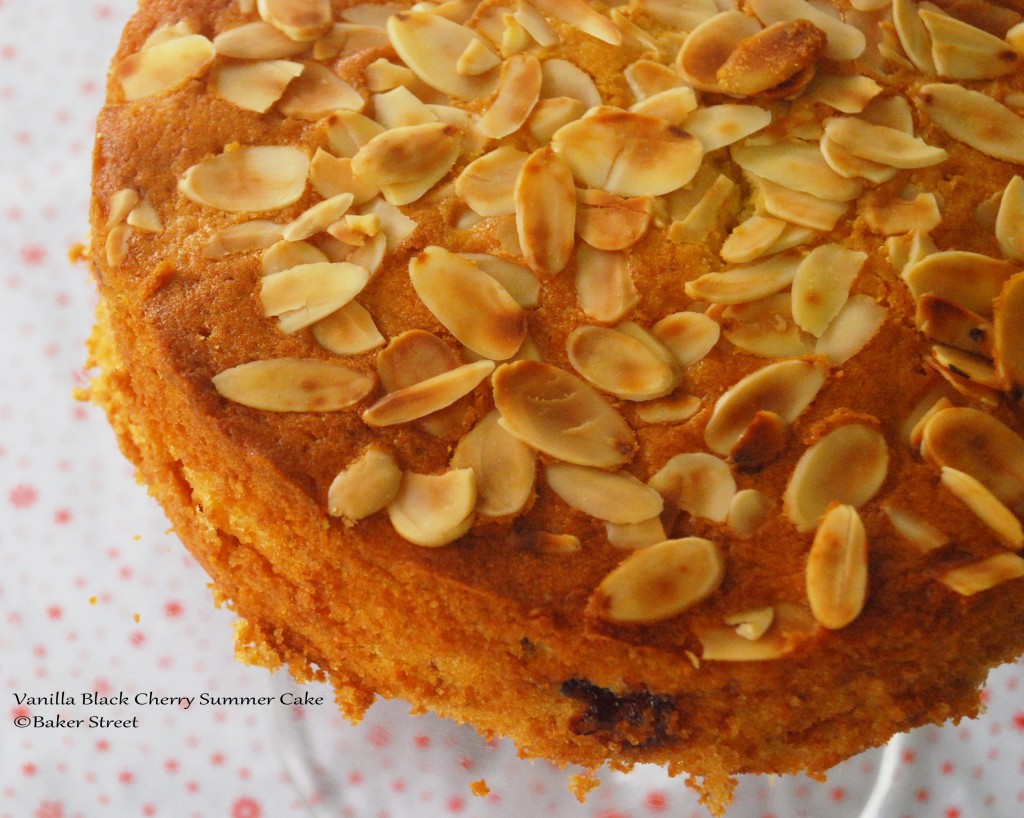 A warm wind, cloud wisps promptly dipping and dancing in placid blue skies. Trees holding steadfast to their leaves, flowers flowering, birds returning home. Breaking free of her cocoon, she walked the hot sand on the beach, the long-awaited summer finally upon her.
The main reason I love doing #baketogether posts are because there are practically no rules and no stress. And that's what blogging should be about right? You should enjoy every minute you spend on your blog.
This month's recipe was an easy 'Summer Fruit Cake' And even though Abby left the the whole net wide open with options I went with a Vanilla Dark Cherry Cake.
The batter creates a lovely moist cake which makes it a perfect base for any flavors you might want to add.
Vanilla Dark Cherry Summer Cake #baketogether
Author:
Adapted from Abby Dodge
Recipe type:
Cake, Summer Cake, Fruit Cake, Dessert
Ingredients
1⅓ cups (6 ounces) all purpose flour
1 teaspoon baking powder
¼ teaspoon baking soda
¼ teaspoon table salt
11/2 teaspoons zest of orange (optional)
6 tablespoons (3 ounces) unsalted butter, softened
1 cup (8 ounces) granulated vanilla sugar
2 large eggs
1 teaspoon pure vanilla extract
⅔ cup (5½ ounces) sour cream
3-4 tablespoons Black Cherry Preserves
2 tablespoons chopped almonds
Instructions
Position an oven rack on the middle rung. Heat the oven to 350°F degrees. Lightly grease the bottom and sides of a 9×2-inch round cake pan. Lightly flour the sides and line the bottom with a parchment or nonstick baking circle.
In a medium bowl, whisk the flour, baking powder, baking soda, and salt until well blended.
In a large bowl, beat the butter, and sugar with an electric mixer fitted with the paddle attachment on medium-high until well blended, about 3 minutes. Add the eggs, one at a time, beating on medium speed until just blended. Add the orange zest and vanilla along with the second egg.
Using a wide rubber spatula, fold the dry ingredients and the sour cream alternately into the butter mixture, beginning and ending with the dry ingredients.
Scrape half the batter into the prepared pan and spread evenly. Add the cherry preserves and pour the remaining batter and spread evenly. Garnish with chopped almonds.
Bake until a toothpick or cake tester inserted in the center of the cake comes out clean, about 20 to 25 minutes.
Transfer the cake to a rack to cool 15 minutes. Serve warm or at room temperature.
Notes
Storage: Cover the baked and cooled cake in plastic wrap and stow at room temperature for up to 5 days.
In case you missed my Cinnamon Cream Cheese Pound Cake Post, please click here, Baker Street is hosting a cake blog hop and inviting you to share any cake that you might have baked this August.
Happy Baking!