Over the last month, I have had fantastic response to Muffin Monday. I want to thank everyone who's taken the time to go through the posts, leave comments, and tweet unconditionally. A bigger thank you to the lovely people who've baked with me!
Even though the simplicity of baking a muffin is its charm, there have been many questions and emails that I've encountered over the last few weeks. People who've never baked have been inspired by Muffin Monday. Not that am any expert, but I feel the need to put together Muffin 101 together. A small guide that serves to get people started and little tips and tricks that might not be written on the recipe card you're following.
I've rummaged through a lot of books, websites, food blogs to put this article together. It's long, so I will split it into two for easy reading.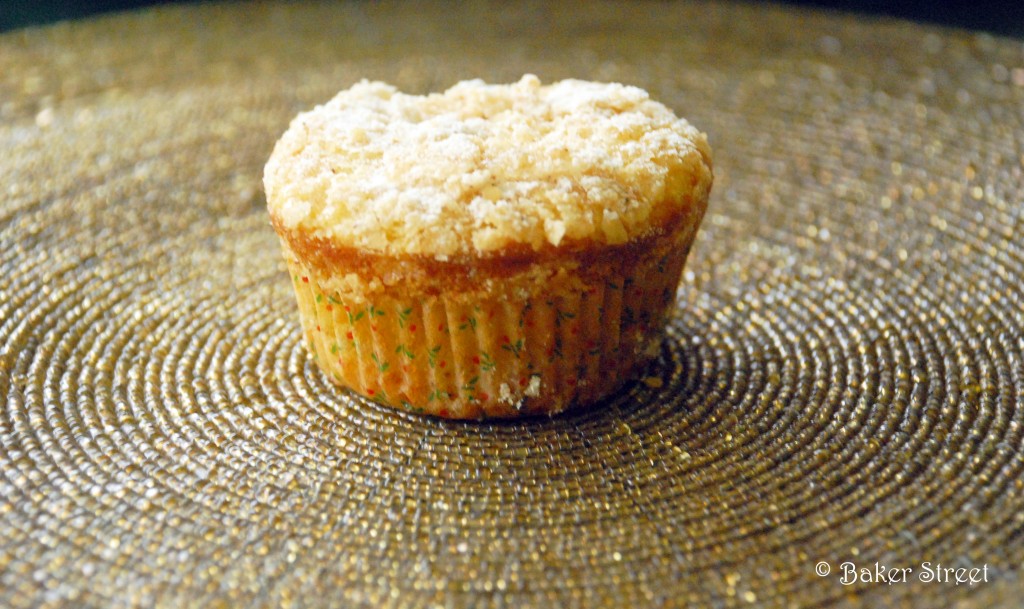 Part I
There are two types of Muffins, English and American.
The English Muffin which predates the American muffin is a disk shaped bread leavened by yeast. They are traditionally toasted, served with butter and preservatives and eaten for breakfast with coffee or tea.
I'll be focusing more on the American Muffin, as that is what we are baking for Muffin Mondays.
The perfect American Muffin – which can be sweet or savory – is one that is light, moist and tender, doubled in size during baking and has a symmetrical domed top. As for taste, the American Muffins can be further broken down into two parts; one that uses more butter and sugar is 'cake-like', and one that uses less butter and sugar and tastes 'bread-like'.
There are also two different methods that are used to bake cake and bread-like muffins. The more common 'Muffin Method' is a is simple batter prepared with a mix of dry ingredients in a bowl and a mix of the wet in the other are combined together right before baking and is used to bake 'bread like' muffins. While a 'cake like' muffin calls for the regular creaming of butter and sugar, adding eggs and alternating the wet and dry ingredients. Owing to the fat content, the cake-like muffins reduce the development of gluten and produce a richer and softer muffin whereas the Muffin Method produces coarser, more elastic and textured muffin.
The basic batter of an American muffin contains: flour or whole grains, sugar, baking powder or soda, milk (can be substituted by buttermilk, sour cream or yogurt) and the flavoring. Of course, your imagination is the limit – it could be nuts, fruits, extracts, spices, preservatives, oats, anything really.
What separates muffins from cupcakes?
There are quite a few differentiatiers but I'm focusing on the 3 that are easily identifiable:
– The main difference is the method, 'the muffin method' is more often used to bake muffins
– Ingredients and spices such as zucchini, ginger, nutmeg, bacon or cinnamon would not be typically used in cupcakes
– In appearance it is the frosting. A muffin doesn't have a frosting but a crumb/ streusel or a glaze is used to add flavor and make it more special.
Muffins are baked in pans made of carbon steel, aluminum, non-stick coated cast iron and silicon rubber. The depressions in these tins are lined with round cups made of paper or foil. This has three advantages: It shapes the muffins, are easy to clean, and simple to remove from the pan. However, silicon cups do not require liners.
Type of Pans:
– Standard pans available with 6, 12, or 24 cups that are 2 3/4′ in diameter and 1 1/8′ in depth hold a 1/2 cup batter
– Jumbo pans usually available in 6 cups that are 3' in diameter and 1 ½' in depth will easily hold a cup of batter
– Mini Muffin pans available with either 12 or 24 cups that are around 13/4' in diameter and 7/8' inches in depth hold around 2 tablespoons of batter
– Shiny aluminum pans always prevent the muffins from becoming too dark around the sides
– You could also get muffin top pans that are 3 inches in diameter, 1/2 inch in depth and hold 3 tablespoons of batter
A muffin liner should not be more than 1/2 to 1/3rd full to give it enough space to double in size. Over filling can cause an uneven shape or 'flying saucer' tops.
Next week: Muffin Mixing Methods and Tips and Tricks!
This week we baked delicious Coffee Cake Muffins. A moist cake like batter with streusel not only on top but I did the center too. I did three variations of the streusel: dried cranberries, macadamia nuts and chocolate chips.
Muffin Monday: Coffee Cake Muffins | Muffin 101: Part I
Author:
Adapted from Martha Stewart
Recipe type:
Muffins, Dessert
Ingredients
½ cup (1 stick) unsalted butter, room temperature, plus more for greasing
1¾ cups all-purpose flour (spooned and leveled), plus more for greasing
2 teaspoons baking powder
1 teaspoon baking soda
1 cup sour cream
1 cup granulated sugar
1 teaspoon pure vanilla extract
2 large eggs
Confectioners' sugar (optional)
1 cup packed dark-brown sugar
1 cup all-purpose flour, (spooned and leveled)
½ teaspoon salt
½ teaspoon ground cinnamon
½ cup (1 stick) chilled unsalted butter, cut into small pieces
Instructions
Preheat oven to 350 degrees.
For the streusel topping: In a medium bowl, stir together brown sugar, flour, and salt. With a pastry blender or two knives, cut in butter until mixture resembles large coarse crumbs; refrigerate until ready to use.
For the Muffins: Butter and flour a jumbo 12-cup muffin tin (or two 6-cup muffin tins). In a small bowl, whisk together flour, baking powder, and baking soda; set aside.
On medium speed, beat together butter, sour cream, granulated sugar, and vanilla until light and fluffy. Beat in eggs, one at a time, until well combined. With mixer on low, beat flour mixture into butter mixture.
Divide half the batter among prepared muffin cups. Top with half the streusel mixture, then remaining batter, and top with streusel.
Bake 25 to 30 minutes or until a toothpick inserted in center of a muffin comes out clean. Cool in pan 5 minutes, then transfer to a wire rack to cool completely. Dust with confectioners' sugar, if desired.
Notes
As a variation in the streusel I added dried cranberries, salted and roasted macadamia nuts and chocolate chips
This week we have 8 gorgeous bakers joining us. Each one of them came up with a very interesting variation. Click here to know more about our Muffin Monday Bakers and click on the pictures below to view their post.
Muffin Monday: Round Up