I am a poet, I am very fond of bananas.
I am bananas, I am very fond of a poet.
I am a poet of bananas. I am very fond.
A fond poet of 'I am, I am' – Very bananas.
Fond of Am I bananas? Am I? – a very poet.
Bananas of a poet! Am I fond? Am I very?
Poet bananas! I am. I am fond of a 'very'.
I am of very fond bananas. Am I a poet?
– Wendy Cope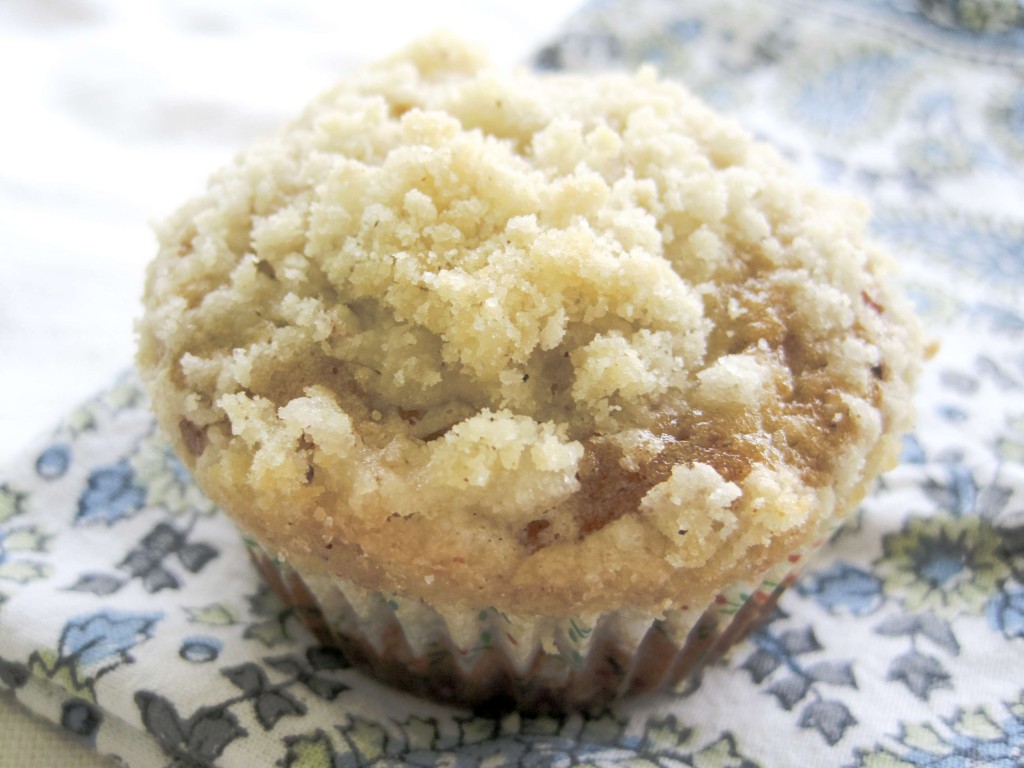 The weekend was a blur of unproductive yet entertaining activities. When I woke this morning, I saw a  bunch of bananas perfectly dressed in their yellow jackets on the kitchen counter screaming 'eat me'. Torrential rain for 12 straight hours made it the sort of day you want to call in sick at work, watch movies and indulge in some RnR.  While it seems to be a bad day to get out of the house, fumbling to protect your bag and keep your laptop dry while commuting to work, it sure seems to be the perfect day to bake.
One such indulgent treat that I offer today is Banana Streusel Muffins. The combination of perfectly ripened bananas and a thick layer of streusel. The streusel adds a wonderful crunch before you actually sink your teeth into the tender muffin. I simply love the addition of streusel to muffins, coffeecakes, bars, et al.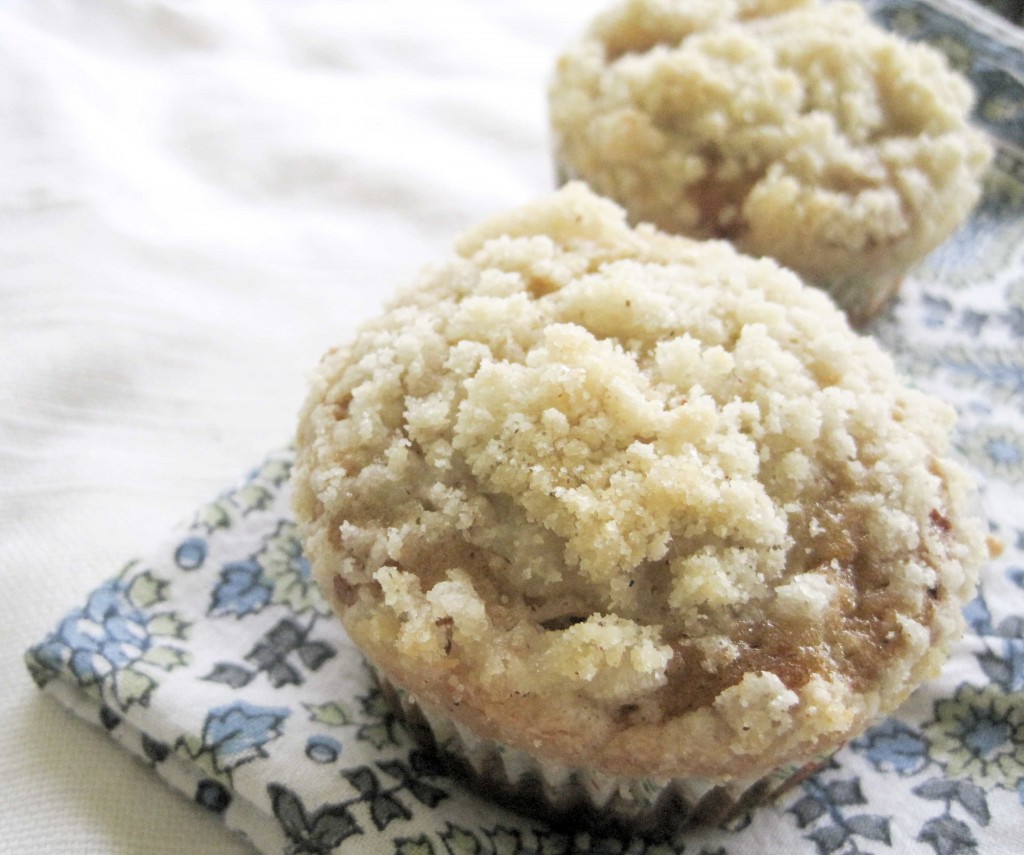 I'd like to welcome Nelly, author of cooking with books, a pastry chef and bread baker who's joining me in the kitchen this week for Muffin Monday and spreading the muffin love. Nelly is a graduate from Culinary Institute of America, currently residing in Santo Domingo. She has adapted this recipe and incorporated delicious flavors including coconut oil and chocolate chips. Click here to view her post.
Muffin Monday: Banana Streusel Muffins
Author:
Adapted from all recipes
Recipe type:
Dessert, Muffin
Ingredients
1½ cups all-purpose flour
1 teaspoon baking soda
1 teaspoon baking powder
½ teaspoon salt
3 large bananas, mashed (reserve 1 tbsp for crumb topping)
¾ cup white sugar
1 egg, lightly beaten
⅓ cup butter, melted
½ teaspoon cinnamon
⅓ cup sugar
1 tbsp reserved mashed bananas
2 tablespoons all-purpose flour
½ teaspoon ground cinnamon
1 tablespoon butter
Instructions
Preheat oven to 375 degrees F. Grease or line with paper cups a 12 hole muffin tin
For the crumb mixture: In a small bowl, mix together brown sugar, 2 tablespoons flour, 1 tbsps of mashed bananas and cinnamon. Cut in 1 tablespoon butter until mixture resembles coarse cornmeal.
In a large bowl, mix together 1½ cups flour, baking soda, baking powder and salt.
In another bowl, beat together bananas, sugar, egg and melted butter.
Stir the banana mixture into the flour mixture and mix until incorporated.
Spoon batter into prepared muffin cups and distribute the crumb mixture evenly.
Bake in preheated oven for 18 to 20 minutes, until a toothpick inserted into center of a muffin comes out clean.
Muffin Monday is an initiative by Baker Street. A culinary journey of sharing a wickedly delicious muffin recipe every week. Drop in a quick line to join her on her journey to make the world smile and beat glum Monday mornings week after week.
Happy Baking!