An impassive, cold evening. She sat strapped in the car seat, waiting for the light to turn green. Her fingers drummed the wheel nervously. She kept stealing glances at the package kept on the seat next to her. Small, white, mysterious. What was she do with it when it reached it's designated port of call? A million options raced through her mind as she zipped through the streets. Some near misses, some jumped lights later; she was here.
Key, door, light. The warmth of a familiar milieu. She placed the package on a counter and brought out the other essentials. Hands on her hips, she surveyed and weighed her options. A small smile, a familiar feeling. She knew what to do next. The mind cleared as if a mist had lifted, she channeled her anxiousness into inspiration and started on her latest new project: deep, dark and rich chocolate brownie muffins.
A devilish double dose of chocolate. The soft, chewy crust of a brownie complimented with the sinfulness of an extremely moist and rich muffin.
Winter, she said is rather incomplete without a few of these…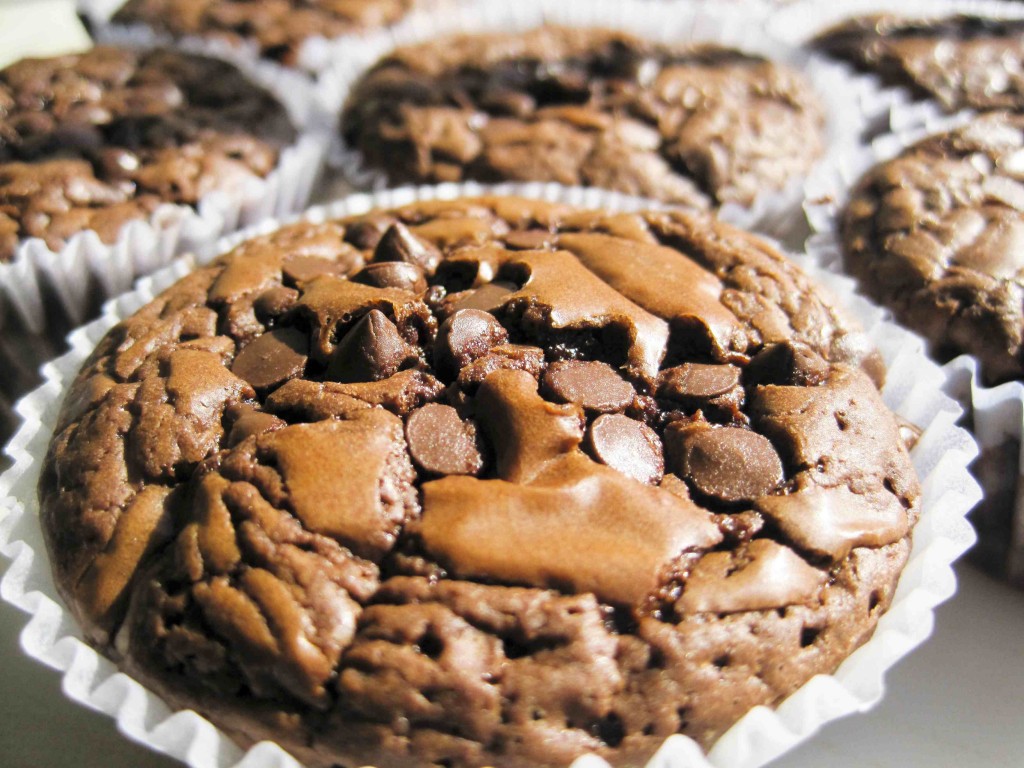 Author:
Adapted from Happy Home Baking
Recipe type:
Muffins, Brownies, Dessert
Ingredients
80g butter, chopped into chunks
150g dark eating chocolate, chopped
140g sugar
1 teaspoon vanilla extract
100g plain flour
1 tablespoon cocoa powder
2 eggs
75 gms semi sweet chocolate chips
Instructions
Preheat oven to 200 degC.
Line muffin pan with paper liners.
Sift together flour and cocoa powder, set aside.
Place butter in a saucepan, melt over low heat. Once the butter starts to melt, add in the sugar. Stir to prevent sugar from getting burnt.
Add in the chocolate and stir still smooth.
Transfer chocolate mixture to a mixing bowl.
Stir in the eggs gradually, followed by the vanilla extract, then the sifted flour & cocoa powder mixture. Stir till just incorporated.
Divide batter into muffin cups.
Sprinkle with chocolate chips and bake for 20 mins or until skewer inserted in the center comes out clean.