It takes a week at the very least to settle in after returning from a trip. From the moment I stepped in, it was all about unpacking, laundry, readjusting to this thing called a job, replying to a million emails, stocking the fridge, and more laundry. All I was looking was for a teensy weensy tiny little window. A window to strap on my apron and get down to some baking. Today was it.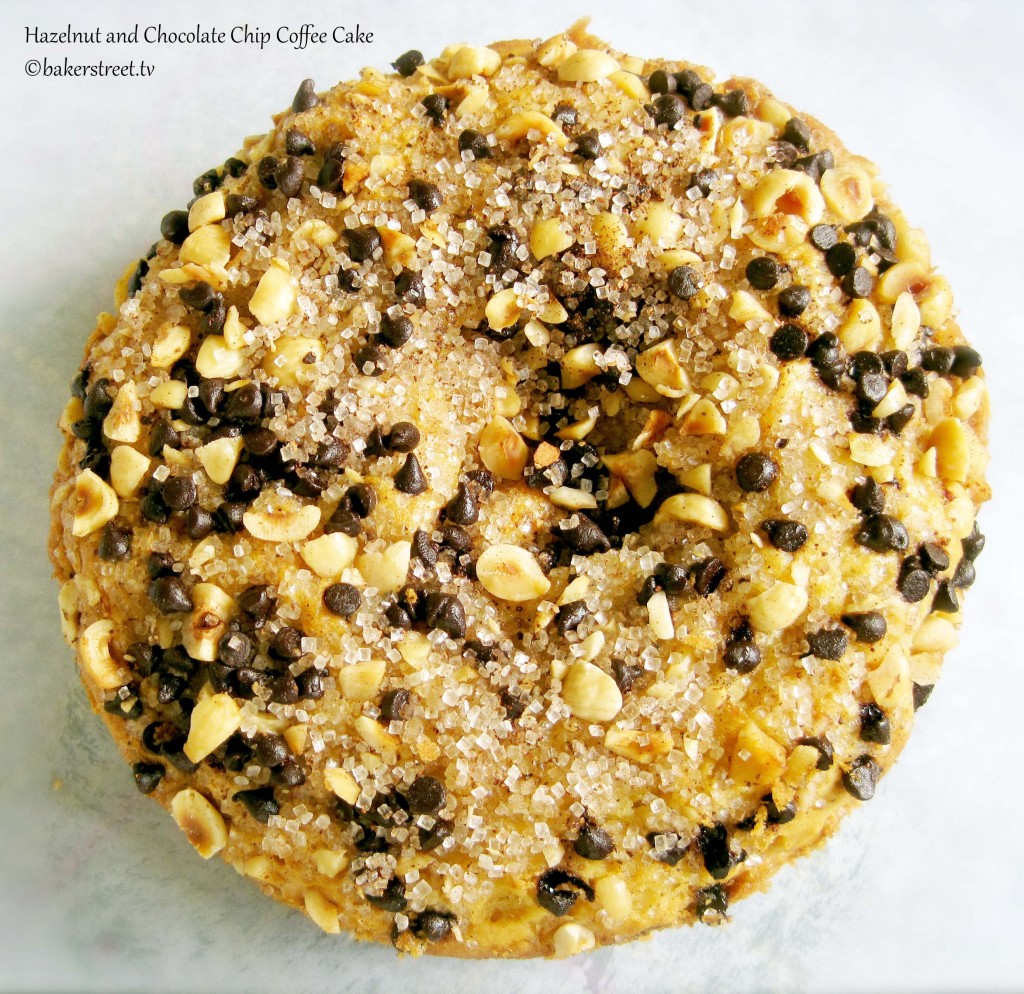 The image of the coffee cake I'd gone to sleep dreaming about was still lucid. I jumped out the bed on waking and checked for ingredients. All in place.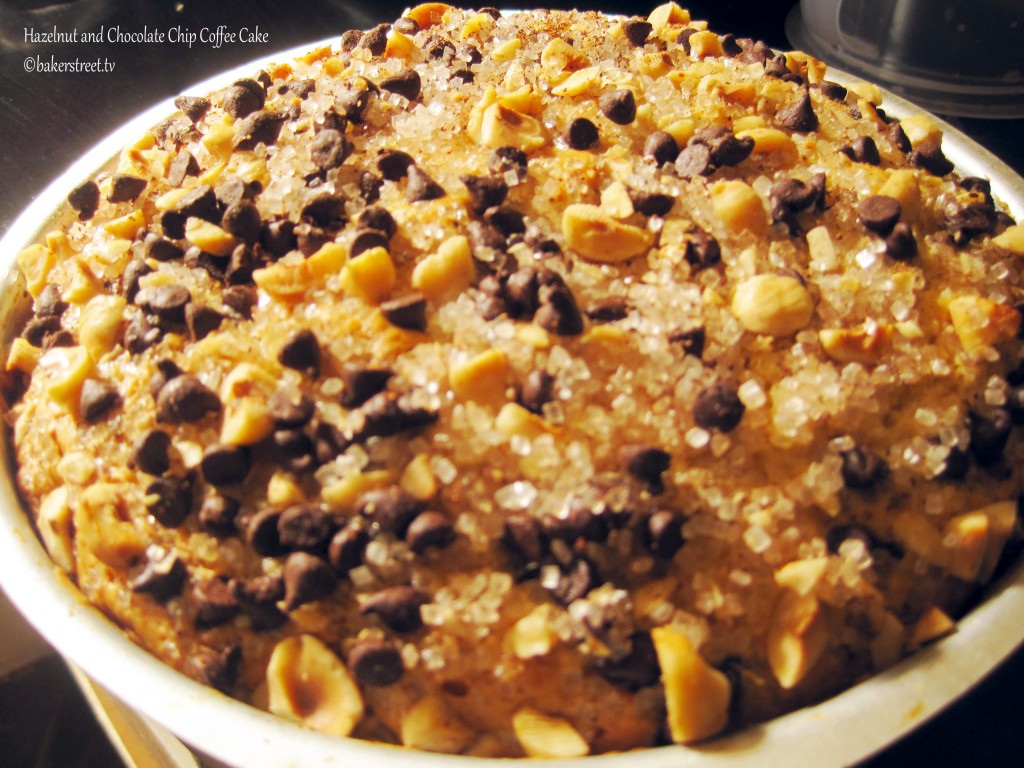 This soft and moist buttery cake has a scrumptious mix of chocolate chips, cinnamon, nuts and sugar that serves as a filling as well as a topping. The crunchiness of the streusel perfectly balanced with a moist vanilla cake and a steaming cup of tea makes this a perfect start to the day. This recipe is not only very easy to make but you end up with a very presentable cake ask well. It keeps well when stored in an airtight container.
Hazelnut and Chocolate Chip Coffee Cake
Author:
Adapted from Mountain Mama Cooks
Ingredients
1¼ cup granulated sugar, divided
½ tsp ground cinnamon
½ cup hazelnuts, roughly chopped
½ cup semi-sweet chocolate chips
1¾ cups all-purpose flour
1 tsp baking soda
1 tsp baking powder
¼ tsp salt
1 cup plain greek yogurt
1 tsp vanilla extract
½ cup unsalted butter, softened
2 medium Eggs
Instructions
Preheat oven to 350F degrees.
To make the streusel topping: In a small bowl combine ¼ cup granulated sugar with cinnamon, hazelnuts and chocolate chips; set aside.
In another medium bowl, sift together the flour, baking soda, baking powder, and salt; set aside.
In large bowl, beat the remaining 1 cup of sugar and butter together until light and fluffy.
Add eggs one at a time incorporating completely. Add vanilla extract.
Alternate adding the flour and greek yogurt to the egg mixture stirring just to combine.
Grease a 9-inch spring form pan (or a 9 x 9 square baking dish).
Spread half of the batter into prepared pan.
Layer the tin with half of the streusel topping. Spread the remaining batter over the streusel and top with balance of the streusel mixture.
Bake for about 20 to 25 minutes or until the loaf is brown and cake is cooked all the way through. Cool in pan on rack and serve warm.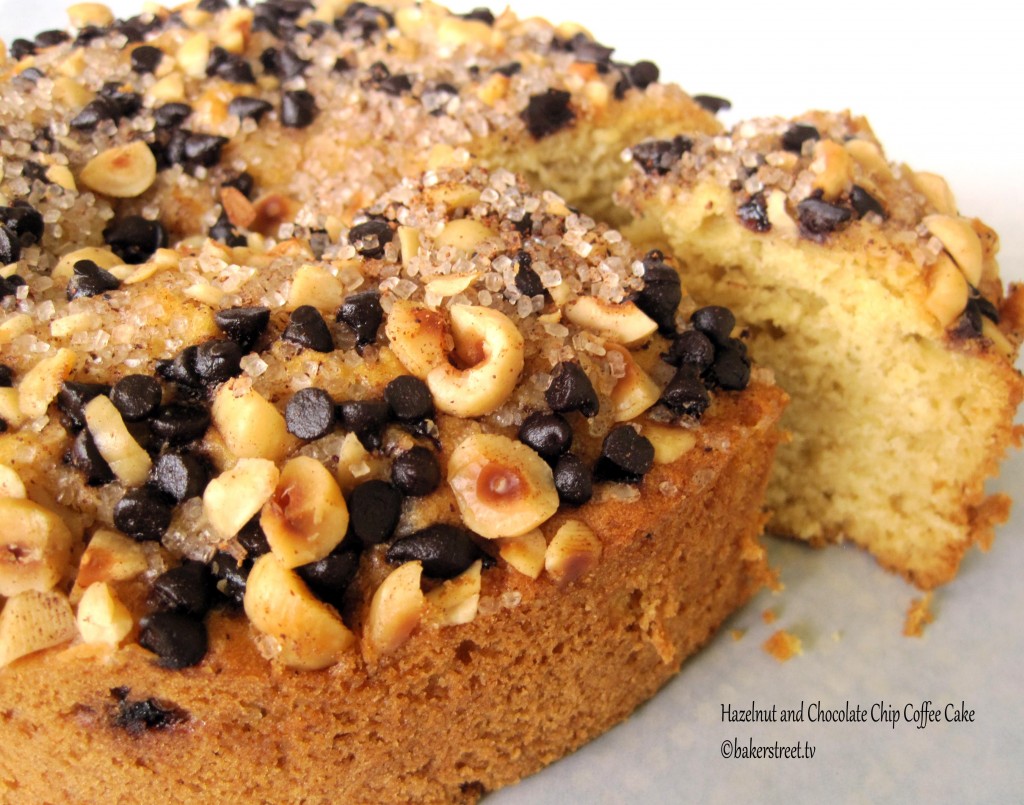 Happy Baking!