A rich velvety cheesecake with the taste of Baileys in every single bite – yes, you read that right.
My love for cheesecake is no secret. On Baker Street you will find a step by step post on how to bake a basic cheesecake and several variations along with it – Oreo, mango, strawberry and lime, mocha, pumpkin, pumpkin and chocolate and one of my all time favorite – nutella espresso.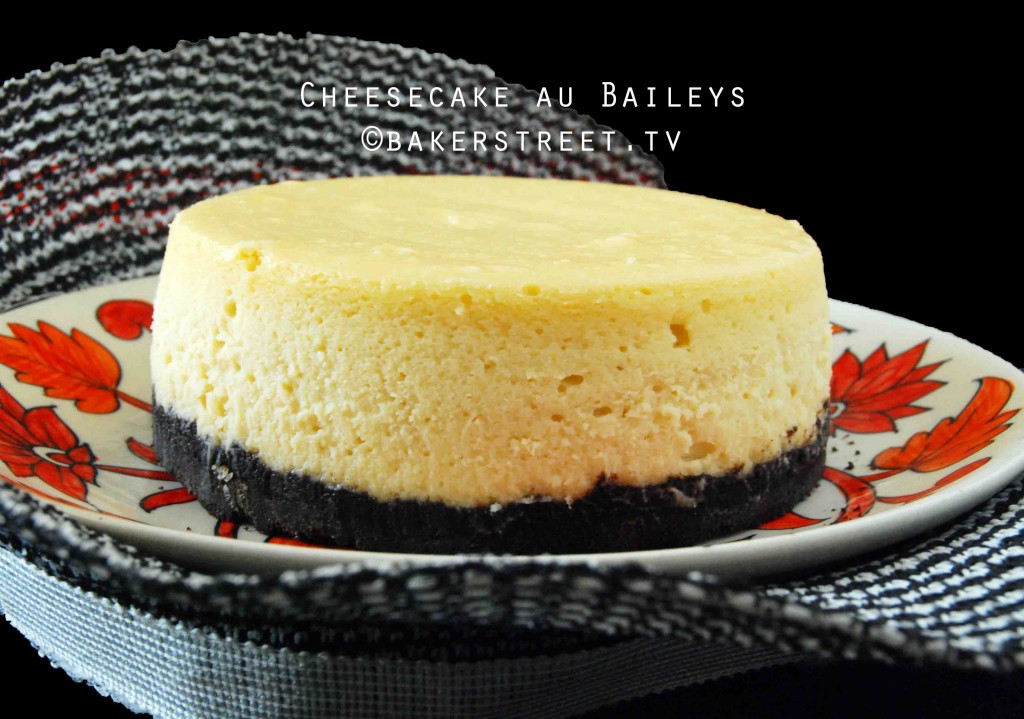 There is nothing better than a bite or two (okay, occasionally the whole cake) of a well baked cheesecake to brighten your day.
Today's recipe is easy and it makes for such a scrumptious dessert. I made an Oreo crust and added a shot of Baileys in the batter. I originally planned to give it a chocolate glaze but as it turns out, you won't need it.
Cheesecake au Baileys #SundaySupper
Ingredients
For The Crust:
½ cups oreo cookies (approx 100 grams)
1 tablespoon butter, melted
For The Filling:
226 grams or one 8-ounce packages of cream cheese, softened
⅓ cup sugar
1 egg, room temperature
¼ teaspoon vanilla
¼ cup baileys
Instructions
Heat oven to 350 with oven rack in middle. Lightly grease sides of your springform pan.
For The Crust: Combine oreo cookies and melted butter in the food processor till it forms fine crumbs. Press crumbs into bottom of prepared pan.
For The Filling: Beat cream cheese in bowl with a mixer on medium speed until creamy and free of lumps. Scrape down sides of bowl. Gradually add sugar, scraping sides of bowl occasionally, and beat until smooth.
Reduce mixer speed to low and add egg. (See note)
Add vanilla and baileys and beat just until smooth.
Pour the batter into crust and smooth the top.
Bake 35 to 40 minutes or until cake at the edges is set and center still jiggles. Turn off the oven and let the cheesecake remain in the oven for an hour.
Remove cheesecake from oven.
Run a small metal spatula around the edge to help prevent cracks. Let it cool to room temperature before refrigerating. Plan to refrigerate for at least 4 hours.
To serve, release sides of springform pan and place cheesecake on serving plate. Dip knife into warm water and wipe dry before cutting slices.
This week's theme is cheese, cake and cheesecake. A great combination of savory and sweet treats. Hop over to check out all the recipes!
Cheese —
Garlic and Goat by Supper for a Steal
Quick and Easy Homemade Cottage Cheese by The MeltAways
Homemade Velveeta Cheese by Juanitas Cocina
Cheesy Spinach and Artichoke Dip with Parmesan Crisps by BigBearsWife
Irish Cheese Soufflés by girlichef
Paneer Tikka Masala by Kimchi Mom
Tres Fromage by Chattering Kitchen
Creamy Meyer Lemon Pasta with Homemade Ricotta and Broccoli by Girl in the Little Red Kitchen
Ricotta Croquettes by Basic n Delicious
Cheeseburger Soup by Dinners Dishes and Desserts
Cherry Blossom Crescents by The Ninja Baker
Saag Paneer ! Golden Roasted Ricotta In Savory Spinach Sauce by Sues Nutrition Buzz
Sourdough Cheese Crackers by Curious Cuisiniere
Basil Balsamic Strawberries & Whipped Feta Grilled Cheese by Cupcakes and Kale Chips
Lox and Cream Cheese Mini Omelettes by Cindy's Recipes and Writings
Buffalo Cream Cheese Stuffed Chicken by In The Kitchen With K P
Baked Mozzarella Sticks by Mama's Blissful Bites
Paneer Indian Cottage Cheese Pancake by Masala Herb
Crepes with Strawberry Mascarpone Cream Filling by Sonis Food
Roasted Pears with Pecorino by Happy Baking Days
Pan-Fried Halloumi Cheese Salad by Catholic Foodie
Chevre Torte with Mango and Sweet Pepper Salsa by Noshing with the Nolands
Cakes —
Vegan Chocolate Avocado Cake by Mangoes and Chutney
Carrot Cake with Cream Cheese Frosting by Hezzi D's Books & Cooks
Sour Cream Chocolate Chip Cake by Gourmet Drizzles
Dairyfree Ice Cream Cake by Galactosemia in PDX
KitKat Chocolate Cake by The Urban Mrs
Old Fashioned Caramel Cake by There and Back Again
Strawberry Cream Cheese Coffee Cake by  Cripsy Bits n Burnt Ends
Peanut Butter Banana Bundt Cake with Chocolate Chips by Gotta Get Baked
Flourless Chocolate Bean Cake by Vintage Kitchen
Dense Chocolate Cherry Cake by What Smells So Good?
Tequila Lime Cupcakes by Mama, Mommy, Mom
Almond Polenta Cake by Shockingly Delicious
Salmon Cakes by Family Foodie
Banana Split Bundt Cake with Chocolate Glaze by Neighborfood
& Cheesecakes

Kit Kat Cheesecake Brownies by Chocolate Moosey
Reese's Chocolate Peanut Butter Bundt Cake by Daily Dish Recipes
Nutella Cheesecake Brownies by The Foodie Army Wife
Individual Strawberry and White Chocolate Cheesecakes by Small Wallet Big Appetite
Grasshopper Cheesecake Bars by That Skinny Shick Can Bake
Chocolate Covered Cherry Cheesecake by Magnolia Days
Mini Toddler Cherry Cheesecakes by In the Kitchen with Audrey
Mocha Cheesecake by Lovely Pantry
Lime Cheesecake Bites by Peanut Butter and Peppers
No-Bake Banana Sundae Cheesecake by The Messy Baker
Mini Raspberry Cheesecakes with White Chocolate Crusts by Cupcakes and Pearls
Savory Shrimp Cheesecake with Herbs and Garlic by Food Lust People Love
Cheesecake au Baileys by Baker Street
Tiny Turtle Cheesecakes (No Bake) by Cravings of a Lunatic
Peanut Butter and Chocolate Chip Mini Cheesecakes by Cookistry
Chocolate Cheesecake Bites by Mom, What's For Dinner?

Join the #SundaySupper conversation on twitter each Sunday. We tweet throughout the day and share recipes from all over the world. This week we will be sharing our love of Cheese, Cakes AND Cheesecakes!  Our weekly chat starts at 7:00 pm EST!
Follow the #SundaySupper hash tag and remember to include it in your tweets to join in the chat.
Check out our #SundaySupper Pinterest board for more fabulous recipes and food photos.
Join us Around the Family Table this Sunday at 7PM Eastern Time and share your favorite Cheese, Cake and Cheesecake Recipes with us!