Now, the series wouldn't be complete if I didn't feature a banana bread. Banana pairs delectably with many ingredients: cinnamon, walnut, raisins, chocolate, and dates to name a few obvious ones. Not so common but exceptional: maple and spice.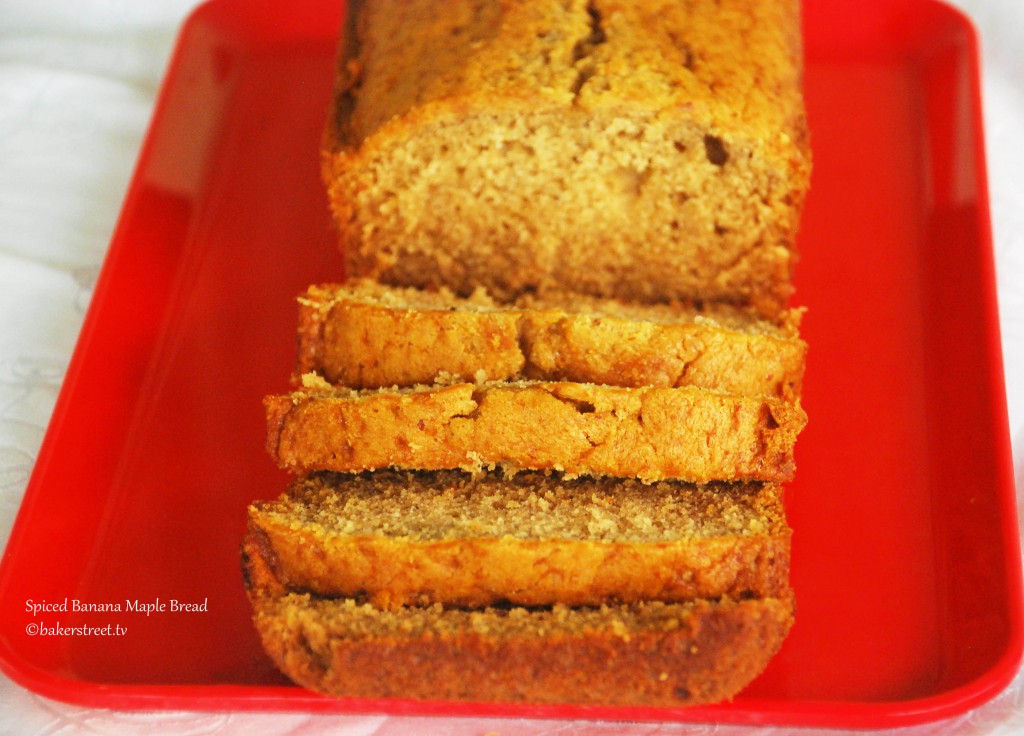 A moist and delicious classic banana bread is the perfect comfort food you want whether its raining and you want to feel warm, a pick me up at the end of a hard day, or just a slice slathered with butter for breakfast to make it a perfect beginning to a wonderful week ahead.
Banana bread is highly adaptable. I will share several variations of banana bread with you as we go along, and we start today with one containing a hint of spice and maple in it.
Spiced Banana Maple Bread
Author:
Adapted from Full Circle Adv
Ingredients
1 cup all purpose flour
1 cup whole wheat flour
1 teaspoon baking soda
1 teaspoon cinnamon
½ teaspoon mace
¾ cup light brown sugar
½ cup unsalted butter, softened
1 teaspoon vanilla extract
2 large eggs
3 bananas, mashed
2 tablespoons maple syrup
¼ cup milk
Instructions
Preheat oven to 350 F.
Lightly grease and flour a 9×5″ loaf pan with butter.
In a medium bowl, combine together all purpose flour, whole wheat flour baking soda, cinnamon and mace. Set aside.
Mash bananas and maple syrup together. Set aside.
In a large bowl, cream together brown sugar, butter and vanilla until light and fluffy.
Add eggs, one at a time, beating until well combined.
Add in the banana mixture and alternately incorporate the flour mixture and milk until everything is combined and smooth.
Pour into prepared pan and bake for 50-60 minutes until a toothpick comes out clean.
Transfer to a wire rack and let it cool down for 20 minutes before serving.
This bread has a unique flavor: not very sweet, delicious when served with butter; also soft, tender and with a moist crumb. You can add 1/2 cup pecans if you'd like. I used part whole wheat flour and a dash of cinnamon and mace in the recipe.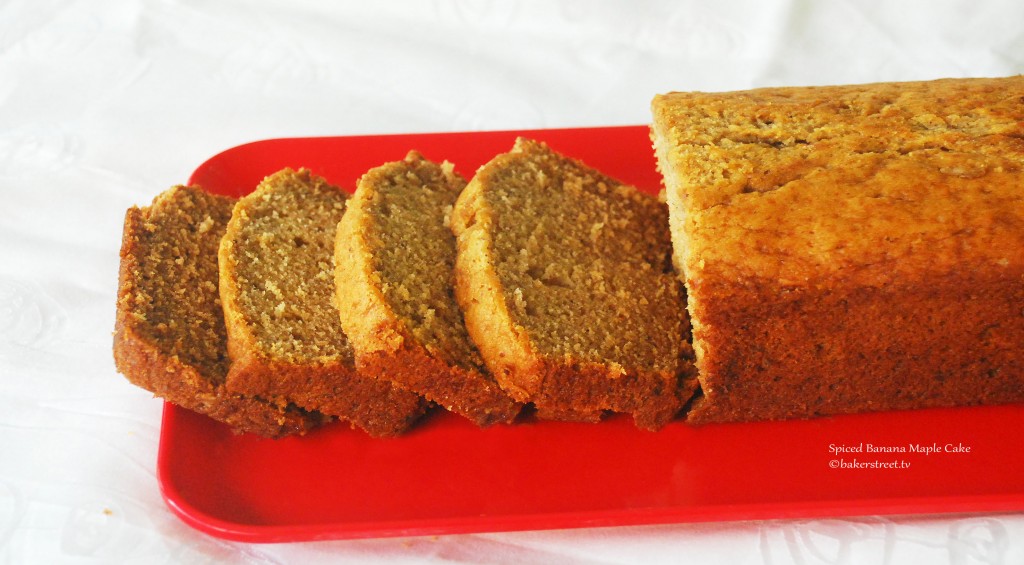 Happy Baking!